Eggplants.  The purple gems of the garden.
Also known as a tasty treat for pesky chipmunks.  I saw 3 eggplants fruit in my garden in the last month and a half or so. And every one of them ended up as a meal for my little critter friends. Enemies, really.
It helps knowing that they didn't get to enjoy the eggplants like we get to enjoy eggplants.  They have to eat them raw, with their bitter juices and all.
We get to eat them grilled, sauteed, panini-ized, and with pasta or on bread. Mmmm…
A few of our favorite Eggplant Recipes –
And now for an simple Eggplant Parmesan…that could be made as a main dish, or a side dish with pasta and a protein of sorts.
My brother in law, sister in law, and niece are in town for the weekend. We headed to grandma's for dinner and I brought this eggplant parmesan.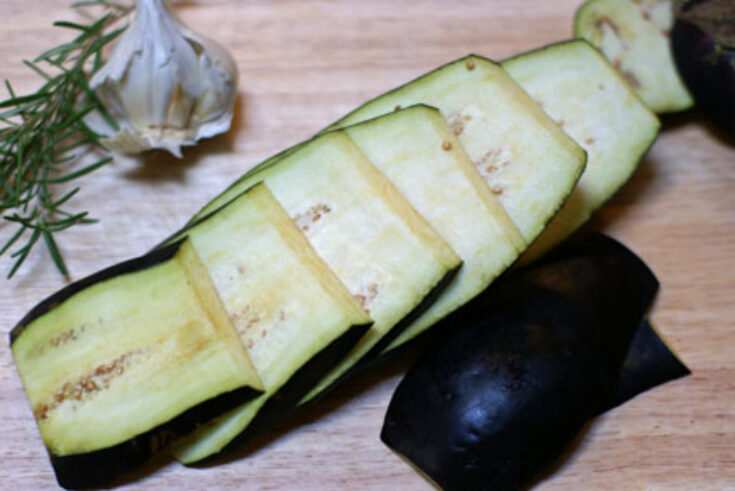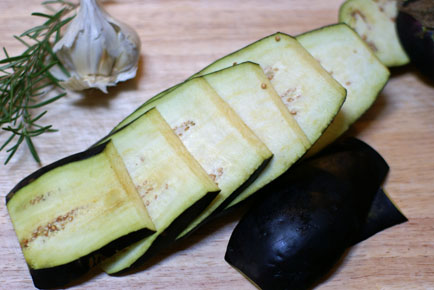 Slice, salt and drain off the bitter juices from the eggplant. (More on that in the directions.)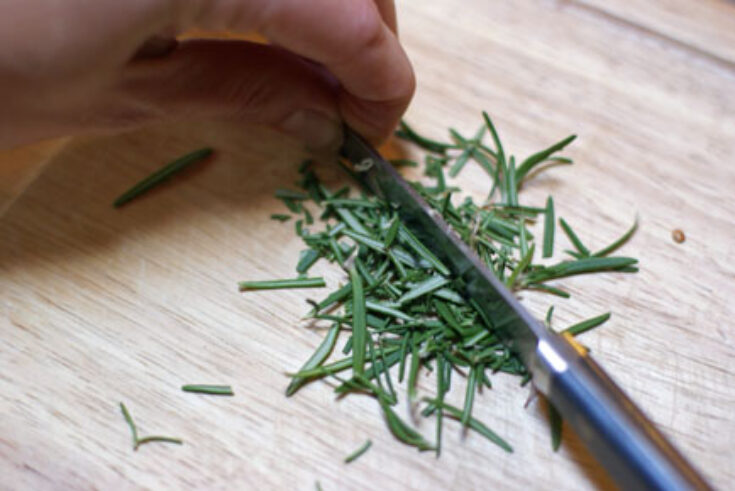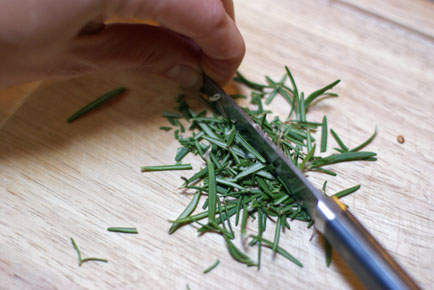 Fresh rosemary from the garden. (Run your knife through it just enough to crack the leaves and let all the aromatics and flavor out.)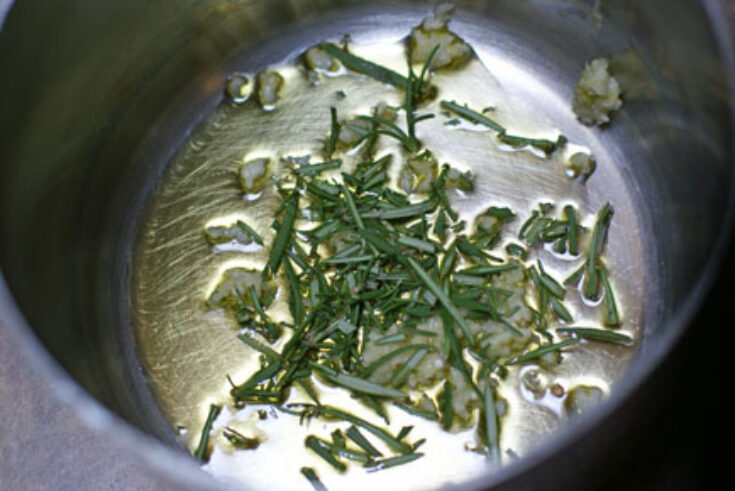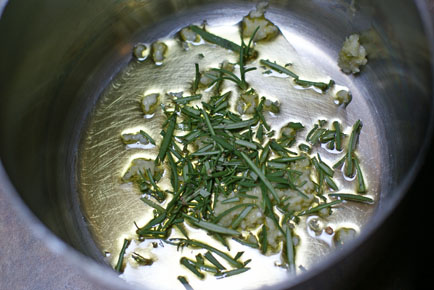 Fresh garlic and rosemary, sauteed then mixed in with the tomatoes for the sauce.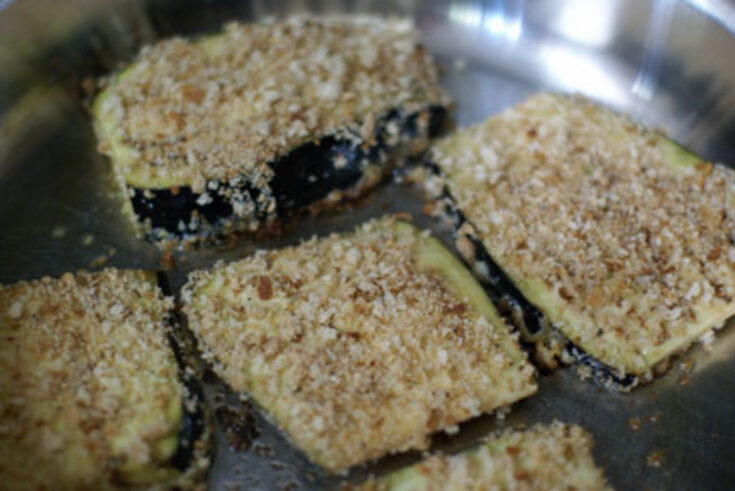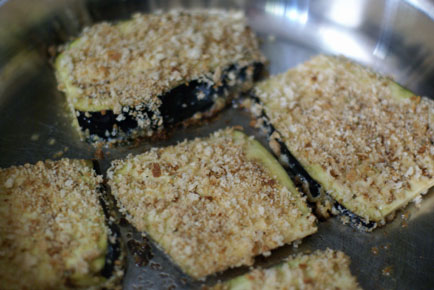 Breaded eggplant slices, sauteed.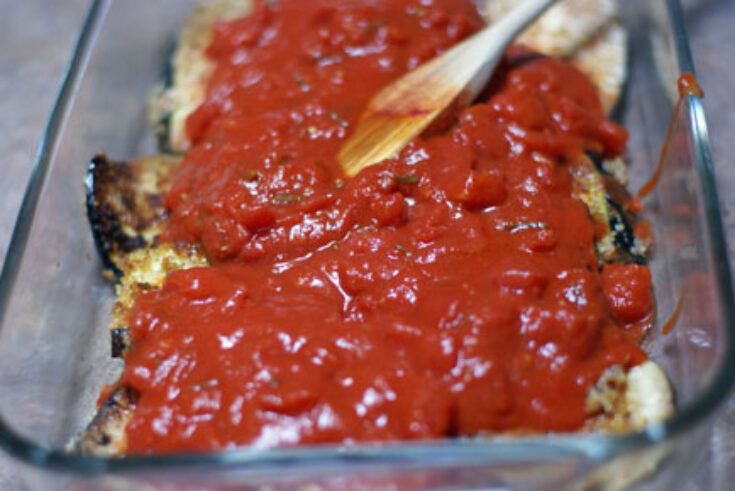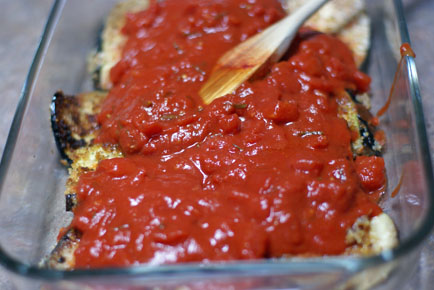 Then baked underneath tomato sauce and provolone-mozzarella cheese mixture.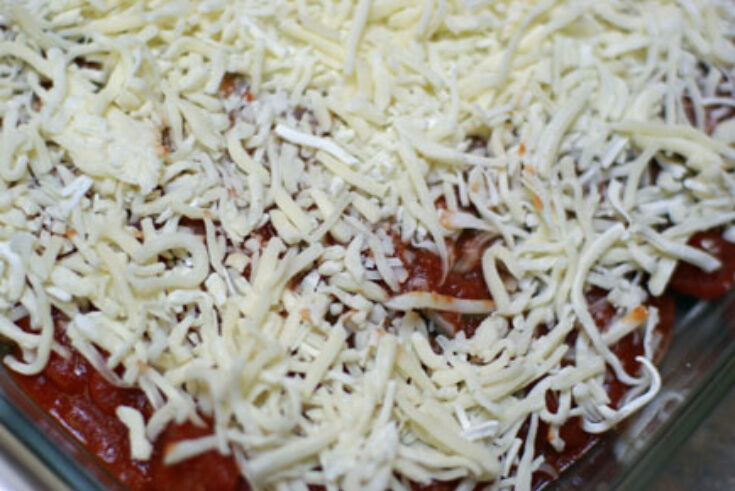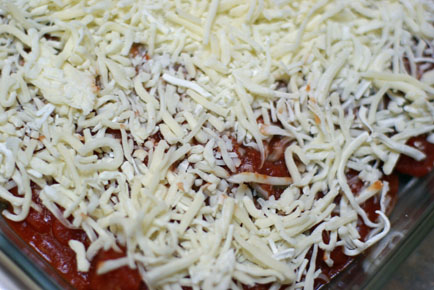 (And I'm sorry to say I don't have a finished product photo. I forgot to take my camera to grandma's for the feast. You'll just have to trust me that it's good!)
Eggplant Parmesan

Ingredients

2 medium eggplants, top and bottom removed, sliced ($1.50)
1 Tbsp olive oil ($.10)
2 sprigs fresh rosemary (from garden)
4 medium garlic cloves, crushed ($.15)
1 15 oz can diced tomatoes (used crushed tomatoes for less chunky sauce) ($.24)
1 6 oz can tomato paste ($.19)
Salt and pepper to taste
1 egg ($.10)
1 tsp water
1 – 1 1/2 cups bread crumbs (I used homemade that I keep in the freezer.) ($.25)
Olive oil for sauteeing ($.50)
2 cups mozzarella-provolone shredded cheese mixture ($.99) Sale, store promotion, coupon

Directions

Slice the eggplant lengthwise into 1/4 inch or smaller width pieces.  Place in a colander in the sink and sprinkle salt onto both sides of each eggplant piece.  Let sit for 30 minutes.  Bitter juices will be drawn out of the eggplant and will drain into the sink.  After 30 minutes, rinse each piece to remove any salt and pat dry.
While eggplant is draining, run a knife through the rosemary and crush the garlic.  Saute it in olive oil for about 2 minutes, and then pour the diced tomatoes and tomato paste, plus 1 cans worth of water, into the skillet or saucepan.  Stir together until tomato paste dissolves into the sauce.  Let simmer on low for 10 minutes, or until the eggplant is finished.
Place the egg whisked with the tsp of water into a shallow bowl.  Place the bread crumbs into a neighboring shallow bowl.  Dip the eggplant slices, one by one, into the egg, then dipped into the bread crumbs.  Saute these pieces in a large skillet with olive oil for 3-4 minutes per side. Once both sides have browned, transfer to a nearby 9×13 inch baking dish.  Repeat until all the slices have been browned.
Cover the browned slices with the tomato sauce.  Top with shredded mozzarella-provolone mixture.  (Plain old shredded mozzarella will done.  Perhaps add some Parmesan cheese as well.)
Bake at 350 for 30 – 35 minutes, or until cheese is bubbly and begins to golden on top.
Serve Eggplant Parmesan as a main dish or side dish.

Cost $4.02
If you'd like to learn more about Square Foot Gardening, please check out the Square Foot Gardening books by Mel Bartholemew.
We love hearing what's happening in your garden each week!!! Feel free to link up your blog post below…or leave an update in the comments if you're not a blogger!!!