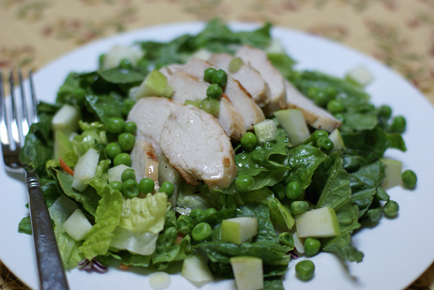 On Friday night we grilled chicken and kebabs and there was quite a bit leftover chicken. So I sliced it and added it to a salad, as I still had some of the $1 lettuce bags from last week's trip. (We are now waiting for more lettuce leaves to grow in the garden after the first round of picking. I have been using a few leaves at a time for wraps or sandwiches too.)
As I went foraging for toppings for our dinner salad, I ended up with an all green salad.
Green Peas.
Green Granny Smith Apple.
Green Onion Slices.
Green Romaine lettuce.
Because I was adding apple to the salad, I thought a homemade apple vinaigrette was in order.
And guys…you should know that Steve really liked this! I know what he was thinking when I put this salad in front of him, "A salad. Really? This isn't man food."
But here were the phrases that I heard uttered after the first bite, and every after every third bite that followed.
Whoa. This is good.
Hang on. This is really good.
Wow. I didn't know a salad could be this good.
Honey, you out did yourself again. (He is easily pleased!)
So guys…give those salads a chance! (I think it was the dressing that got him this time.)
(Note: Recipe written below for 4 adults, even though our kiddos didn't eat the lettuce…they had everything else.)
An all green salad base with grilled chicken!
Ingredients
2

large

chicken breasts

grilled and sliced

1

bag

Romaine lettuce

1

granny smith apple

chopped

1

cup

green peas

2

green onion stalks

sliced

1/4

cup

olive oil

1/4

cup

white wine vinegar

2

Tbsp

apple juice

1

tsp

sugar

1/2

tsp

garlic salt

Few dashes of pepper
Instructions
Throw all ingredients onto a salad.

Make the vinaigrette: Shake oil, vinegar, apple juice, sugar, garlic salt, and pepper in a sealed container. Pour over salad.

Enjoy Green Salad with Grilled Chicken.