Celebrate Earth Day With Me by Taking Steps Towards a Greener, Cleaner Home
This year, I'm continuing to take important steps towards a greener, cleaner home, and I want to invite you to do the same.
Small actions matter when it comes to green cleaning in your home and making a positive impact on the environment. Below I'm sharing several small steps you can make in your home that will have a lasting impact for our earth.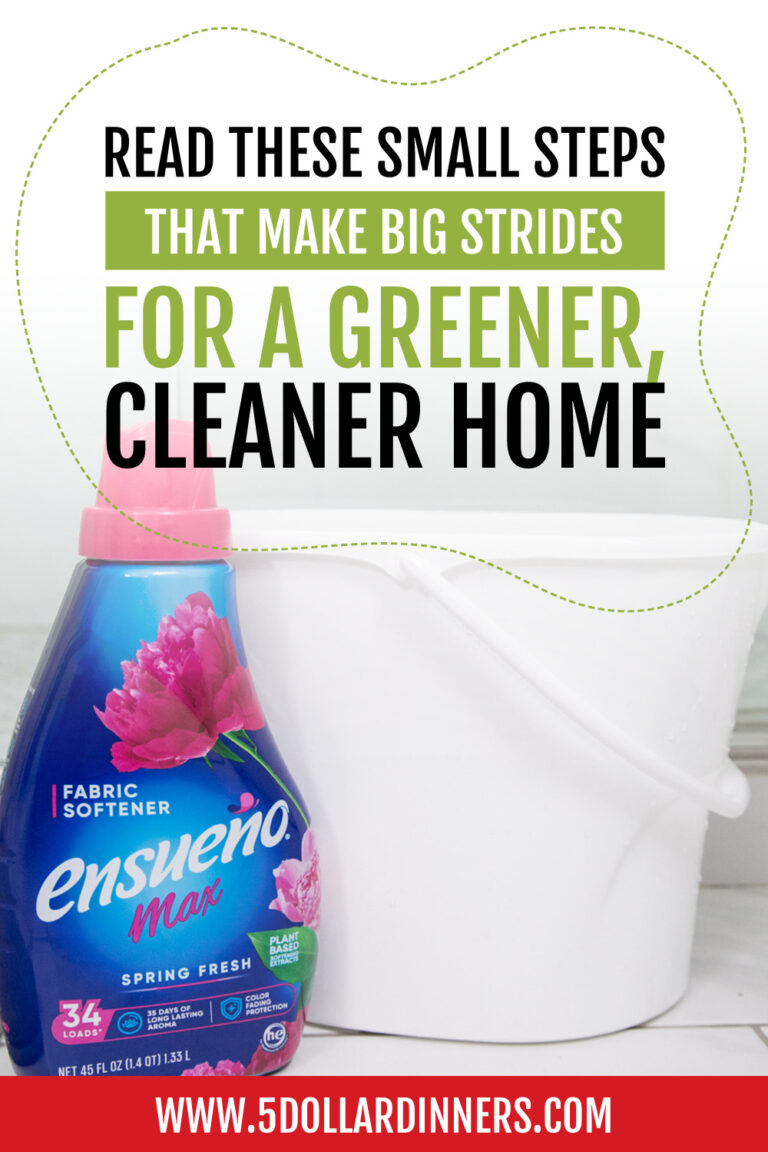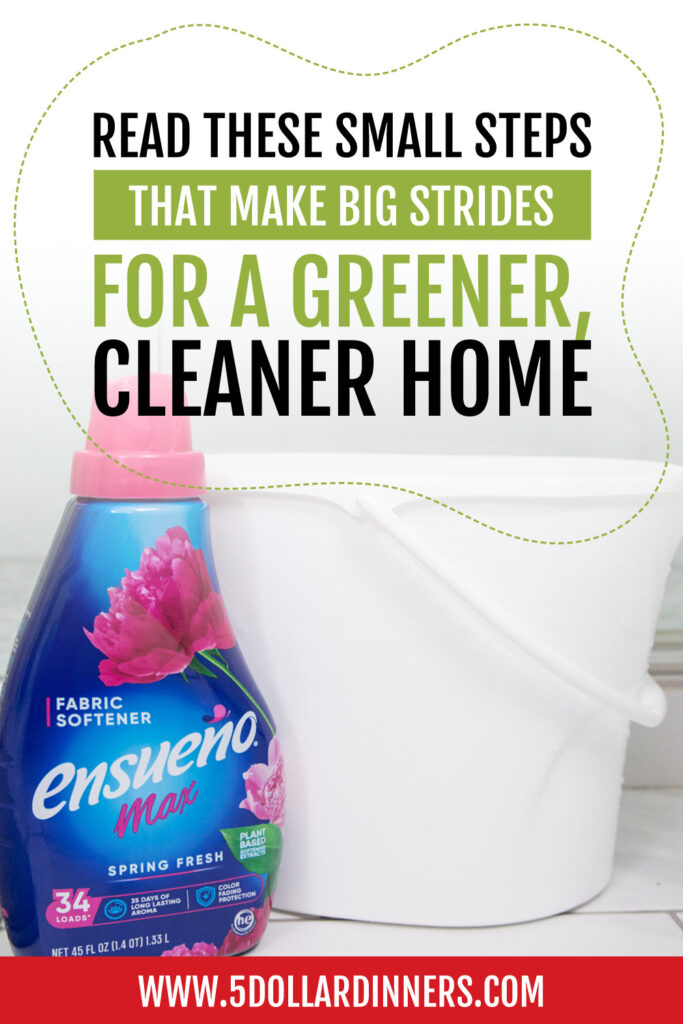 This Earth Day, I'm also kicking off my mission to take a deeper look into the manufacturers of the products I use.
I want to make an effort to buy from responsible companies with a sustainability focus, which is why I was so happy to learn after falling in love with cleaning products from AlEn USA (because of how well they clean and perform in such a wide variety of ways), that they have a mission and huge focus on sustainability, recycling and just being good stewards of the environment.
In fact, their mantra is "proudly giving bottles a second life for 25 years," so this isn't something new and they have been living a mission of building a cleaner and more sustainable world for the past 70 years.
They actually recycle 50 TONS of plastic each year, which could fill a football stadium two times.
You'll get a sneak peek at their recycling practices in this video, and you can read more about AlEn USA's sustainability efforts here.
Also, AlEn recycles water and more plastic than it uses transforming curbside trash to useful items, and involves landowners in forest cultivation. I appreciate and value their focus on sustainability!
Ok…now for our homes and how we can make a difference…
Small Steps Towards a Greener, Cleaner Home
The entire Earth is celebrating Earth Day, and I want you to join in the fun with me!
I want to share some simple ways for making greener choices in your home.
I want to help you be able to:
think about where you are getting your cleaning products and how sustainable they are.
switch to re-usable and multi-purpose products.
extend the life your cleaning products.
And I don't want you spending an arm and a leg to do this!
You can make responsible choices without sacrificing your grocery budget.
The small and easy changes you make in your home will make a difference for our Earth!
First up…
Think re-usable TOOLS.
Think about your brushes, mops, cleaning pads for the floor, rags/dishcloths, sponges, dusters, etc.
If we've known each other for a few years, you know that I ditched paper towels a LONG time ago; in part to save money at the grocery store, and in part to reduce paper waste.
But I haven't stopped at paper towels…and I encourage you to do the same.
The "disposable" dusters and paper towels are definitely convenient, but I don't use them.
The disposable wet floor cleaning pads can be very handy. But is there really that much difference in the amount of work?! Instead of tossing something into the garbage, I am tossing the re-usable cloth floor cleaning pad into the washer with my towels load. Not much of a difference!
I use Art of Green® wipes because they are nice and moist so I can do a lot with one – think bathroom faucets, toothpaste gunk, full wipe down of bathroom counter!
There are so many great products out there that can be tossed in the washer and used again.
Think: Be kind to the environment by using re-usable cleaning tools!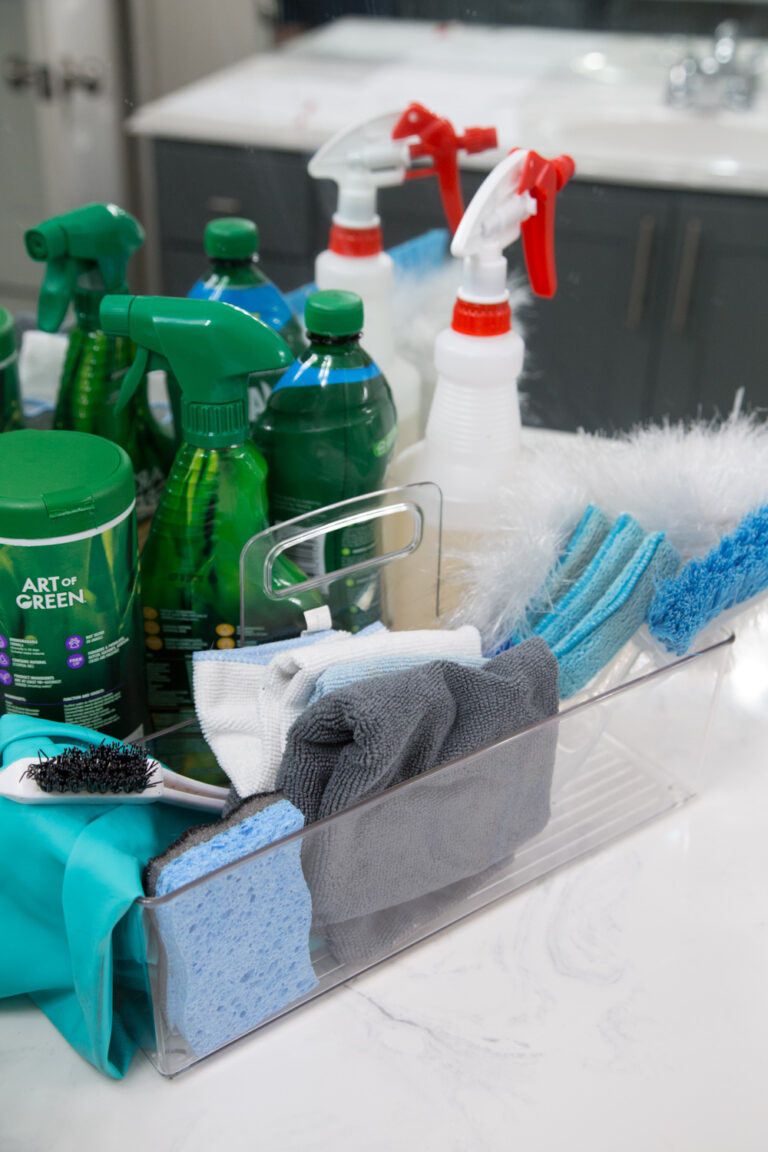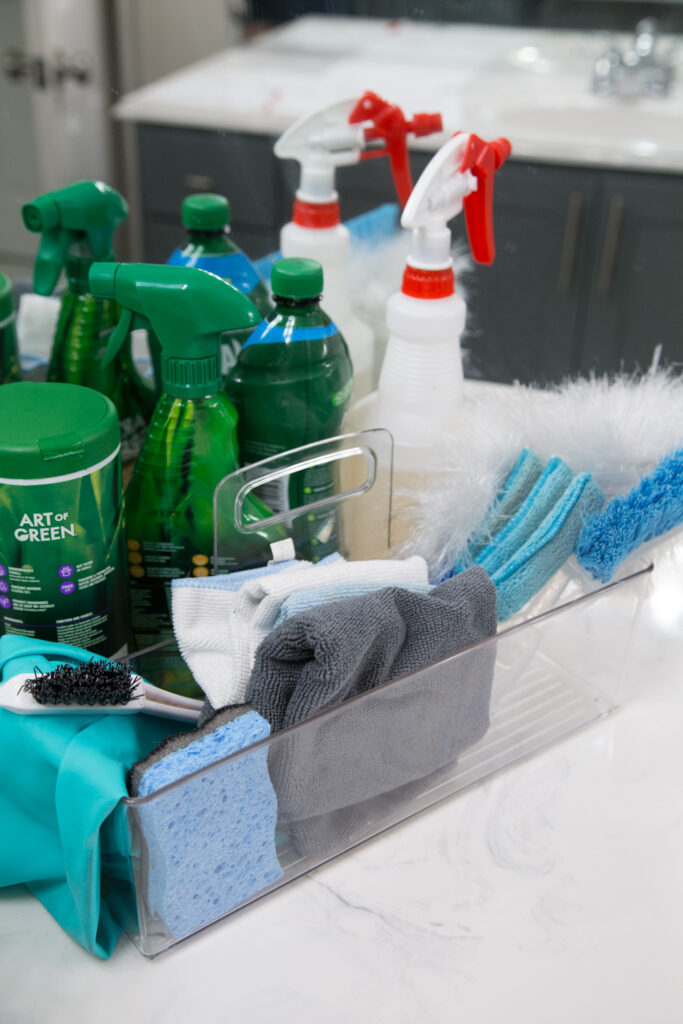 My master bath cleaning caddy loaded with microfiber cloths, grout brush, gloves, blinds duster, feather duster and sponge.
Second…
Think about the ingredients that are powering your cleaners.
PINALEN Fresh Pine also has 5x the real pine oil power of the leader brand, making it more effective in deodorizing and helping to degrease, and has more than 180 uses, so this product swap was an easy small change that is already paying dividends!
I keep my PINALEN Fresh Pine in my caddy and use it to:
Remove dust and dirt on ceiling fans
Clean burnt-in stains around stove burners
Deodorizes exercise clothes and towels (add a capful to your laundry!)
Removes stains from seat belts
Removes sticky candy from furniture
Removes gum from clothes
Cleans handprints off glass in my bathroom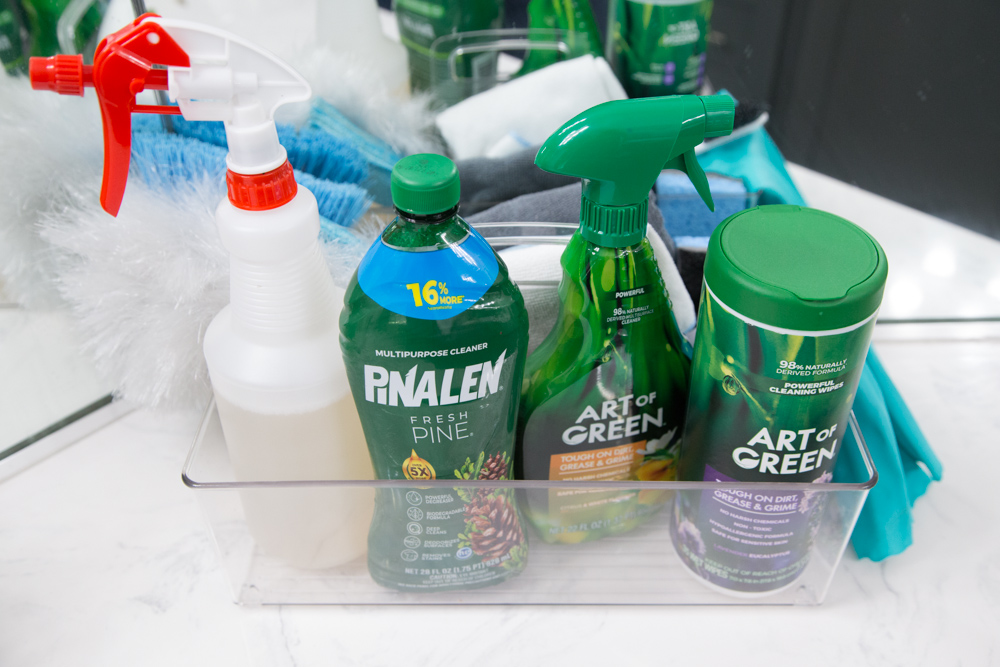 There are so many amazing ways to use this fabulous cleaner in and around your home.
Third…
Learn alternative uses of the cleaning products you have on hand.
I swapped to Ensueño fabric softener because it uses a plant-based formula that breaks down and won't harm the environment. I love how it makes the laundry smell and how well it works.
But…
Did you know…
Seriously, this one blows my mind….
You can use FABRIC SOFTENER to clean shower glass.
I use Ensueño Max® Spring Fresh fabric softener to clean the glass in my master shower.
We have a water softener, so what you see isn't hard water residue…it's straight up soap scum build up. (Eeeepers!)
Check these photos out…
Below you see 2 panels of glass in my shower.
The left I cleaned with Ensueño Max about a month ago for a TV shoot and IT IS STILL THAT CLEAR!!!!
The right was in desperate need of cleaning, so….
(Can you spot the drain through the FUZZY GLASS?!?)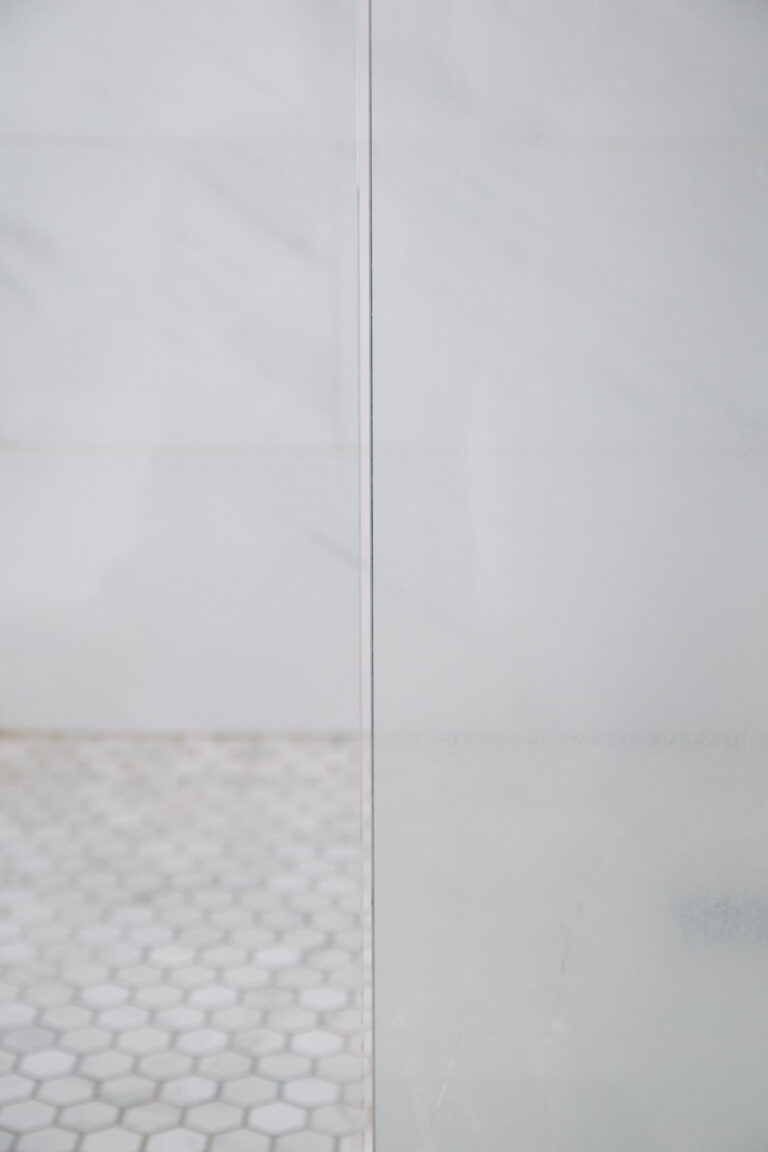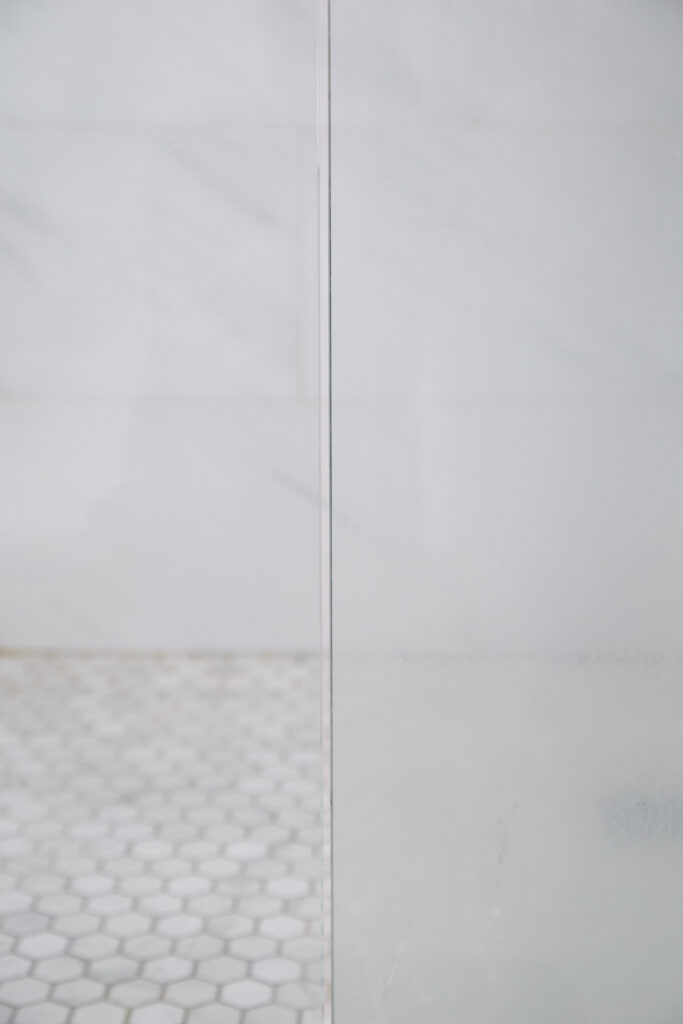 I know, it's hard to spot that drain…
BUT NOT AFTER I SPONGED OFF THE SOAP SCUM WITH Ensueño Max!!!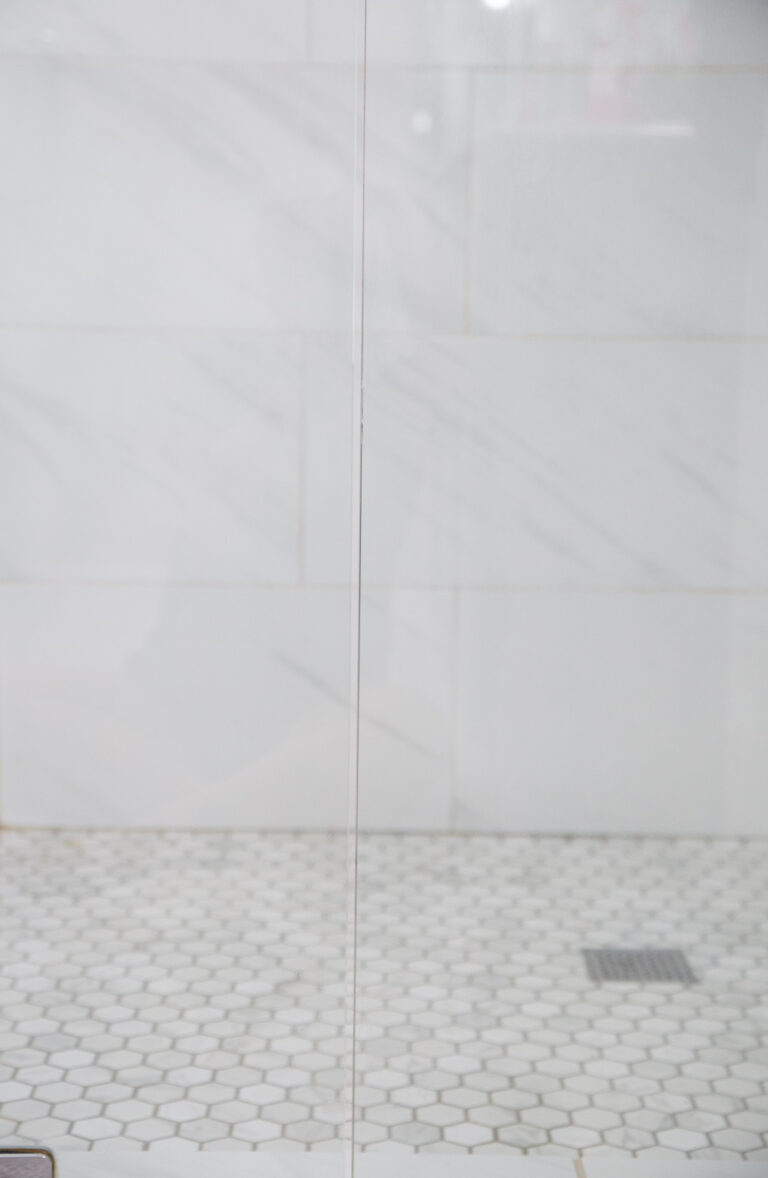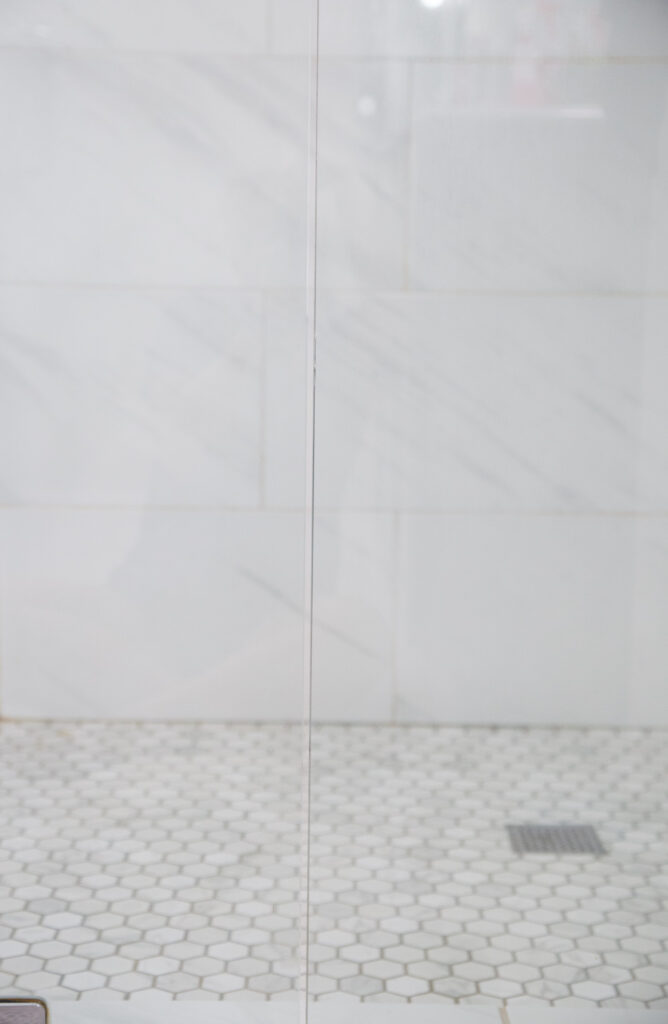 Look at that!!!!!
Mix a capful of Ensueño Max Spring Fresh fabric softener with a gallon of warm water.
Use a sponge and circular motions to wipe off the soap scum.
Rinse with warm water.
Repeat if needed, as there may be more buildup in some areas of the glass – near the corners or bottom of the door.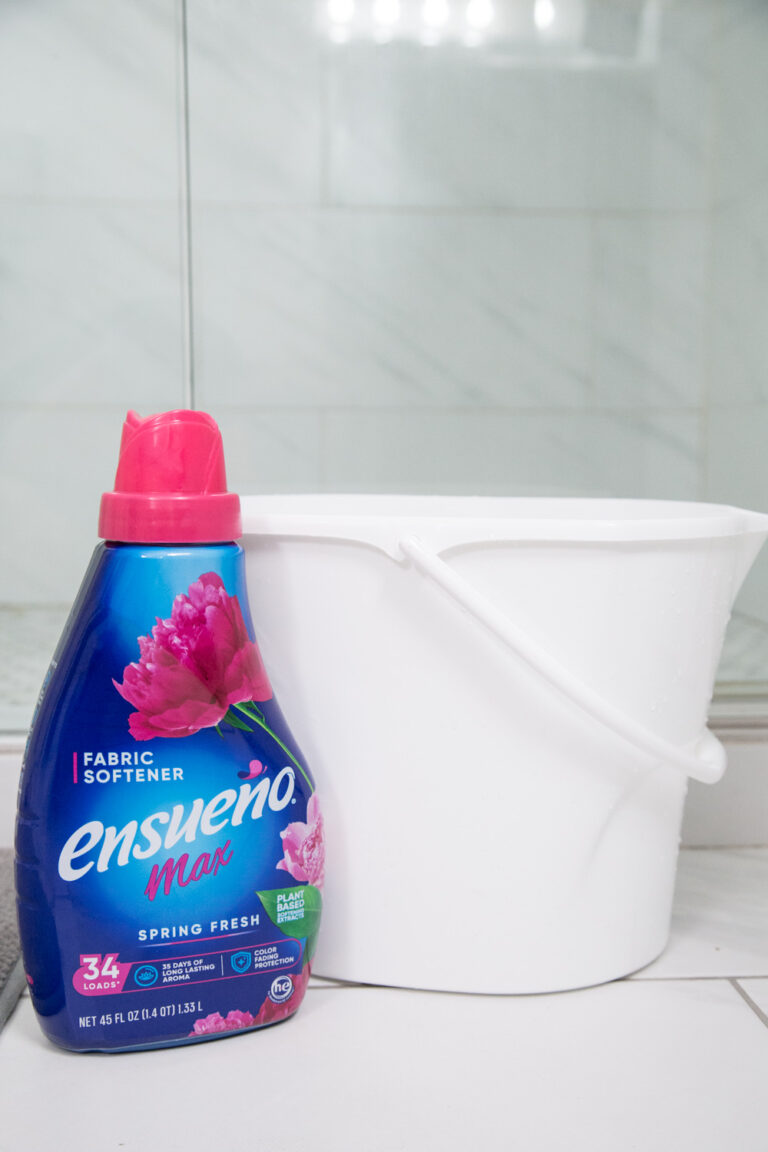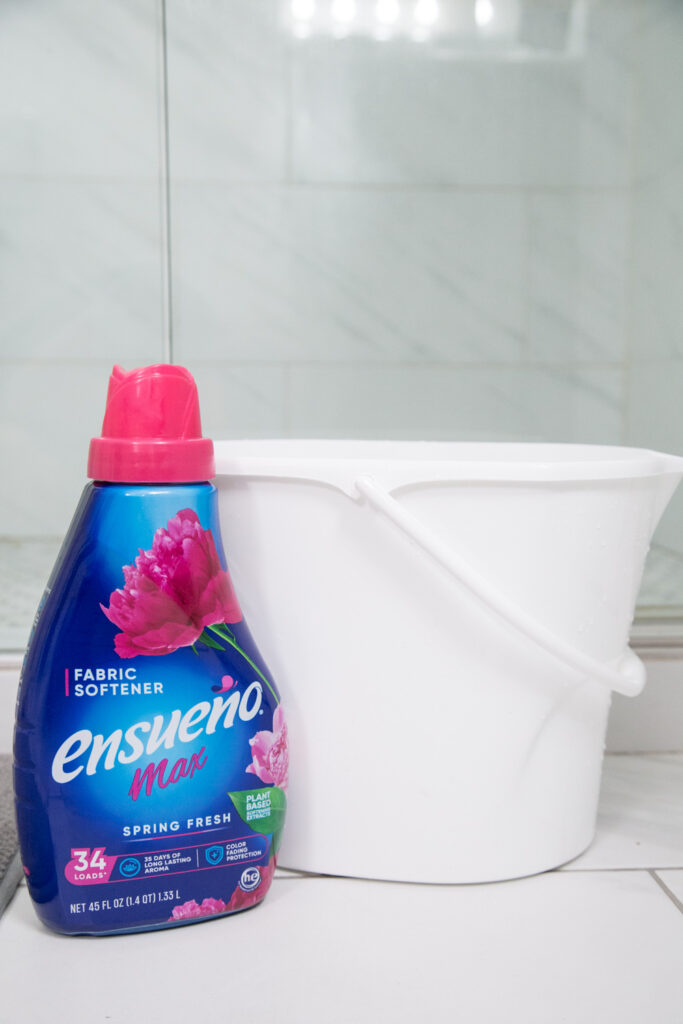 I like to use Ensueño Max because it is plant based and it's softening extracts work well in cleaning the soap scum, and they release fresh bursts of scent over time.
A clean & fresh smelling shower for days!!!
Finally.
For my everyday cleaning, I need natural and affordable.
And that's why I choose Art of Green.
It's naturally-derived ingredients can be used all over the house. Also, it is TOUGH on the messes we create around here. It cuts through dirt, grease, and grime on a wide variety of surfaces.
It is safe to use around kids and pets, is dermatologically tested and won't irritate sensitive skin.
Plus, the spray bottle is made with 100% recyclable material!
And we can talk about another kind of "green" too….Art of Green is priced for everyday use – YAY!!!! These are priced under $3, making it an affordable alternative to your current products.
I challenge you to make one easy swap this month and take another step towards greening up your cleanup!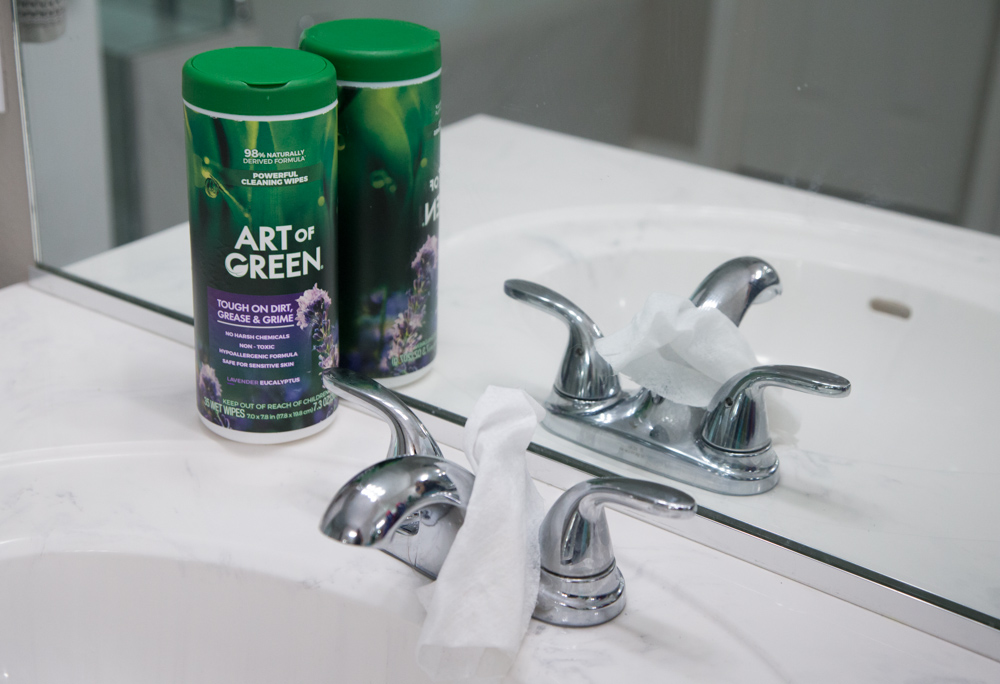 I love to use Art of Green wipes in the bathrooms. I start with the faucets, then wipe off the counters, and lastly any toothpaste gunk on the counter or in the sink.
See… "going green" doesn't mean spending tons of money or making your everyday tasks harder than they already are. Thinking small can actually make big waves in being kinder to our world!
There's no such thing as small change. Every little green step you can take goes a long way in being kind to our Mother Earth!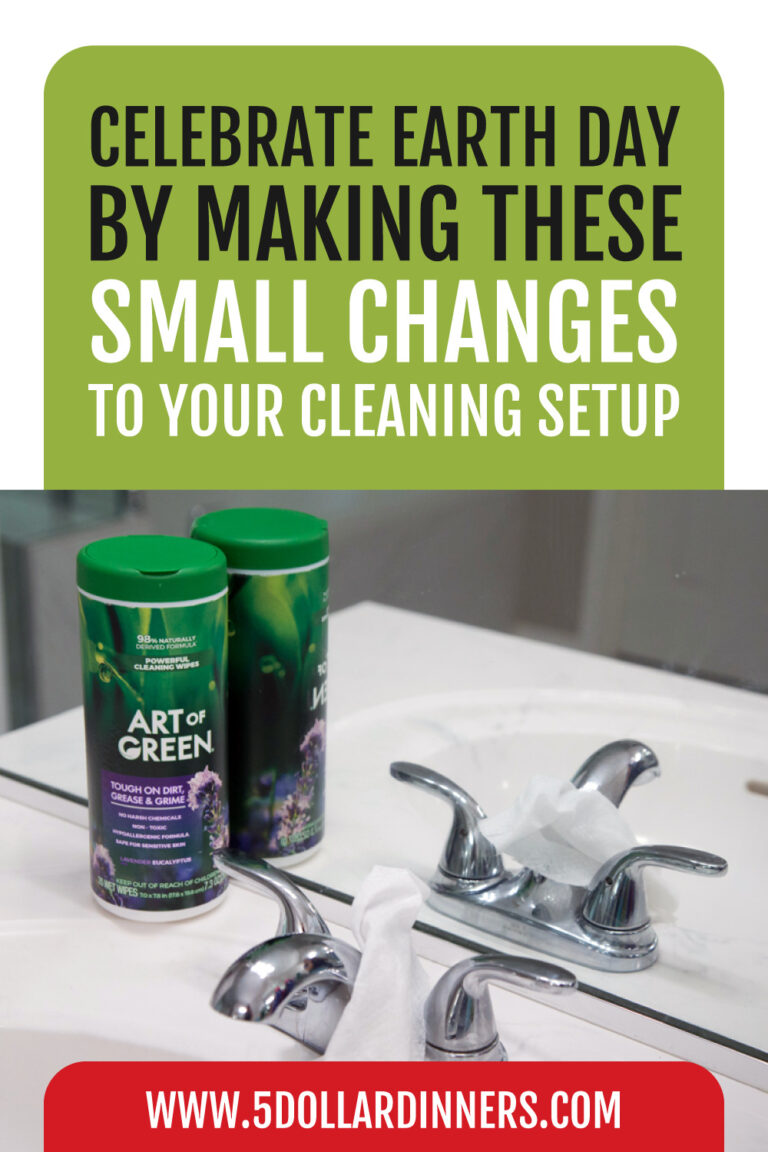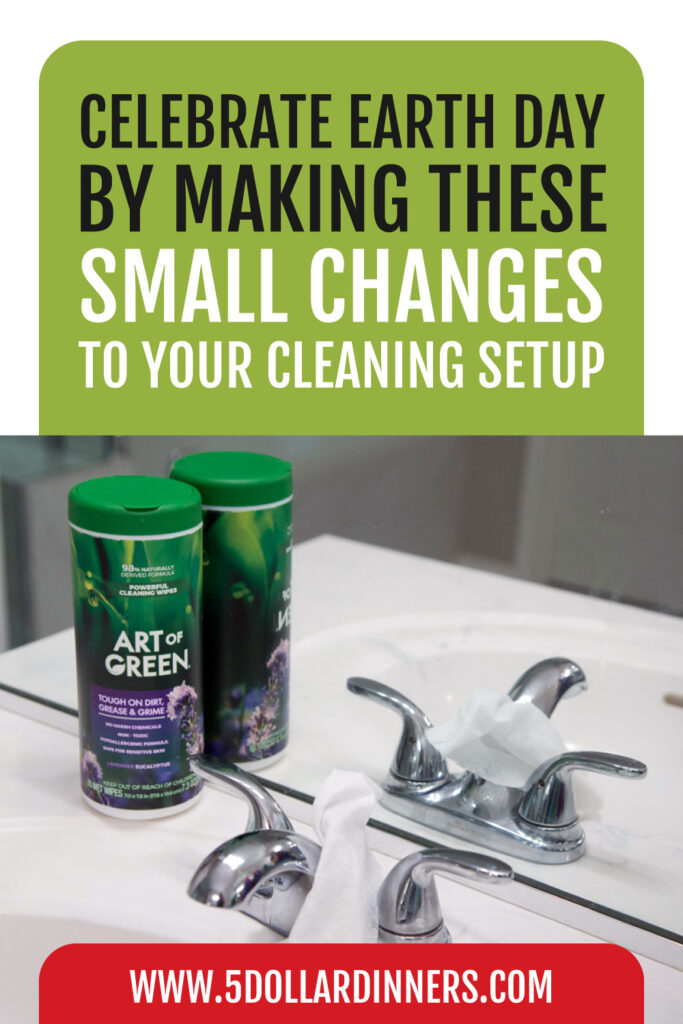 This post is sponsored by
AlEnUSA. Opinions and love of the product are my own.