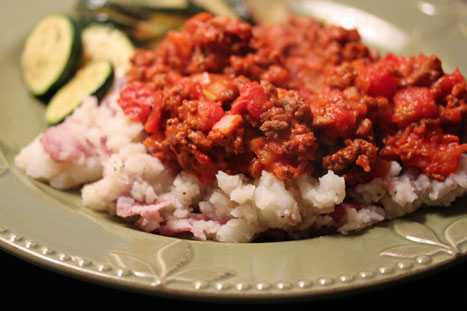 This meal was a group effort, if you will.
We made this at grandma's last week. We don't normally stay at grandma's house for days at a time, but when it's 50 degrees in your house and you have no heat or power…you have to move into grandma's. So we did.
I brought the beef, red onion and tomatoes from home.
I stole borrowed used some paprika from grandma's pantry.
Steve picked up the red potatoes from the store.
And the zucchini is from grandma's fridge.
See the group effort in this one!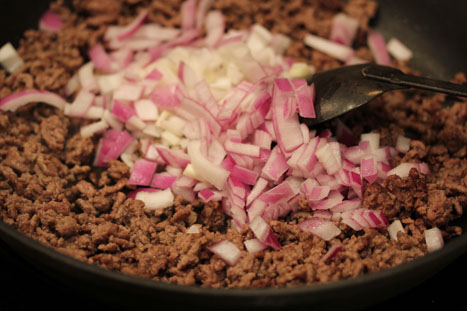 Brown the beef.
Then add the red onions.
Yes…after. You want them a little crunchy. Not all soft.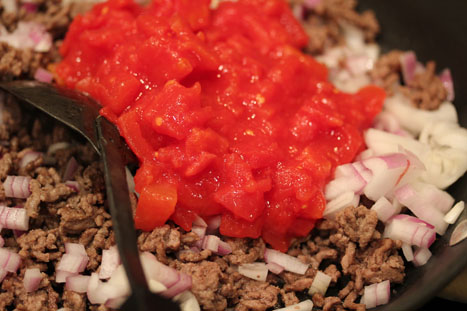 Toss in the diced tomatoes. Undrained.
And if we'd had a red pepper, and I'd remembered to ask Steve to pick one up, I would have added them here.
Red pepper is a key ingredient for "true" Hungarian goulash.
(Yes, this is my "fake" version.)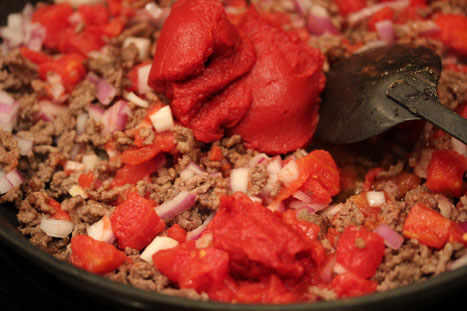 Add the tomato paste. Plus 1/2 cans worth of water to help the sauce form.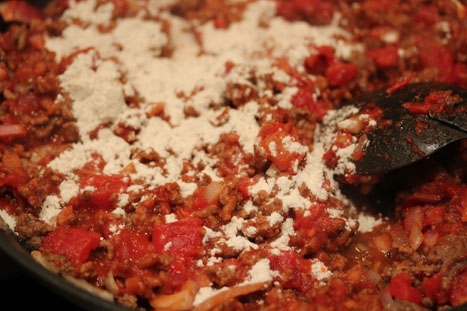 Sprinkle in the flour.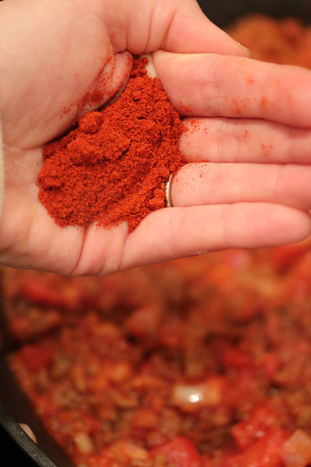 Then toss in a palmful (rather, two palmfuls) of paprika.
About 2 Tbsp total.
Sweetness. Gives a lovely sweetness to the goulash.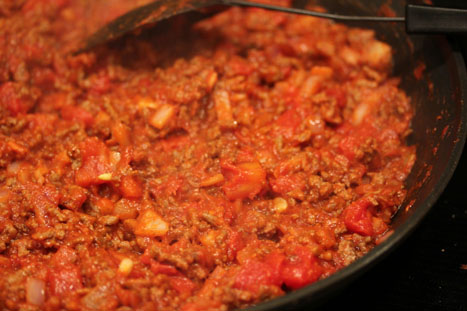 Stir and let simmer for about 5 minutes.
Serve over mashed potatoes.
This one is for all your Meat and Potatoes Husbands out there!
A homemade sauce on top of perfectly mashed potatoes!
Ingredients
3

lbs

red potatoes

Milk, butter and seasonings for mashed potatoes

1.25

lb

ground beef

1/2

red onion, chopped

15

oz

can diced tomatoes, undrained

6

oz

can tomato paste, plus some water

2

Tbsp

flour

2

Tbsp

paprika

Salt and pepper.

2

zucchini, sliced

1

Tbsp

olive oil

Salt and pepper
Instructions
Wash and quarter the red potatoes. Peel if you like. I didn't. Boil for about 10-15 minutes. Drain, mash and mix with milk, butter and some seasonings. However you like your mashed taters.

Brown the ground beef. Drain the fat and return to skillet. Add the chopped red onion, diced tomatoes with juices, tomato paste plus about 1/2 cans worth of water. Stir in the flour and paprika. Season with salt and pepper. Let simmer about 10 minutes.

Saute the zucchini slices in the olive oil over medium heat for about 3-4 minutes per side. Season with a little salt and pepper.

Serve Goulash over Mashed Red Potatoes with sauteed zucchini (or other veggie).