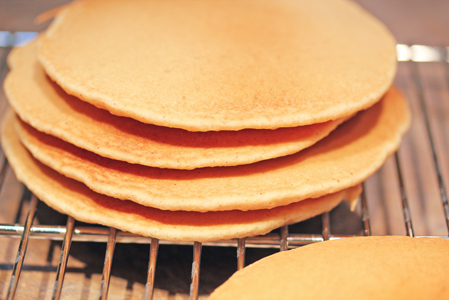 Making gluten free anything can be tricky…especially when baking or making pancakes or waffles. I have found that baking mini-muffins or mini-loaves when using gluten free flours works best. I have also found that many gluten free pancakes are quite flat.
This batch was "medium flat." Not quite as fluffy as regular wheat flour pancakes, but not flat and rubbery like other gluten free pancakes and mixes I've tried. Here's what I did differently…I really whipped the batter each time I'd go to pour the pancakes onto the griddle. I think that "aerating" the batter by whipping it hard helped give them a extra bit of fluff!
And I tried this batch with the free coconut milk that I got the other week. I've always used rice or almond milk…but I really like the coconut-y flavor of these pancakes.
I'm calling these a gluten free pancake success!
The best recipe I've tried out so far!
Ingredients
1 1/2

cups

1 Tablespoon gluten-free all purpose baking mix

2

tsp

baking powder

1

tsp

salt

1

tsp

cinnamon

1

egg

1

tsp

vanilla

4

tbsp

gluten, dairy and soy free margarine (Earth Balance), melted

1 1/3

cup

coconut milk
Instructions
In a mixing bowl, whisk together the GF all purpose baking mix, the baking powder, salt and cinnamon.

In a separate mixing bowl, whisk together the egg, vanilla, melted margarine and coconut milk. Beat into the dry ingredients until batter forms. Whisk well before pouring onto the griddle to aerate the batter.

Makes 12 4" pancakes.

Serve with GFCFSF butter and maple syrup.

To freeze, cool completely before placing in plastic freezer baggies.