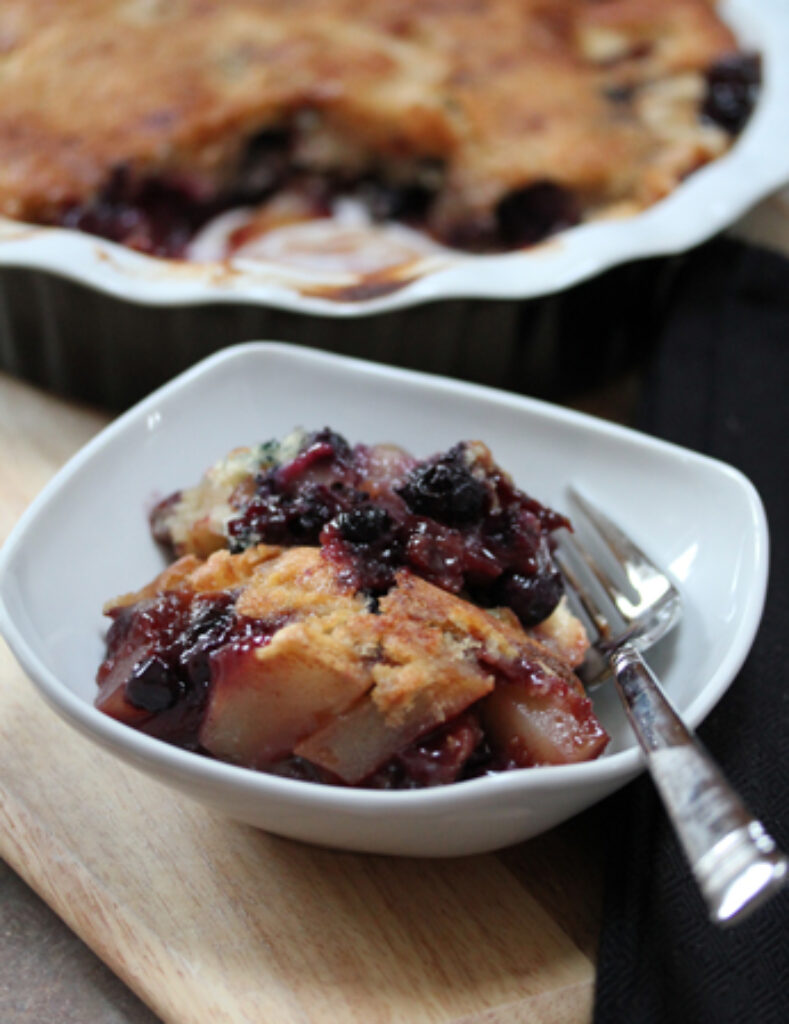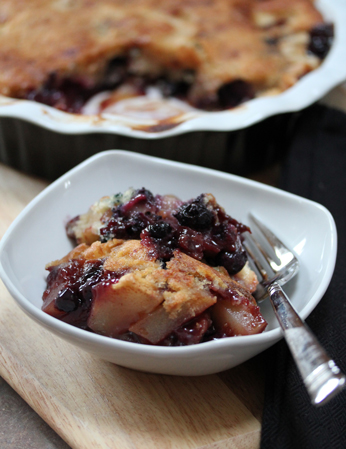 First up in this year's Dessert of the Month… Gingered Pear and Blueberry Cobbler!
I've made a number of cobblers and crisps in my day. I thought I'd stick to a baking concept that I was familiar with and experiment with flavors. I've never made one, or tried one, with these 3 flavor combinations.
I bought 4 pears at the store last week, not really intending to use them for this recipe, but since nobody took them in his lunch this week (Steve *ahem*)… I used them to make this dessert! I still have a large bag full of fresh blueberries in the freezer, so I was in luck!
I give you the photo tutorial. But be warned, there are a lot. lot. lot. of photos. If you scroll fast enough, it might even turn into a video! 😉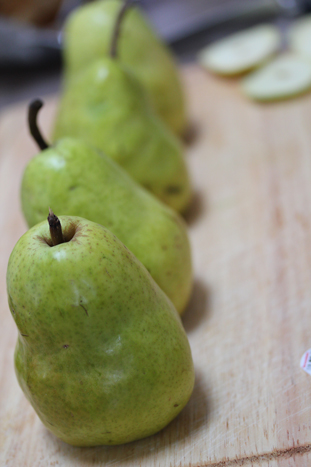 Cut off the bottoms of the pears.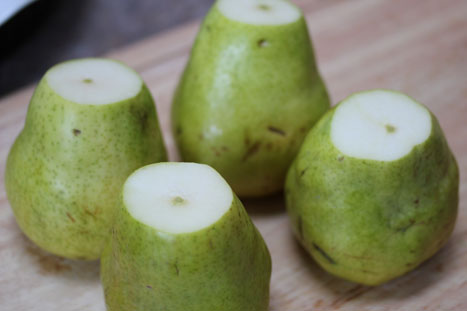 And now remove the tops.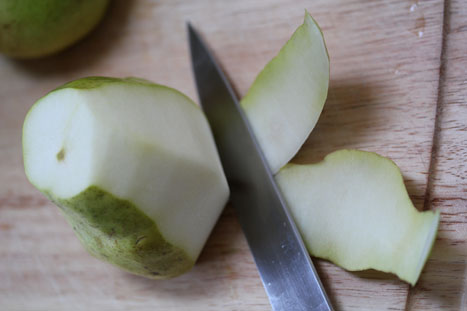 Peel off the skin, however you prefer…peeler, knife…whatever.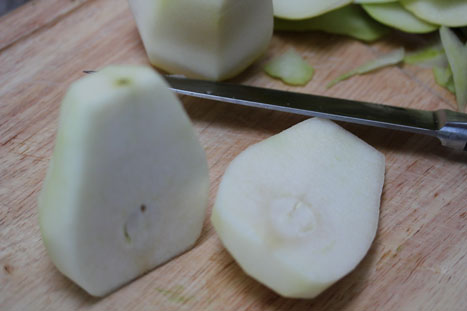 Slice off the flesh from the core.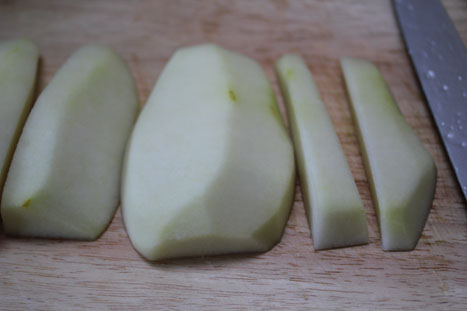 Slice into thin strips.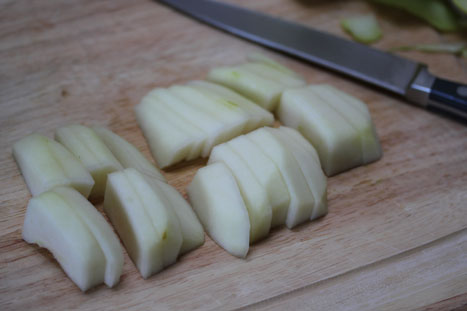 Then cut the strips in half and toss into a mixing bowl.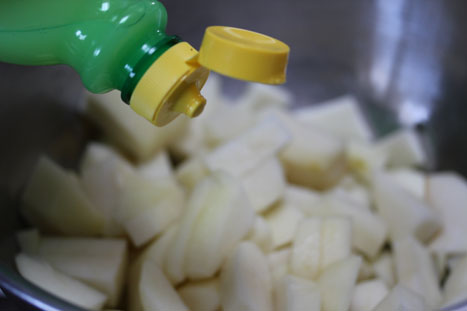 Add the lemon juice.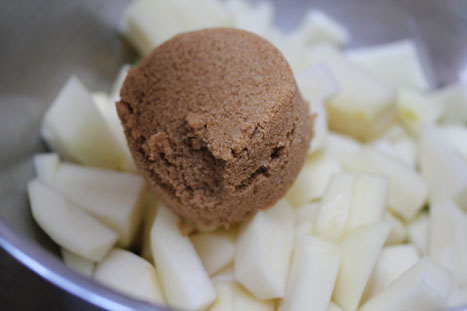 The brown sugar. (And it's okay if the brown sugar is packed in a "heaping" sort of way!)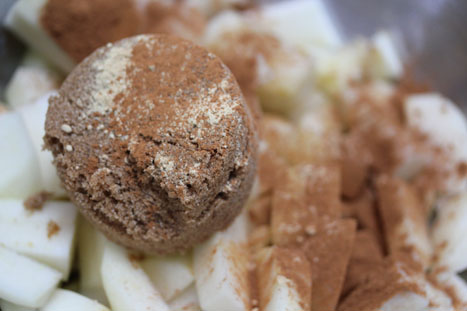 Sprinkle in the ginger and cinnamon.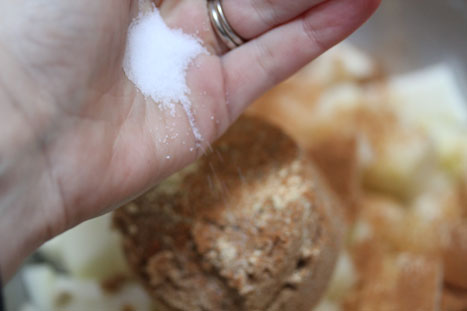 Add the salt.
(I'm not entirely sure why I use my hand when I add salt. But I do it all the time when baking. Huh?!)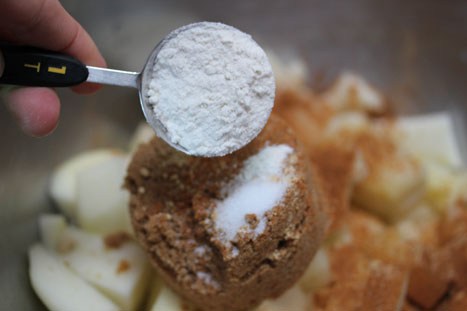 Toss in the flour.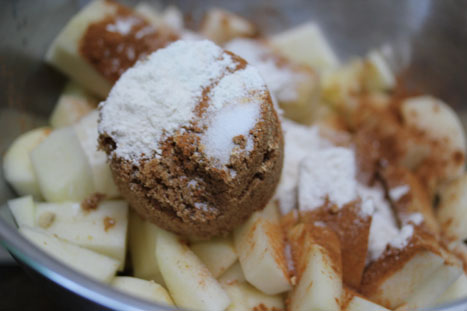 Prepare to mix.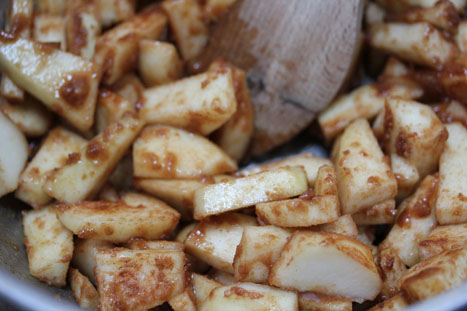 Mix and toss. Toss and mix.
Until well coated.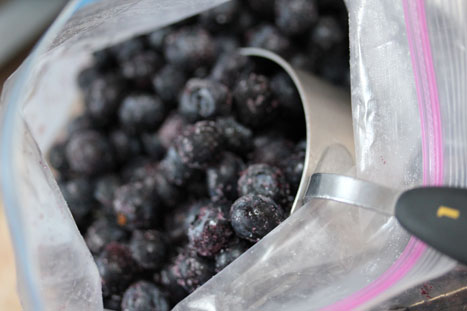 Retrieve frozen blueberries and add 1 cup to the pear mixture.
(And if you don't put them back into the freezer right away, a child might come along and start eating them straight out of the bag. More on that in a few!)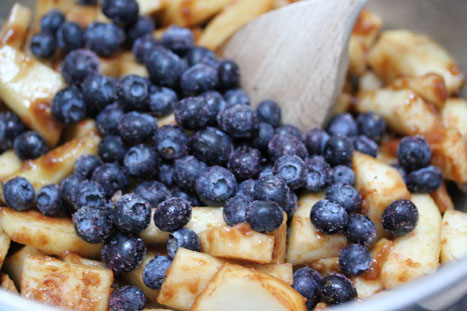 Nom. Nom.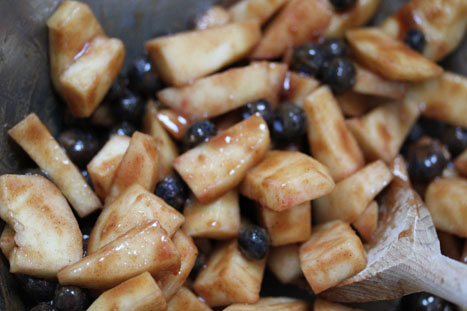 Toss the blueberries in with the pears and get them nice and coated with the brown sugar and juices.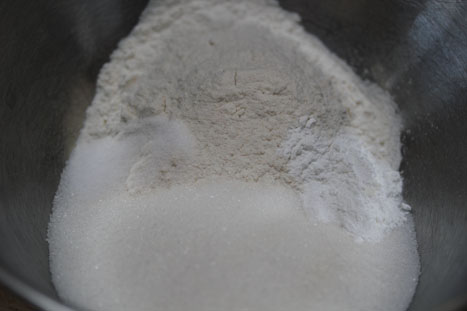 In a separate mixing bowl, add the flour, sugar, baking powder, and salt. Whisk.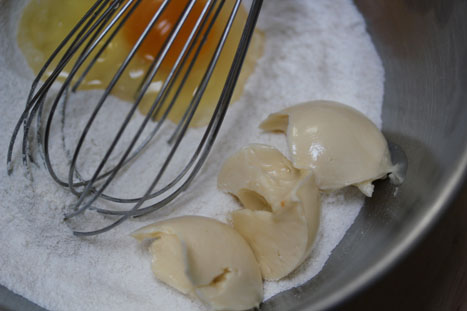 Add egg and softened butter.
(This is the part where I remembered that my fun new kitchen gadget that I got for Christmas…thanks Sis!)
(It's a scraper whisk thingamabob.)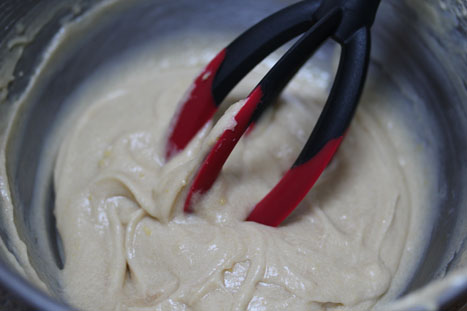 Whisk the batter, and then add the milk and vanilla until the batter is smooth.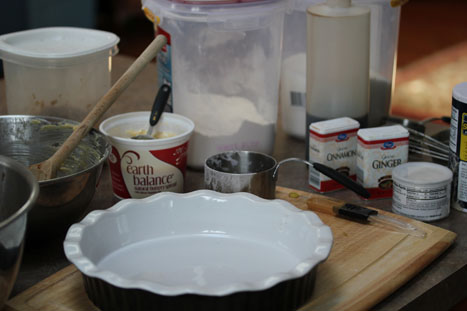 Keepin' it real. Wide angle shot…mid-mixing!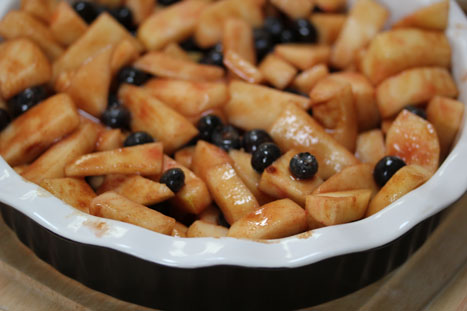 Pour into deep dish pie plate, 8-9″ round or square baking dish.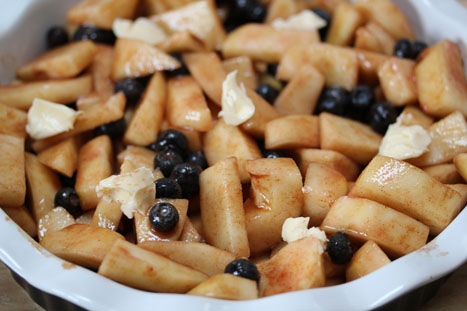 Add a few tiny dollops of butter.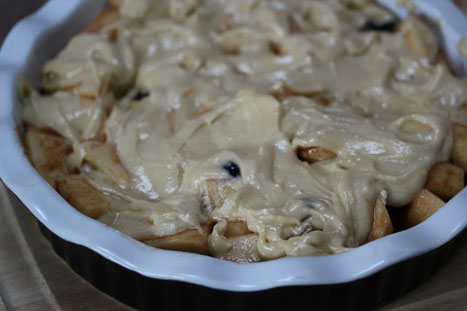 Pour the batter over the pears and blueberries. Help it spread a little. But know that it will spread to the edges as it bakes.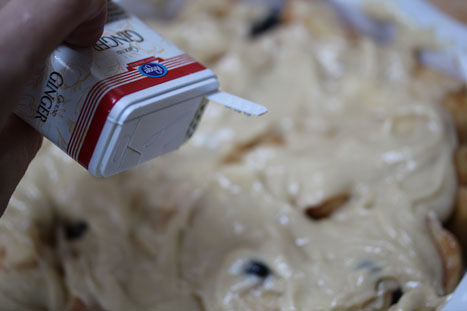 Sprinkle a little ginger over the top of the batter. Just a little dusting!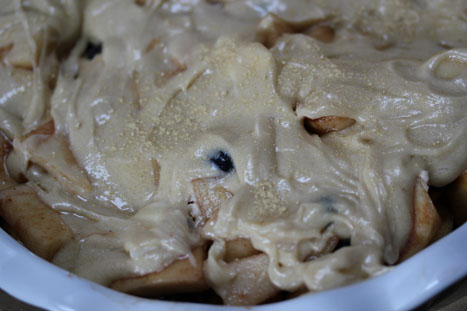 Gingerized batter. Ready to bake!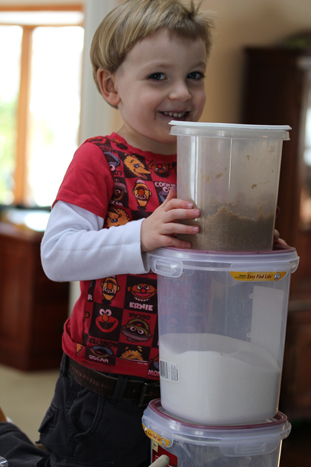 Charlie building a castle, while I put away the other ingredients. His lips are blue from eating frozen blueberries, straight out of the bag!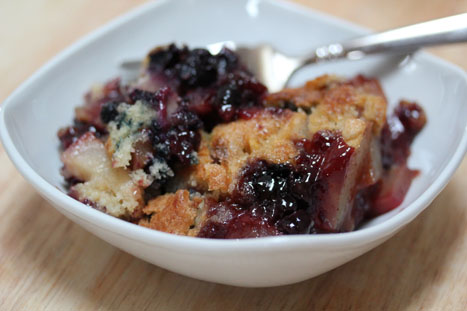 Once baked, you get to enjoy a bowl.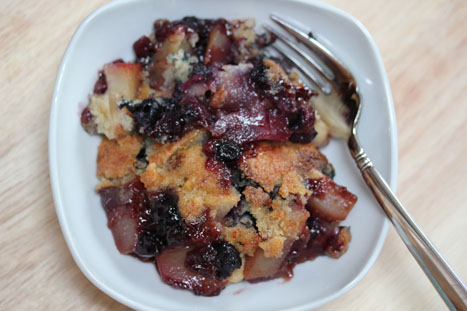 Or two.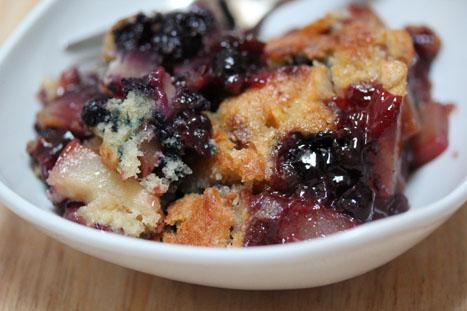 Or three.
(Not that I did that or anything.)
(The real reason I don't do much baking…I can't seem to control myself!)
(No…I really didn't have three bowls…but I sure thought about it!)
The flavors in this cobbler are phenomenal!
Ingredients
4

Bartlett pears, peeled, seeded and sliced

1

Tbsp

lemon juice

1/2

cup

brown sugar

1

tsp

cinnamon

1

tsp

ginger

1

Tbsp

flour

1/2

tsp

salt

1

cup

frozen or fresh blueberries

1

Tbsp

butter or margarine, for dotting
Instructions
Preheat the oven to 350 and grease a deep dish pie plate, 9″ square or round baking dish.

Combine the pears, lemon juice, cinnamon, ginger, flour and salt in a mixing bowl. Toss well. Add the frozen blueberries and toss again. Set aside and prepare the batter.

In a small mixing bowl, lightly whisk the flour, sugar, baking powder, salt. Add the butter, egg, vanilla and milk and whisk until a batter forms.

Pour the pears and blueberries mixture into the greased baking dish. Add a few small dollops of butter atop the pears.

Pour the batter over the top, spreading lightly. It will spread as it cooks.

Bake at 350 for 40-50 minutes, or until batter has cooked through and begins to turn golden on top.

Serve warm with ice cream, whipped cream or as is.