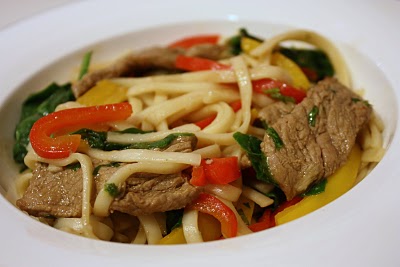 Tonight's $5 Dinner Challenge Recipe comes from Cari, the Chief Recipe Wrangler at Can I Get the Recipe!
Ingredients
1 (8 ounce) package rice thin noodles (dry)
2 tsp grape seed or vegetable oil
1 pound flank steak, cut into thin strips*
1 small red bell pepper, cut into thin strips
1 small yellow bell pepper, cut into thin strips
2 tsp grated ginger
4 garlic cloves, minced
1 cup beef broth
2 Tbsp soy sauce
2 cups baby spinach
1/4 cup fresh cilantro, chopped
*Throw beef in the freezer for ten minutes then slice. Much easier to make thin slices this way.
Directions
Cook rice noodles according to package directions until just soft. Drain, rinse with cold water then set aside. (Erin here: Use thin spaghetti in place of rice noodles if you don't need a gluten free meal.)
In a large wok, heat oil over high heat. Add beef, peppers, ginger and garlic and cook until beef is just cooked, about 3 – 5 minutes. Add in beef broth and soy sauce. Bring to a boil then reduce the heat.
Add in spinach and cooked noodles. Heat through until spinach wilts then stir in cilantro before serving in deep bowls.
Can I Get the Recipe Tip: Grape seed oil is now available in many major grocery stores. It is fabulous to use in stir fry cooking as I has a high smoke point (420 degrees F) and has a clean, light neutral taste.
For more great recipes and tips, visit Can I Get the Recipe?.