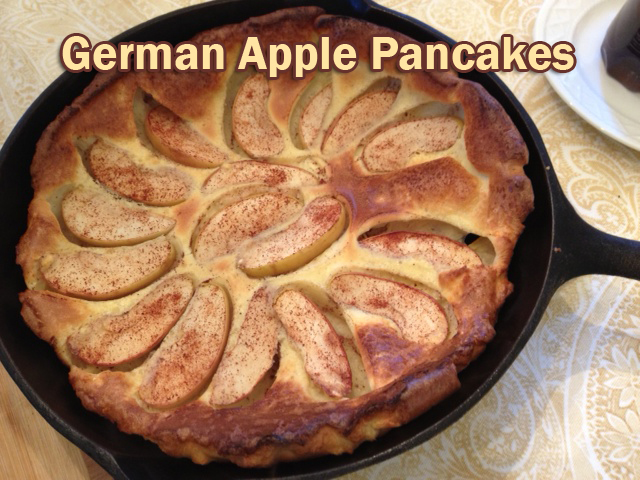 This is a great, inexpensive breakfast that can also double as a lovely dessert. It is super easy, looks very impressive, takes only a few hands-on minutes (way less than flipping pancakes). If I am making this for breakfast, then I always make sure to serve a piece of cheese or other protein before or after to increase the protein content of the meal.
It is also a really easy recipe to remember as the pancake portion is 1 part flour, 2 parts egg, 1 part milk. Then just add a dash of salt.
An inexpensive breakfast or dessert!
Ingredients
1/2

cup

flour

2

eggs

1/2

cup

milk

dash of salt

1

apple

peeled, cored, and sliced

1/4

tsp

cinnamon

1/2

Tbsp

butter
Instructions
Preheat oven to 425 degrees F.

Lightly beat 2 eggs and then whisk in 1/2 milk.

Pour over 1/2 cup of flour and whisk to combine.

Add a dash of salt and set aside (you can set this aside for up to an hour.)

Core and thinly slice one apple. Toss in 1/4 teaspoon cinnamon.

Heat a cast iron frying pan and melt the butter (or melt butter separately and pour into a glass pie plate or other oven proof dish.)

Quickly pour the batter into the hot pan with melted butter. Arrange the apple slices. Pop excess apple slices into your mouth.

Carefully transfer to the hot oven and bake for 15 to 20 minutes.

Slice and serve with a tiny bit of syrup (preferably maple). Enjoy!