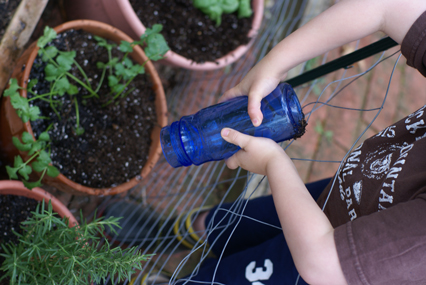 Just a friendly reminder to continue to keep your garden nice and hydrated as we move into the dog days of summer.  If you feel thirsty, chances are your plants are thirsty too! On the hot, hot, hot days, don't be afraid to water twice.  I will often do a light misting in the morning, then a good heavy soaking in the evening.
Also, it's middle of the summer…perfect time for another application of fertilizer, plant food or compost.
Everything in the $5 Dinners garden continues to grow strong…tomatoes and peppers are popping out all over. Herbs are trying to jump out of their pot. And the winter squash plants are trying to take over the plot.
How's it going in your garden?! Let us know how things are growing!