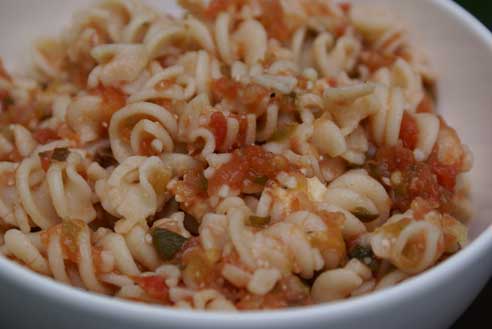 Ingredients
1 onion
1 green pepper
5-6 medium ripe tomatoes
2 garlic cloves
10 basil leaves
4 parsley sprigs
1-2 Tbsp EVOO
Salt/Pepper
Directions
1. Blend all ingredients in blender until chunky or pureed. I found that running the blender for about 15 seconds and then a few pulses did the trick.
2. Pour sauce from the blender into a saucepan or large skillet. Turn on medium heat and bring to bubbling. Cover and reduce heat to low. Let simmer 30 minutes – 2 hours, depending on how thick you prefer your sauce.
3. Serve with favorite pasta noodles, grated parmesan or shredded mozzarella cheese and side dish!
Also, I'll be drying my basil leaves using this method by Stephanie at Keeper of the Home!