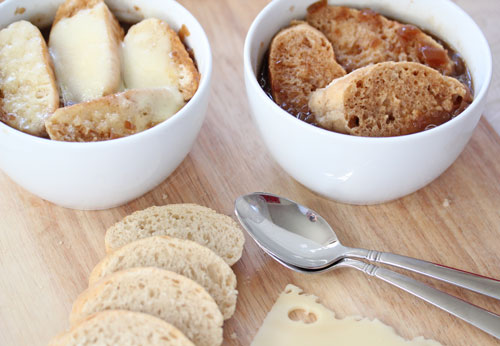 Last week I shared my idea for Sister Schubert's Soft Pretzel Rolls (Spicy Turkey Cranberry Pretzel-wiches), and today I'm sharing my idea for the new Mini Baquettes.
Eating the mini-baguettes straight out of the oven, slathered with butter or garlic butter isn't a bad idea at all. They will melt in your mouth when you eat them that way, and you'll have a hard time eating just one. They would also make perfect sandwiches or paninis. But I decided to go all comfort food on them.
I have a special place in my heart for French Onion Soup…I make it for myself from scratch several times throughout the winter months. I've shared my favorite recipe in my Breakfast and Lunch Cookbook.
For this you could use a canned or boxed French Onion Soup (or make your own!)…then just slice up the Sister Schubert's Mini Baguettes, dip them into the soup, covering both sides. Then top with a slice of Swiss cheese. Run it under the broiler or microwave on high for 1 minute, allowing the cheese to melt. Let cool slightly, then serve.
This bread does a fantastic job of soaking up the french onion soup, and every. single. bite was perfect!
Enjoy!