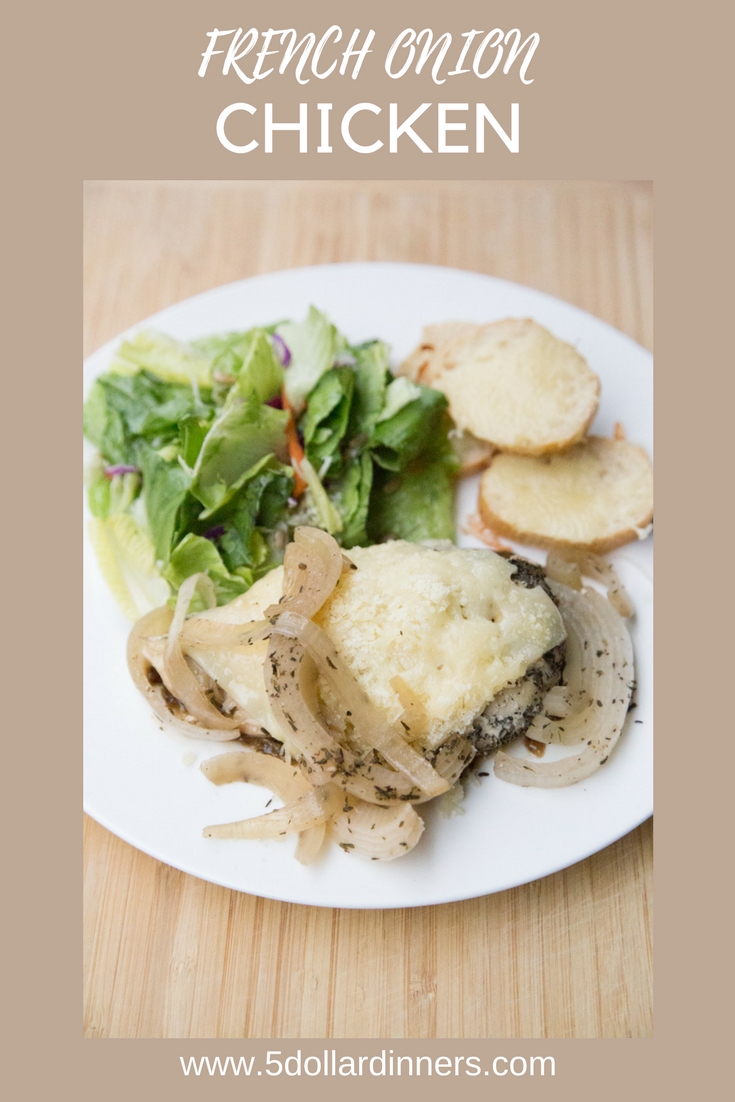 Let's take all the great flavors of French Onion soup and make some chicken……in the slow cooker, shall we?!
That's exactly what this recipe is – the chicken slow cooking the day away, soaking up all the amazing flavors of French onion soup – beef stock, Italian seasoning, onions. Then at the end of slow cooking, it's stopped with Swiss and Parm AND mozz. YYYYUUUUUUMMMMMM!
Yes, it's as delicious as it sounds and looks.
And it's so easy to setup in the mornings. Or drop into the slow cooker from the freezer.
Slice onions into half-moons. 30 seconds.
Add chicken, half-moon onions, beef stock, Italian seasonings to slow cooker. 1 minute.
Push all the buttons. 15 seconds.
Later in the day, just before serving…thicken up the sauce. 1 minute.
Add cheese before serving. 1 minute.
See….so fast and simple!
Super easy, and super flavorful!
Ingredients
4

small

boneless chicken breasts

2

small

white onions

Salt and pepper

1

cup

beef stock

1

tsp

Italian seasoning

1

Tbsp

cornstarch

1

cup

grated Parmesan cheese

4

slices

Swiss cheese

1

cup

shredded mozzarella cheese

Side idea: cheese covered French bread slices (like you'd add on top of French Onion soup! And omit if GF.)

Side idea: veggies or salad
Instructions
Slice the white onions into half moons.

Place the chicken breasts in the base of the slow cooker and sprinkle the onion slices over and around the chicken. Season with salt and pepper. Pour the beef stock around the chicken and sprinkle the Italian seasonings over the top.

Set on low and cook for 8 hours. With 30 minutes, left in the cooking cycle, swirl the cornstarch with a few Tbsp of water and stir it into the sauce. Cook for 30 more minutes to thicken the beef and onion sauce. Add chicken and onions onto plate and top with the grated Parmesan cheese and sliced Swiss cheese. Heat from the chicken should melt the cheese, but if it doesnt you can bake it for a few minutes in oven-safe dish to melt the cheese.

Place thin slices of French bread onto baking sheets and add pinchful of shredded mozzarella onto each bread. Bake at 350 F for 8 minutes, or until cheese has melted. Serve cheese covered French bread slices as side dish, or scoop for the chicken and onions. (Omit if GF.)

Prepare veggies.

Serve Slow Cooker French Onion Chicken with cheesy bread and veggies.