If you need easy dinners, you need Freezer to Slow Cooker Meals!
Freezer meals and slow cookers are like peanut butter and jelly. They are wonderful on their own, but they are BETTER together. They bring out each other's best qualities. They help each other shine.
If you aren't familiar with these types of meals, or aren't quite convinced you need them – let's talk about it.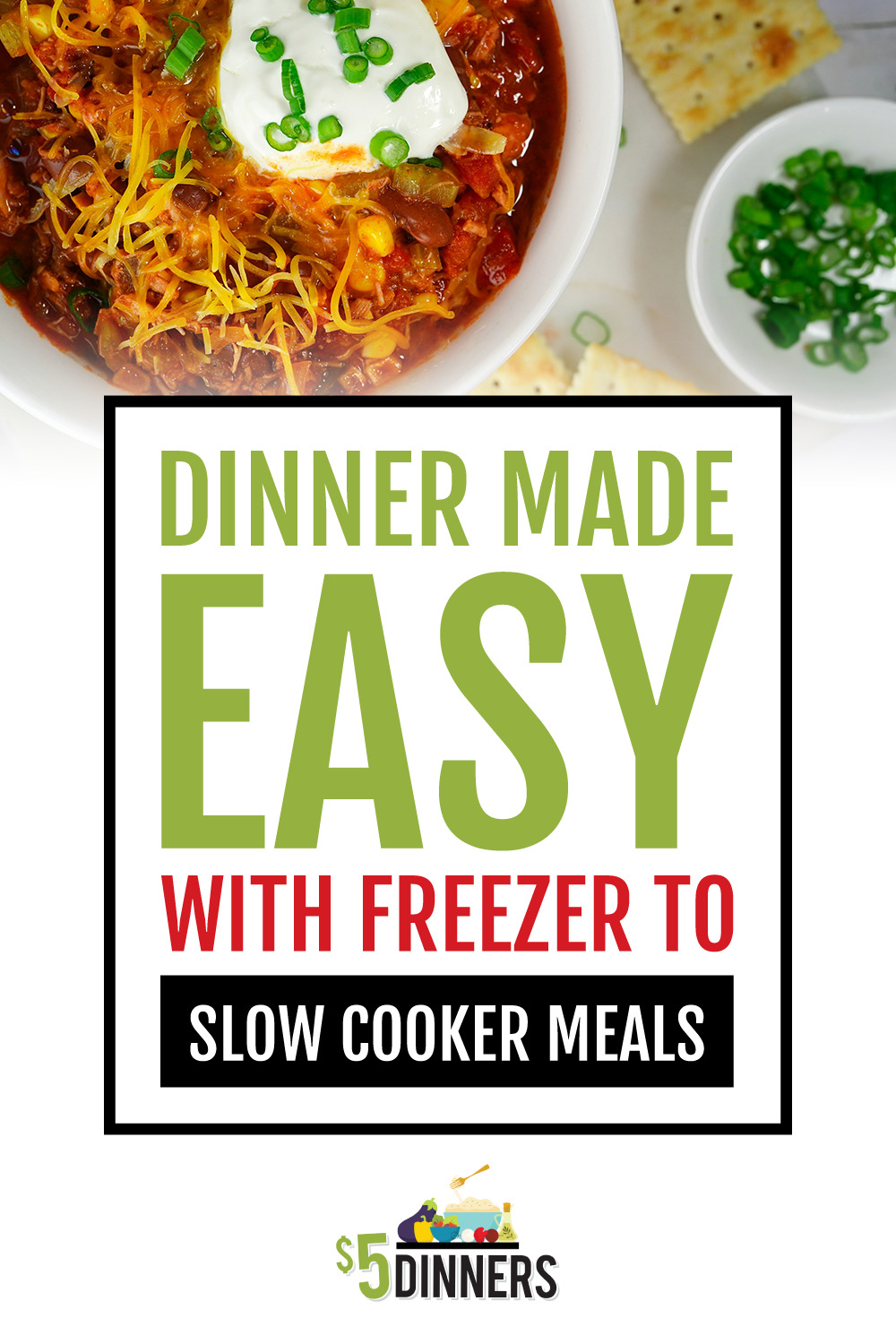 Let's dive into all the reasons freezer meals and slow cookers are wonderful, and how they come together to make the easiest dinner ever.
Why You Need Slow Cooker Meals
A slow cooker is a must-have appliance for the kitchen, in my opinion. If lack of space is getting in the way of you having a slow cooker, I challenge you to find a little nook for one. It will be worth it. You won't regret it.
Slow cookers do the work for you. Recipes for the slow cooker are typically a dump-and-go style, requiring the smallest amount of prep work possible. This allows the opportunity for anyone, even home chefs with very little experience, to feed their families with little to no effort. (Hello, simple and delicious!)
Most slow cooker recipes have the very simple direction of "set on low for eight hours." You don't even have to stand next to it and supervise. Eight hours! That's eight hours of work, or laundry, or napping, or binge watching that new show!
Slow cookers help with the ambiance too. Hot summer days are a brutal time to have the oven on for an hour, as it acts as a heater for the busiest living areas of your home. Slow cooking allows you to have a home cooked meal without heating up the house. On a cold winter evening, not many things are better than walking into your home and being greeted with the smell of warm chili bubbling to perfection.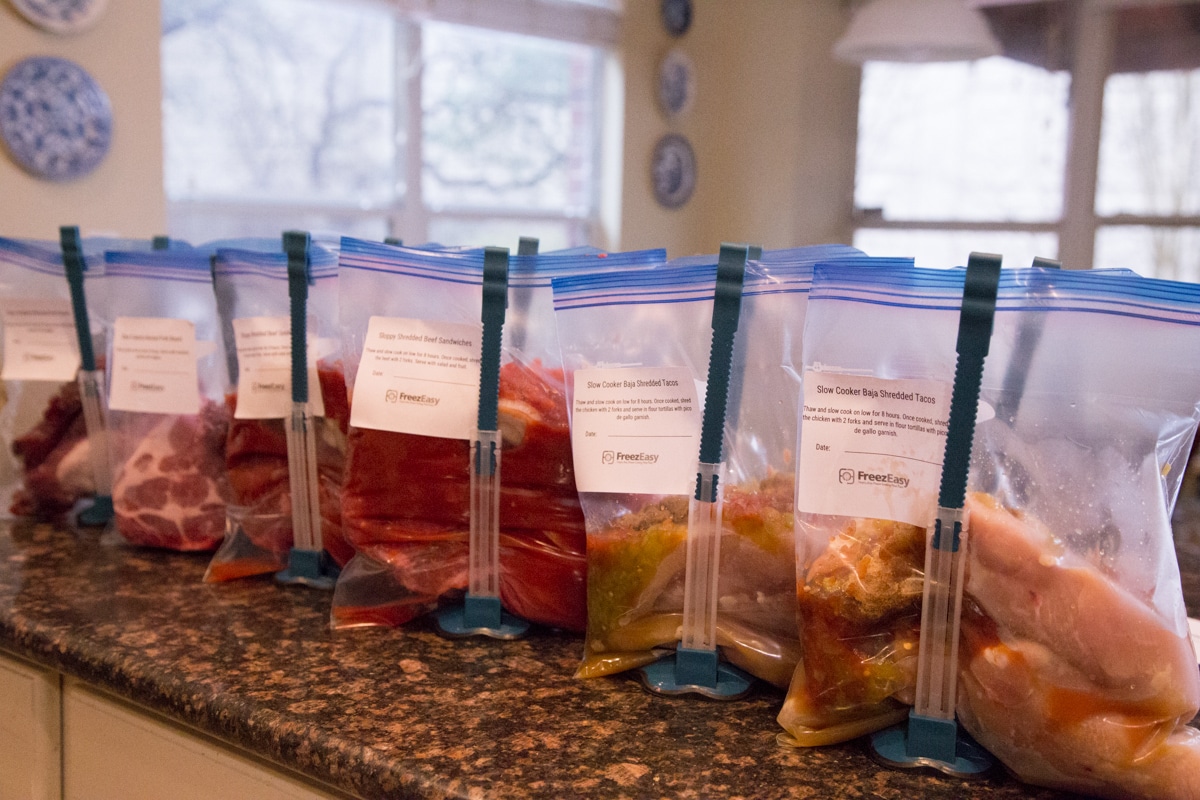 Why You Need Freezer Meals
Freezer meals offer flexibility of meals and savings for your grocery budget.
You'll love the freedom and flexibility of freezer meals. There is something magical that happens in your mind when you know you have "back-up dinner" in the freezer. When your schedule changes or life throws you a curve ball that day, freezer meals provide flexibility and an easy option for dinner. (They are also great for days when you just don't feel like cooking!)
Save Time
Spend a few hours shopping and assembling your meals, then spend more time doing the things you love. Enjoy the company of your family instead of standing in the kitchen for hours every night cooking dinner. Have a little extra energy and patience for those last minute projects because dinner is already done.
Save Money
Freezer to slow cooker meals will keep your tummies happy and your pocketbook full. They open up the ability to shop the sales and stock up, knowing you are getting the ingredients into meals and into the freezer. You can utilize bulk pricing with the confidence of not wasting any of it. Plus, freezer meals help you skip the large bill of the drive-thru or takeout because you already have a meal prepared.
Say Goodbye to Dinnertime Stress
Freezer meals are a lifesaver and godsend on busy weeknights, or on days that just don't go as planned. (Which might be every day!?) Not having to think about or worry about 'what's for dinner?' is such a relief. Just pull from the freezer, thaw and cook. Dinner will take care of itself.
Freezer Meal + Slow Cooker = Perfection
Freezer to Slow Cooker Meals are the BEST MINDLESS way to do dinner. Drop them frozen into the slow cooker in the morning, and you've got dinner waiting at the end of the day. They are the perfect solution for that every day challenge of getting a delicious and healthy meal on the table.
With freezer to slow cooker recipes, dinner is even more hands-off and hassle-free.
The practicality and simplicity of make ahead freezer meals is undeniable. They are cheaper than fast food, faster than sitting in the drive thru, and the health and nutrition of these meals surpasses the other fast-food options out there.
These recipes are the secret to the fastest possible meal at home by combining the convenience of freezer meals with the practicality of quickly pulling together simple, delicious ingredients that freeze well and cook well, so you end up with an amazing dinner waiting for you when you get home – it's a magical methodology that will change the way you operate in the kitchen.
Freezer to slow cooker meals will help you spend less time in the kitchen, and more time doing what you love. They will help you eat healthier and save money on groceries too.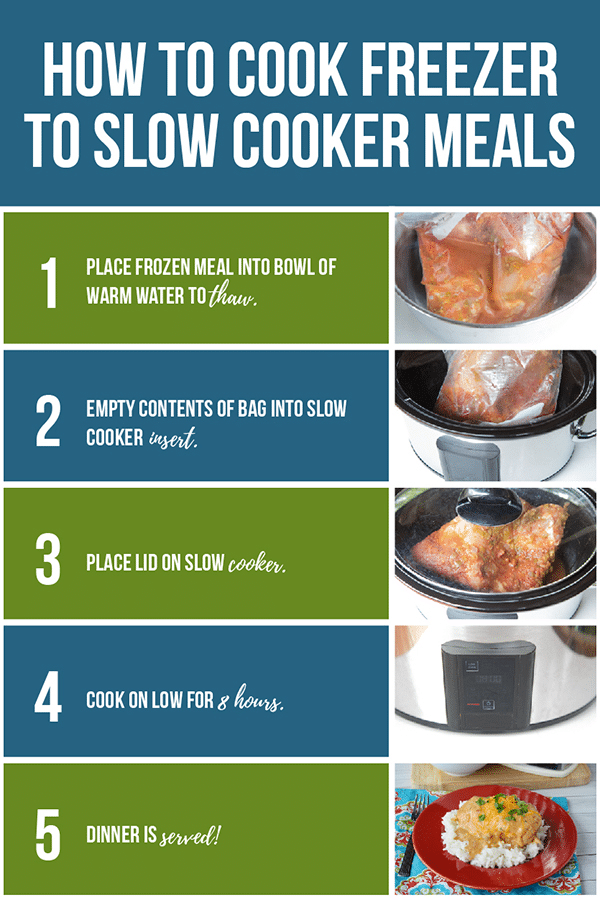 How to Cook Freezer to Slow Cooker Meals
Pull meal from freezer and thaw in warm bowl of water for five minutes. You want to get it thawed enough to separate the ingredients from the bag.
Pour the contents of the bag into the slow cooker insert.
Put the lid on.
Set slow cooker on low for at least 8 hours.
Viola! Dinner is served.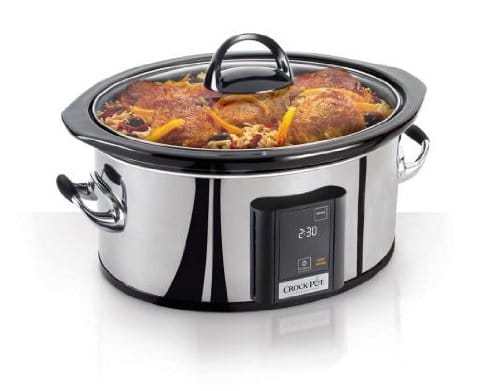 What to look for in a Slow Cooker
I love the slow cooker pictured above. I've had it for years and years and it (still) cooks beautifully!
If you have a slow cooker that "runs hot," or just isn't cooking right for you, I HIGHLY suggest switching to this one!
I get emails every week asking about the best slow cooker and why slow cooker food is nasty and why the meat is dry. The problem is your slow cooker. So….
I highly recommend that a slow cooker have the following features:
Programmable to the half hour
Well-tempted with a leveled "warm setting"
Auto-switch to warm setting after cooking cycle is complete
Crock-Pot brand (because I've tried others and they just don't cook evenly or the same – at least at my house!)
The one I recommend is programmable to the half hour, cooks very well and has a well temped and leveled "warm setting" too.
Also, I wanted to add – you will see MANY, MANY great options and deals for slow cookers and non-Crockpot brand slow cookers. The price might be great, but my guess is the quality and way that it cooks your food will be "off." I do not at all recommend getting any slow cooker with a "dial switch" – where you turn the dial. It just won't cook right.
Spending a little more on a quality slow cooker that cooks well but won't ruin your dinner is the wiser purchase!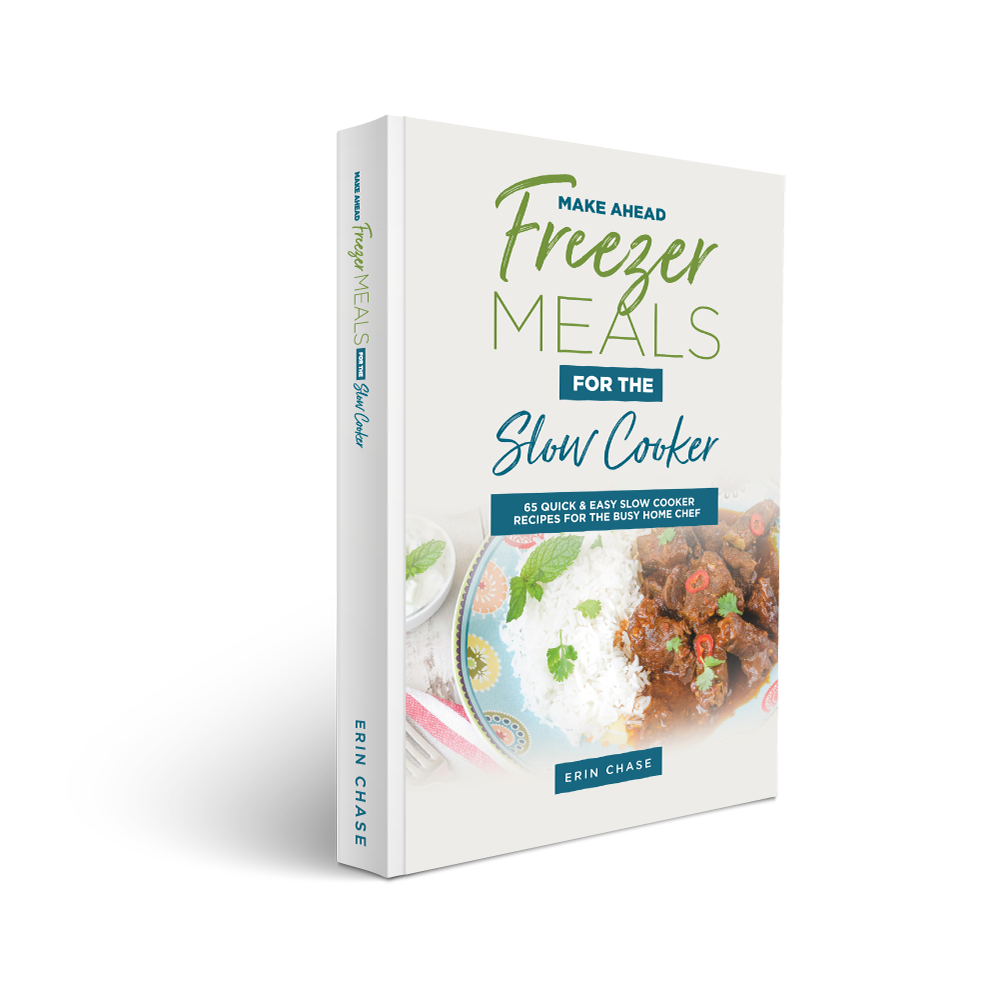 The Best Cookbook for Freezer to Slow Cooker Meals
Okay, I might be biased here. But here's what you need to know.
The recipes included in this cookbook will help you spend less time in the kitchen, and more time doing what you love. They will help you eat healthier and save money on groceries too.
Make-Ahead Freezer Meals for the Slow Cooker includes:
65 healthy, stress-free recipes made with wholesome ingredients that cook well in the electric pressure cooker
Budget-friendly ingredients that you probably already have in your pantry and fridge
Two complete MyFreezEasy Freezer Meal Plans that include shopping lists and assembly instructions
If you are a lover of all cookbooks, you don't want to miss these EASY FREEZER MEAL COOKBOOKS!