A homemade dinner can be easy and ready to serve your family in an INSTANT!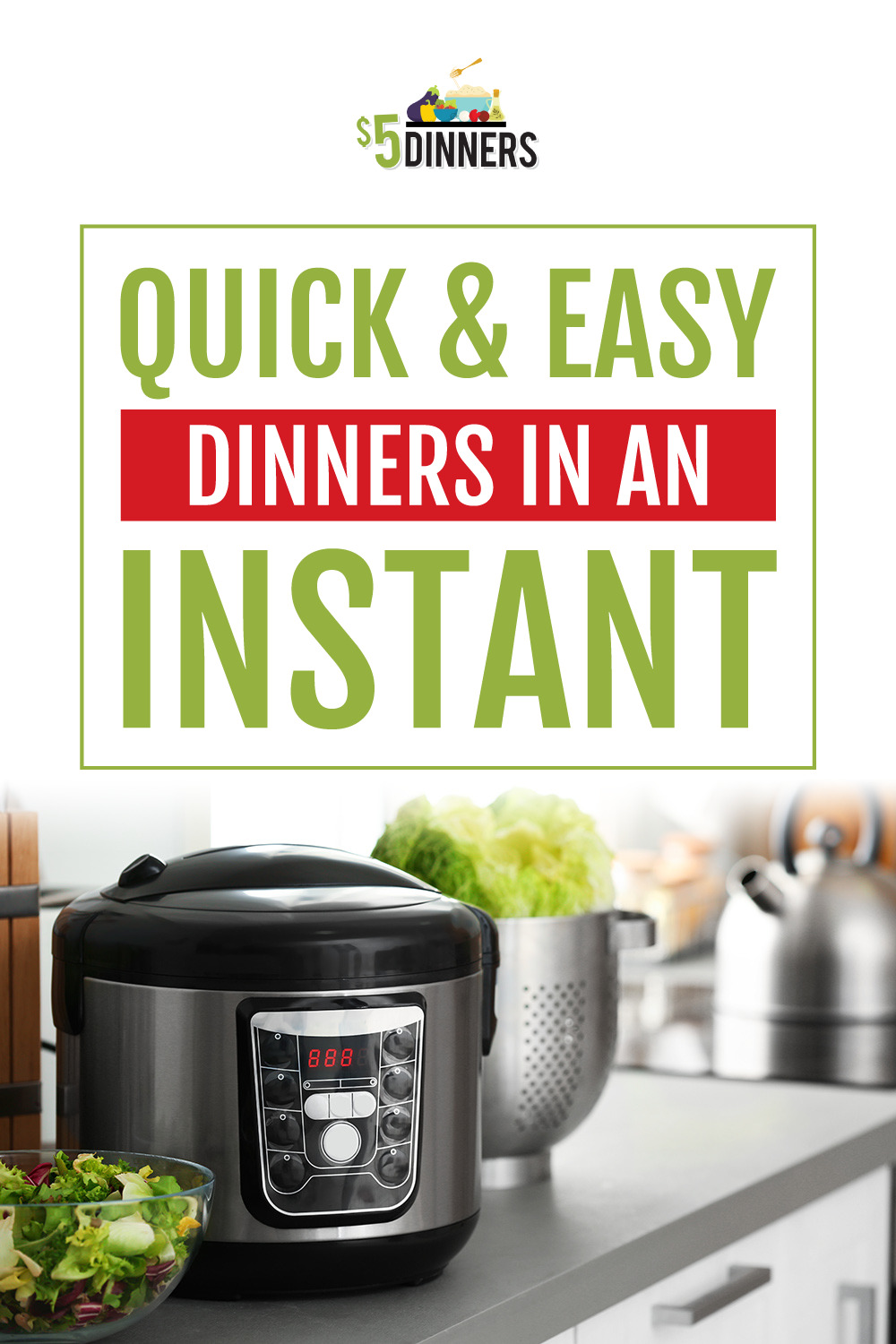 Getting dinner on the table is one of the biggest challenges I hear from busy parents trying to feed their families. One of my favorite solutions to this challenge is make ahead meals that go from the freezer, right to the Instant Pot.
Why Instant Pot Freezer Meals are the Best
Hands-off Cooking: Freezer to Instant Pot meals are fast to prepare because all you have to do is toss a few ingredients in a freezer bag. When you are ready to cook the meal, thaw the meal just enough to get the ingredients out of the bag and into the Instant Pot. Then, just push a few buttons and let the Instant Pot do all the work. No standing around in the kitchen with this type of meal!
Saves Time & Money: These meals are cheaper than fast food or take out. Freezer meals also help you with your grocery budget by allowing you to buy meats in bulk, and lowering your amount of food waste. They require just a small amount of time in the kitchen, and you won't have to spend any time thinking about what to prepare for dinner.
Homemade Meal: Freezer to Instant Pot meals offer an easy way to serve your family a warm, homemade meal. These meals can be customized to comply with just about any type of dietary restriction or preference as well.
How to Cook Freezer to Instant Pot Meals
Fill freezer bag with ingredients using, using FreezEasy Bag Holders.
Seal bag and place into round bowl, that is smaller in diameter than your electric pressure cooker insert.
Place bowl and meal into the freezer and let freeze overnight. Remove bowl once the "frozen ball of delicious" is formed.
When you are ready to make the chili, place it in a bowl of warm water for 5 minutes to "quick thaw." This is just to loosen the frozen food from the baggie.
Pull the bag out of the bowl of warm water and open it up. Flip it upside down directly into the electric pressure cooker insert. Add 1 to 2 cups of water or broth.
Put the lid on and set to Sealing. Push the Bean/Chili button. (Or Manual, High for 30 minutes.)
Wait 23 minutes for it to come to pressure, then wait 30 minutes to finish cooking. (This is a longer than normal come to pressure time because the meal is frozen. It will be defrosting during the come to pressure phase.)
Quick Release & ladle into bowls and top with favorite toppings.
Video: How to Cook Freezer to Instant Pot Meals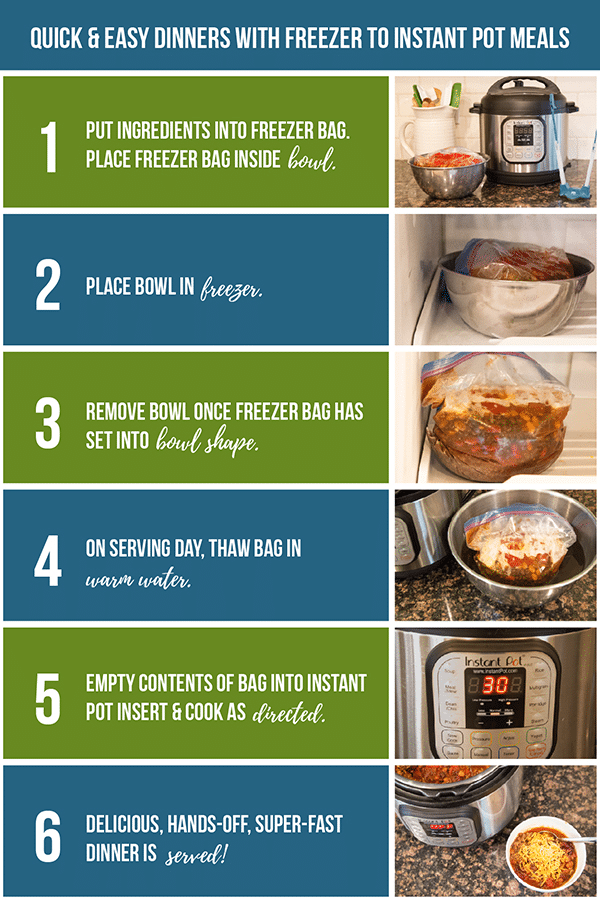 Freezer to Instant Pot Cookbook – Recipes & Meal Plans
With this cookbook, dinner is ready in an INSTANT! (In an Instant Pot, that is!)
Will my family even like these magical meals? Ours do! We think yours will too.
Will I have to go to a special store to find ingredients that I can't even pronounce? No way! We like to keep it simple with common, family-friendly and budget-friendly ingredients that you likely already buy.
What if I've only used my Instant Pot like, one time? No problem! The guess-free directions tell you which buttons to push and how long to cook your meal. Plus – the first two sections are all full of tips and tricks for this especially easy and awesome way of cooking!
BONUS: MyFreezEasy Meal Plans: In the back of this book, you'll find two complete MyFreezEasy Freezer Meal Plans to make a batch of 10 Instant Pot freezer meals at once. (In what should only take about an hour's time!)
*The 2 MyFreezEasy Meal Plans in this cookbook are also emailed to you in a PDF file you can save and/or print!
See image below to learn what's included in this meal plan thing.
Why should I buy this book? Because YOU my friend, deserve an easy and affordable way to get dinner on the table! This book will allow you to…
Eat healthier
Save money (grocery savings + less take-out!)
Spend less time in the kitchen