With each new customer order of $20, what you see above is FREE!
I adore these products…they are always next to my kitchen sink and we have more of the hand soaps by our bathroom sinks too. We love them so much and are now getting the "refill" bottles with our monthly (sometimes every other month) orders.
I have been ordering from Grove for years and I love the convenience of the auto-orders, as well as how simple and easy it is to adjust ship dates, etc. I typically get the hand soap refills, sometimes the dish soap refill, and it's my go-to spot for the kid's toothpaste. It's an easy and convenient service, and you can trust the quality of the products you're ordering too!
New to Grove Collaborative?!
Here's what new Grove Collaborative Customers get with their first $20 purchase:
It's FREE with your first order of $20 from Grove Collaborative. In fact, you'll get the 3 piece gift set from Mrs. Meyer's for free:
Mrs. Meyer's Hand Soap
Mrs. Meyer's Dish Soap
Mrs. Meyer's Hand Lotion
It's the perfect trio for your kitchen sink area!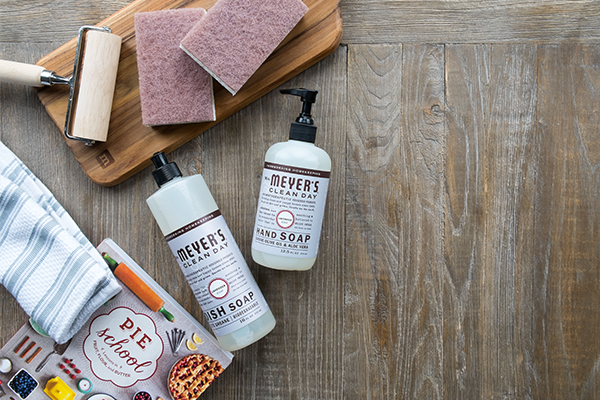 As I mentioned, these gift sets kits are free with your first order of $20 or more. Given that they are valued at +$20, I call this a great offer – much like a "buy one, get one free" kind of sale!
Here's how it works:
Sign up for Grove Collaborative to receive this 3-piece gift set.
To receive this offer, your order needs to be a minimum of $20. Choose the combination of products and scents you love.
Click Finish & Pay and place your order.
Your order & Gifts will be on their way with your first order!
If you've heard me talk about these before and wondered, how is that even possible? Well, it's possible. A few years back, I was a skeptic. And now I'm a believer…not only in this great offer, but also in the company. It's the place where I get a few different cleaners for our home AND, also the place where I get the kids' toothbrushes and toothpaste.
The box will quickly arrive with your first order AND your free gift set!
When you click over to Grove Collaborative, you'll be asked a few questions based on products you like and use, then your cart will auto-fill with $20 worth of products they suggest, based on your answers to the onboarding questions. (I think this is how I landed on always getting the refills and toothpastes from them!) You can add and remove items from your cart, as well as make adjustments to your future deliveries. They send reminders regularly about your order and your cart.
My advice with getting started…add a few things that you'll use yourself and a few goodies for gifts, and get your free kit while you're at it!

Disclosure: I am thrilled to partner with Grove on this special offer! Thanks for your support of $5 Dinners.