Do This One Thing to Get Yourself One Step Ahead…
If I had to identify one thing that makes me as productive as I am it would be this:
Forward momentum.
What do I mean by that?
I mean that you are consistently (not always!) moving through your day, your week, your world and your life with a forward momentum.
This means you are not:
back tracking.
caught off guard. (accidents or crises not included)
running to the store to grab "just one thing."
walking up to the fridge at 5 pm, hoping dinner will magically appear on some plates for you.
Forward momentum involves planning, but it's also a habit and a discipline.
And it looks like this…
KNOWING WHAT WILL HAPPEN AND WHAT YOU ARE RESPONSIBLE FOR THE NEXT HOUR/DAY/WEEK/MONTH.
(Caveats, of course, for unforeseen events and setbacks.)
I'm talking on the day to day, that you know the following:
Appointments
Phone Calls
Errands
Paperwork Tasks
Work Tasks
Work Projects
Hobby
Honey Do-List
House Tasks
You have a plan. Or a map. Or a blueprint.
Whatever want to call it. You need it to achieve forward momentum. And I believe it happens on three levels, really.
Now + Daily + Weekly
2020 seems to have wiped us all back to ground zero of "life things," and now we have an amazing opportunity to develop these crucial habits and disciplines of forward momentum…as we move back into our "normal-ish" life again.
How to Shift Your Productivity Momentum into Forward Mode
Start with Weekly Planning & Sunday Setup
On Friday afternoon (for your work schedule) or Sunday afternoon (life schedule), set up everything you can think of onto your planner, shopping lists, errands lists, etc.
Of course, life's happenings will pop up…but do you best to make this a weekly habit. Write it all out onto the weekly tearpad.
Got that down? Now…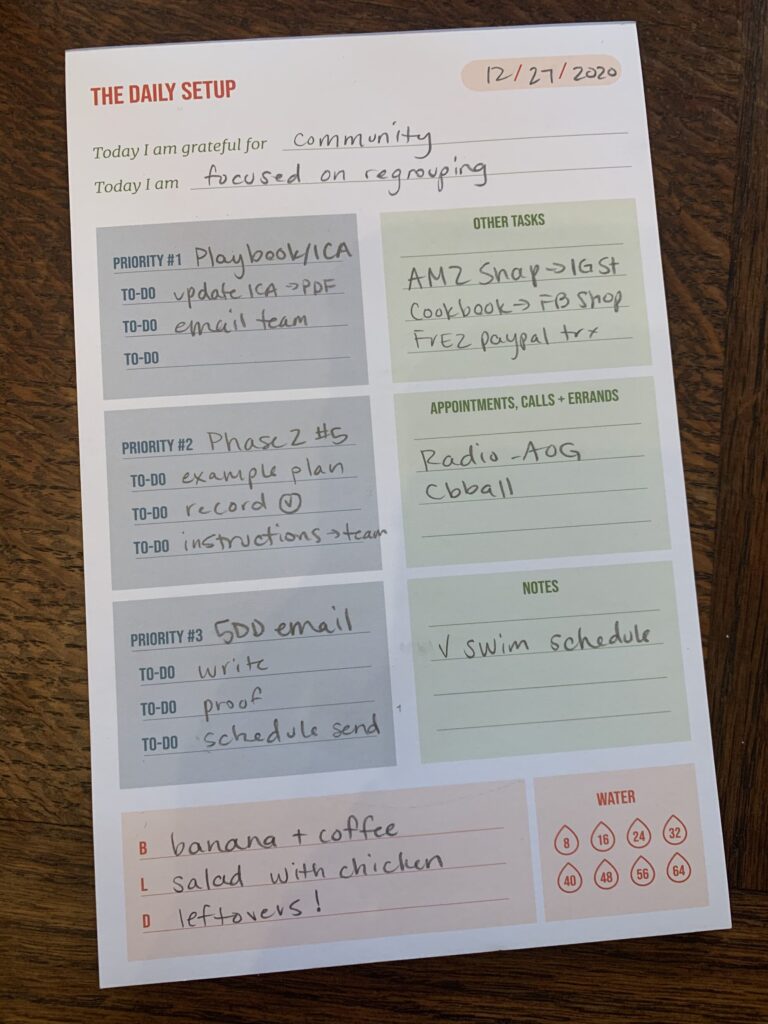 Move to Daily Setups
I wrap up every work day with a quick look at what's happening tomorrow. Do I have the right tasks on the list for tomorrow? Do I have enough time to complete? Do I need to shift project work or tasks around?
Make it a daily habit to look at tomorrow's agenda and "close any loops" from today…before you go into life-relax-hangout mode.
Getting your next day set up at 5 pm today is life changing!
What about "those" thoughts?!
Evening Brain Dump & Tomorrow Setup
It's inevitable. You've been fighting exhaustion all day. You lay down to settle into sleep, and your mind starts racing.
Just me?! No?!
Well…it's really important to do something with those ideas, thoughts, and worries that keep you from sweet, sound slumber.
Type them into your notes app, email yourself links to research later, write down any stresses or to-dos.
WHATEVER YOU DO…GET THEM OUT OF YOUR HEAD.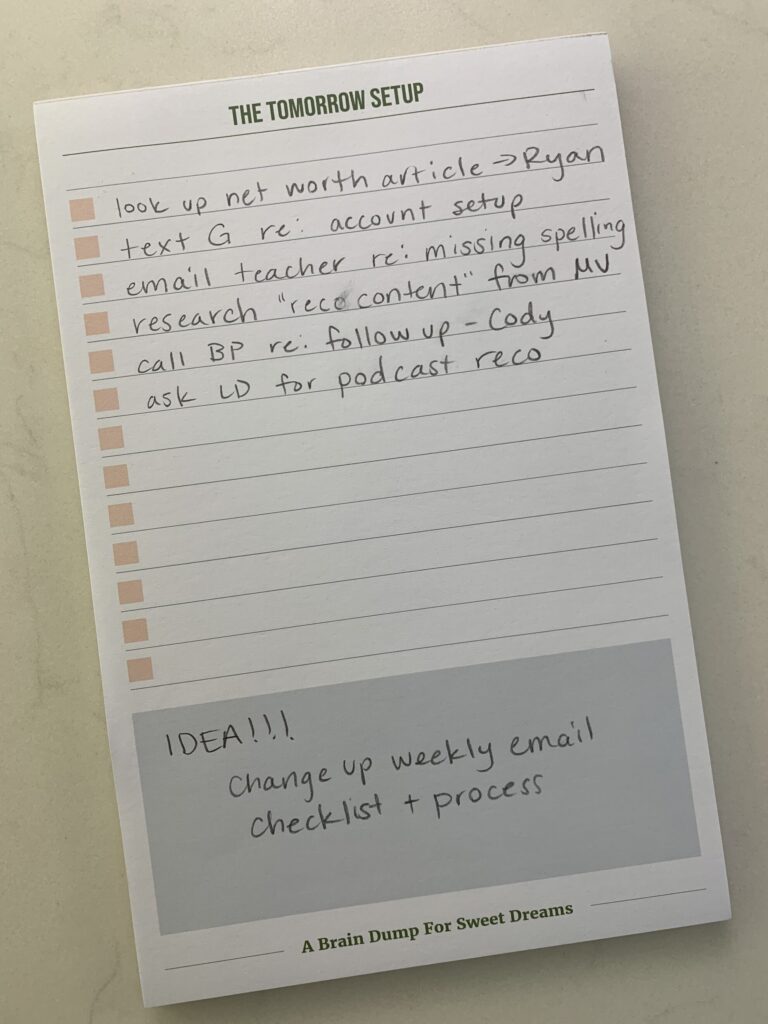 Doing this will help you shift into forward momentum mode, and you won't be wondering what you missed the next day. (What was I supposed to be researching this morning? Who was I supposed to call?)
Those "I can't remember and I can't keep up" kinds of thoughts in our mind are the things that keep us from being consistently in forward momentum mode.
The goal is to shift into a mode in which you are "one step ahead" of the next "thing" – dinner, dishes, laundry, work project, tasks related to phone call, etc.
Having both the mindset, habit/discipline, and the tools to help you do this are all crucial to your forward momentum success.
My CHALLENGE for you – get one or all of my "setup" tearpads and start working towards this forward momentum shift in your life.
You'll feel…
less overwhelmed
more efficient
less distracted
in control
like you're telling your time what to do
like you're finally getting things accomplished around the house, or at work
You ready for this forward momentum shift?!? Grab one of my Setup Tearpads below, and let's get started!!