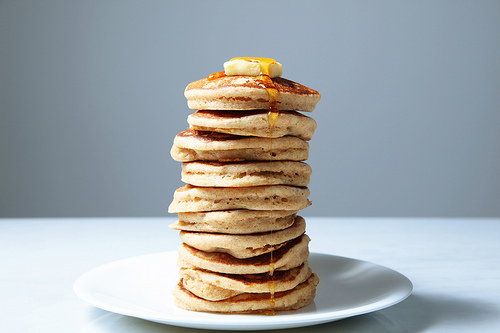 (Yes, that is a very large stack of gluten free pancakes. Recipe here.)
Welcome to Part 1, of what I think is going to be, a 3 part series on dealing with food allergies without burning a larger hole in your pocket.
First off, I will be using the term allergy to mean all of the above…a true anaphylactic type reaction, a delayed "digestive" reaction, and an intolerance. Each of these situations means that one cannot have the food in question, so for our purposes we'll be using the word "allergy."
Second, for those dealing with food allergies…I'm sorry. It is no fun. It can be unpleasant, especially when a guest in someone's home or when out to dinner with friends or family. But…it can be managed! Please take the time to "grieve" over the loss of these foods. Let yourself, your child(ren), and your family grieve. Be open and honest about your emotions and don't be afraid to share them.
And now for the more practical ways to save…
1. Take a Look at What you CAN eat.
This sucks.

That's what I told myself as I walked through the freezer section, looking at ice cream container after ice cream container on the shelves at the Albertsons grocery store near TCU.

I figured out during my college years that I was lactose intolerant and needed to cut out ice cream, yogurt, etc. from my diet. I was not particularly thrilled about the ice cream part. Not at all. I *may* have shed a tear while standing in front of the ice cream.

And then I bee-lined it for the back corner of the store, where they shelved the boxes of rice milk.
Lesson #1. After you grieve and fuss over what you can no longer eat, sit down and make a list of what you can eat. Get creative. Include foods you've never tried before. Do some research about what you can eat when on a gluten free diet, or a soy free diet.
2. Write out all the meal ideas that you are allowed to have.
Once you have your list of foods that you can eat, write out 10-15 ideas for meals that you can have..for breakfast, lunch, dinner and snacks. Include meals you've never tried, ingredients you've never cooked with. If you're not sure where to look, google your particular diet and the word "blog," and chances are you will find an entire community of people dealing with the same food allergies as yours.
An example…when we were on the GFCF (gluten free casein free) diet back when Ryan was in the thick of his sensory integration dysfunction issues, I based all of our meals around potatoes, brown rice and sweet potatoes. Then as I got comfortable with those foods, I added in rice pastas and started using rice flour and other flours to bake little snacks for the (then 2) boys. It was a slow process.
If you deal with dairy issues, just omit the cheese and find "your new milk," be it almond, rice, soy, coconut or hempmilk. (I omit the cheese from recipes all the time. Doesn't seem to make much of a difference.) And if you want to make pizza, use a dairy-free alternative…but use sparingly…because yes, it is more expensive!
3. Write a short rotating meal plan.
With your list of "can eat" foods and your list of meal ideas, write out a 3 or 4 day plan that rotates. Write down everything that you plan to eat…as you'll need to have everything on hand that you'll need to eat for that time period.
Breakfast. Lunch. Afternoon snack. Dinner. Dessert/treat.
All of it!
Day 1. Day 2. Day 3. Day 4.
Repeat.
Meal planning is crucial for spending less money at the grocery store. Absolutely crucial! And sixteen times more crucial when you are dealing with food allergies and the need to buy more expensive products and/or ingredients. We've got to have a plan in place so we can balance the "regular" products and the "allergen products" and not have to spend 4 times that of your neighbor who doesn't deal for food allergies.
Balance!
After you start enjoying these foods that you can eat and have completely forgotten about all those foods that you had to give up, start adding new meals and treats to your rotating plan. With the new rotating plan in place, you'll start to feel better, notice improved behavior in your kids and be on your way to a healthier you and a healthier family!
Up next in part 2…finding the coupons and deals for "allergen foods"…
If you struggle with finding the best deals and coupons for allergy-free foods, then please sign up for the free email updates that include all the allergy free food coupons and deals! If you know someone who deals with food allergies and needs to do so on a budget, please share this information with them 🙂