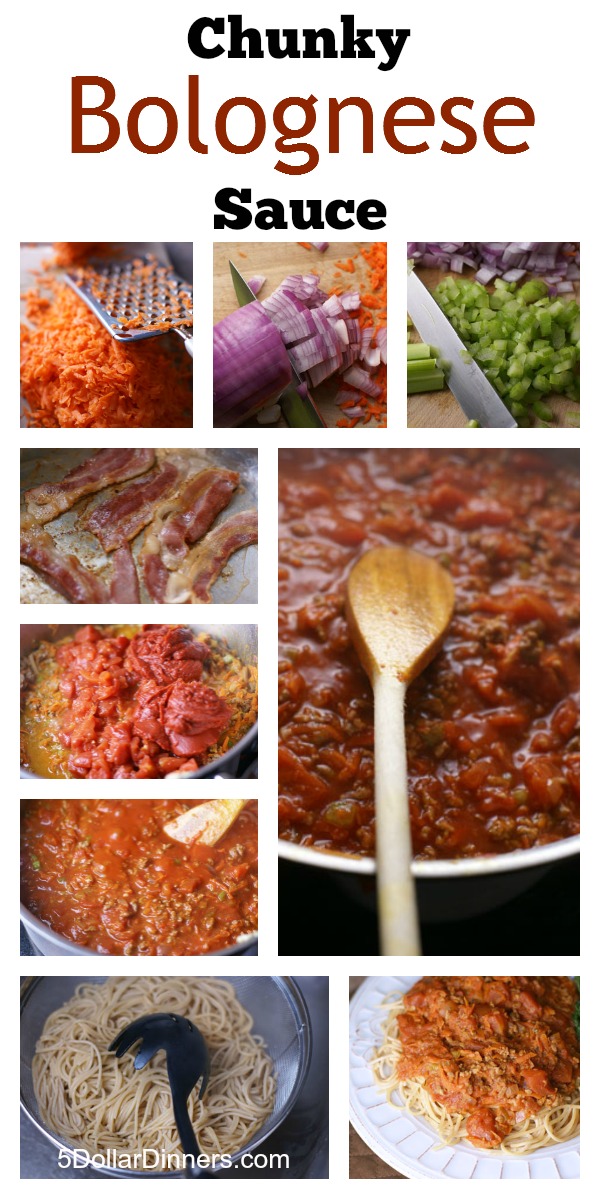 I have been itching to make a Bolognese Sauce ever since Jamie emailed me her recipe during the Pantry Staples contest. I dug out the last of the bacon from the freezer, grabbed a few cans from the pantry, and pulled out the ground beef and veggies from this past week's grocery trip. I decided to double up and make 2 batches, as I found I had plenty to do so. And thought this would be perfect to have the week of Thanksgiving…when I'll be too busy preparing for our feast!
It's all about being resourceful with this recipe!
A basic bolognese sauce includes beef, pancetta (bacon for us budget chefs), onions, celery, carrots, tomatoes, broth, wine and milk. As you'll see below I left out a few ingredients, and added diced tomatoes to give it some chunk. And you really wouldn't know the difference.
The bacon brought a new flavor to the sauce, as did the shredded carrots.
The sauce was perfect. And I'm so glad that I doubled up and made an extra batch!
Here we go…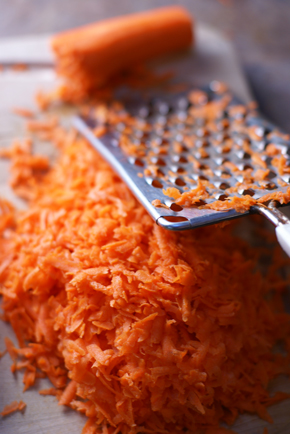 First up, create a pile of orange shreds.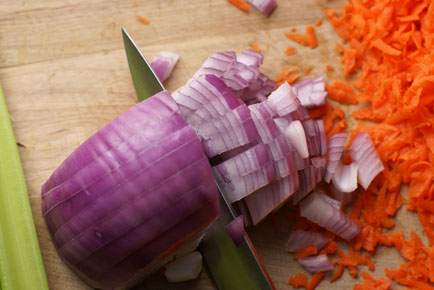 Next, create a pile or purple dices.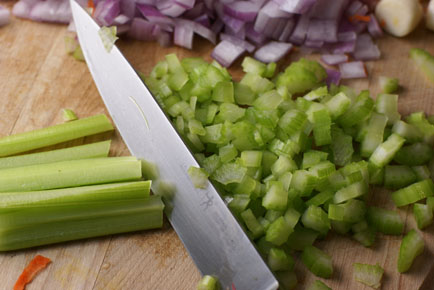 Then, create a pile of green celery chunks.
Onto the cooking…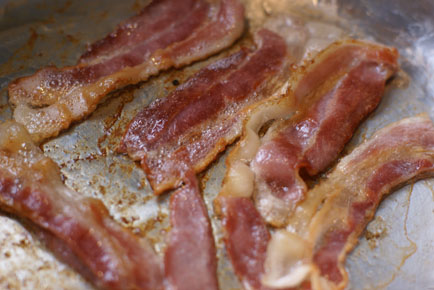 Cook the bacon slices in a large saucepan or Dutch oven.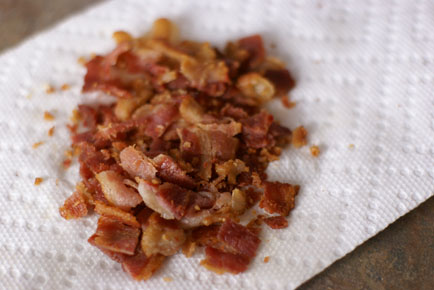 Set aside on paper towel to drain. Then chop or crumble. (Good thing my Dad got some paper towels for himself us last week.)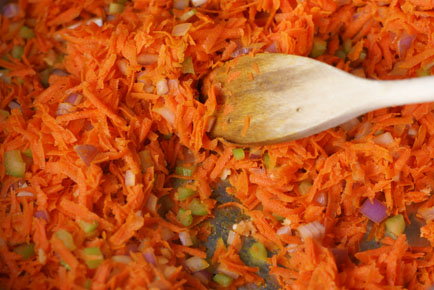 In the same Dutch oven, saute the carrot shreds, onion and celery in the bacon grease. (If that's not your thing, then drain the grease and add some olive oil. But you'll lose a little of the bacon flavor in doing so.)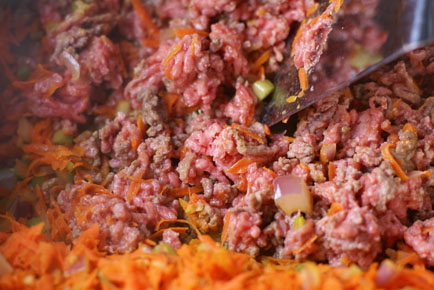 After the carrots have sauteed for 5 minutes or so, add the ground beef and brown with the veggies.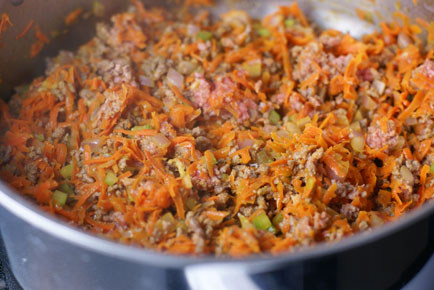 Mix it all together and finish browning the beef.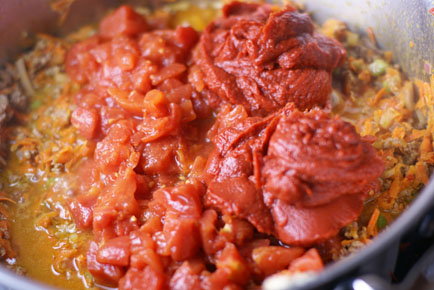 Once browned, add the 2 cans of diced tomatoes with their juices, plus the 2 cans of tomato paste plus 3 cans worth of water.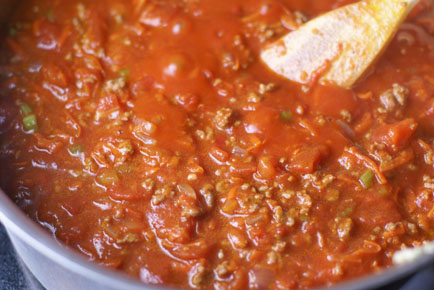 Stir it up.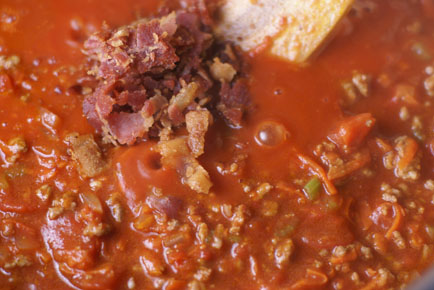 Add the crumbled bacon and let simmer for 15-20 minutes. Any longer than that, cover it.
(Be sure and take a stroll around the house and smell the aroma that's filled the air.)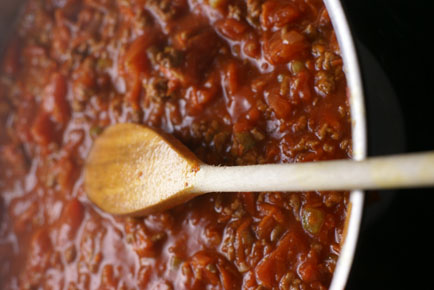 Chunky. Bolognese Sauce.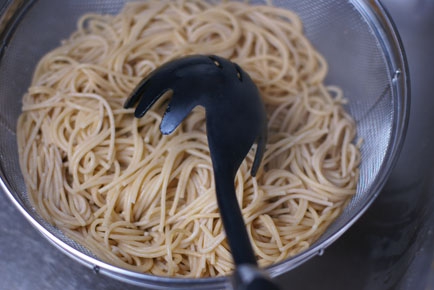 While you could just eat the sauce itself, some noodles might help. And love the fact that these are $.50/lb. box of whole wheat spaghetti 🙂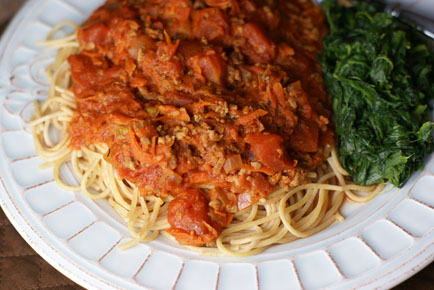 Perfectly balanced and colorful dinner.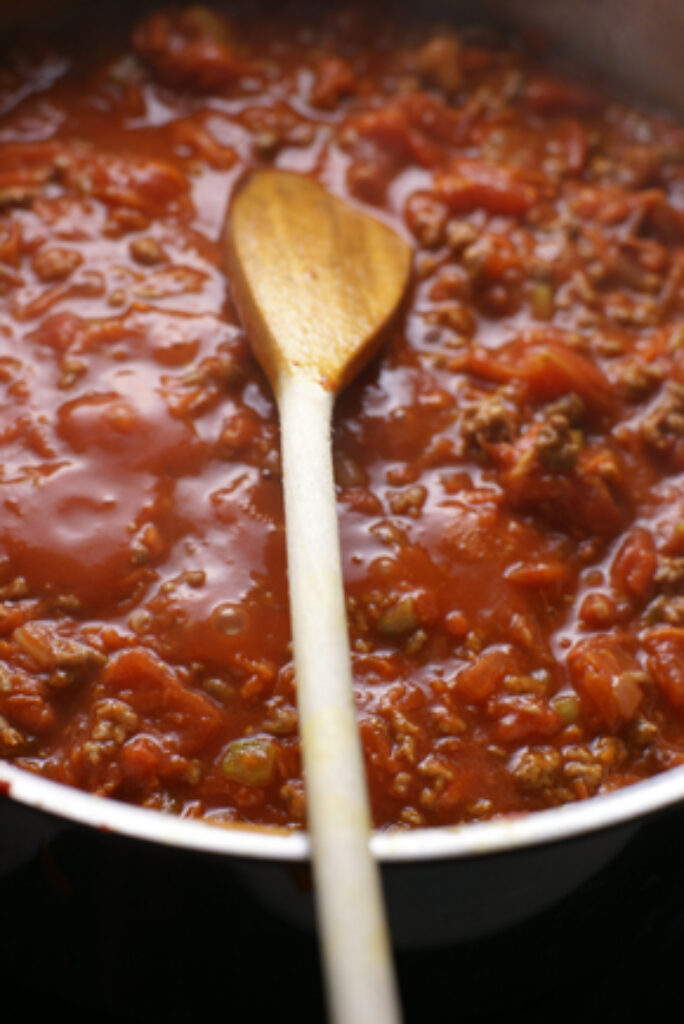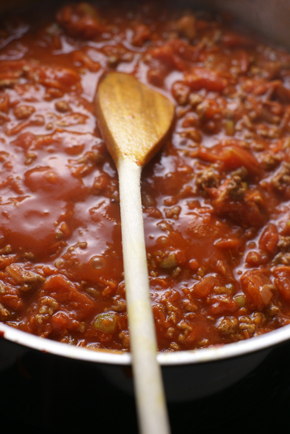 Beautiful bubbly bolognese sauce.
Hearty and full of flavor!
Ingredients
3

carrot sticks, peeled and grated

1/2

red onion, finely chopped

2

celery stalks, chopped

4

slices

bacon

2

garlic cloves, crushed

1.25

lb.

ground beef

2

15 oz cans diced tomatoes

2

6 oz cans tomato paste

1

Tbsp

Italian seasonings

Salt and pepper to taste

1

lb.

whole wheat spaghetti noodles

1 box frozen spinach
Instructions
Peel and grate carrots, chop red onion and celery.

In a large saucepan or Dutch oven, cook the bacon. Then set aside on paper towels and crush/chop.

In the same saucepan, saute all the veggies with the crushed garlic for 5 minutes. Add the ground beef and brown.

Once browned, add the diced tomatoes, tomato paste and about 3 tomato paste cans worth of water. Stir in the bacon and the Italian seasonings. Let simmer for about 15 minutes. (Cover if you simmer longer.) Season with salt and pepper to taste.

Cook noodles and spinach as directed on package.

Serve Chunky Bolognese Sauce over noodles with side of spinach.