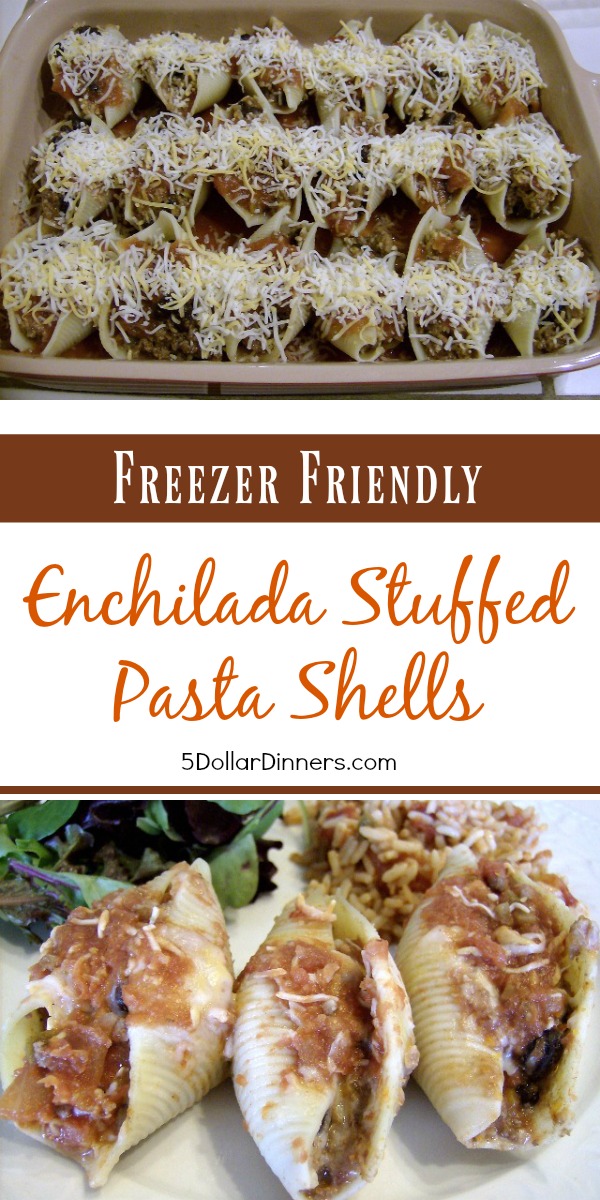 My oldest child was born while my husband was deployed in the first gulf war. Our squadron's support group organized dinners for me every night until my husband returned 4 weeks later. But that is not all. Whoever brought me dinner packed a lunch for me to enjoy the next day. Seriously.
I have been paying that amazing gift forward for the last 20 years.
One of my favorite dishes to take when a family needs a meal is Enchilada Stuffed Pasta Shells. One of the benefits of this recipe is that it makes enough for two 13 x 9 baking dishes, which means I don't neglect my family when I am feeding another family. Another benefit is that, in a pinch, a new mom can pick the shells up and eat them like tacos while holding a baby in her other arm. 🙂
I don't like waste, but this is one time where I like to use disposable aluminum pans. Then the family I deliver a meal to does not have to worry about washing the pan or returning it.
Delightful enchilada flavors in a pasta bake dish!
Ingredients
1

lb.

ground beef

1/2

cup

diced onion

3

tsp

homemade taco seasoning

or 1 package taco seasoning

1 3/4

cups

cooked black beans

or canned

1

can diced tomatoes, do not drain

12

oz

jumbo shells

2

cups

shredded cheese

1 1/2

cups

tomato sauce

1/2

cup

medium salsa

1 1/2

cups

shredded cheese
Instructions
Put a large pot of water on to boil. Once it begins boiling add shells and cook according to the package directions.

While the water is heating, cook ground beef and onion over a medium flame until beef is browned.

Add taco seasoning, beans, and diced tomatoes. Be sure to add the juice from the diced tomatoes too. Simmer over low heat for for 5 minutes.

Remove from heat aside and let cool while the shells cook. Once the meat mixture is close to room temperature, add 2 cups of cheese and mix well.

In a small bowl, combine tomato sauce and salsa. Spoon 1/2 cup of tomato sauce mixture into each 13 x 9 baking dish.

Preheat oven to 350 degrees.

After the shells have been drained, spoon meat mixture into each shell and place it in a baking dish.

After all the shells have been filled. Spoon 1/2 cup of the tomato sauce mixture over the shells in each baking dish. Sprinkle 3/4 cup cheese over the stuffed shells in each baking dish.

Cover one baking dish with foil and bake at 350 degrees for 25 minutes. Remove foil and bake for another 5 minutes.
If you are taking this to another family, you can cover the dish with foil and put the baking directions on a sticky note on top of the foil.
This is also a great "cook one, freeze one" meal. If you are not taking a meal to another family, cover one baking dish with plastic wrap and freeze. Defrost in the refrigerator on the day you want to cook the stuffed shells for dinner.
Do you have a dish you share with friends when they are in need of a meal?