Can't Stay on the Meal Plan Bandwagon? Try This…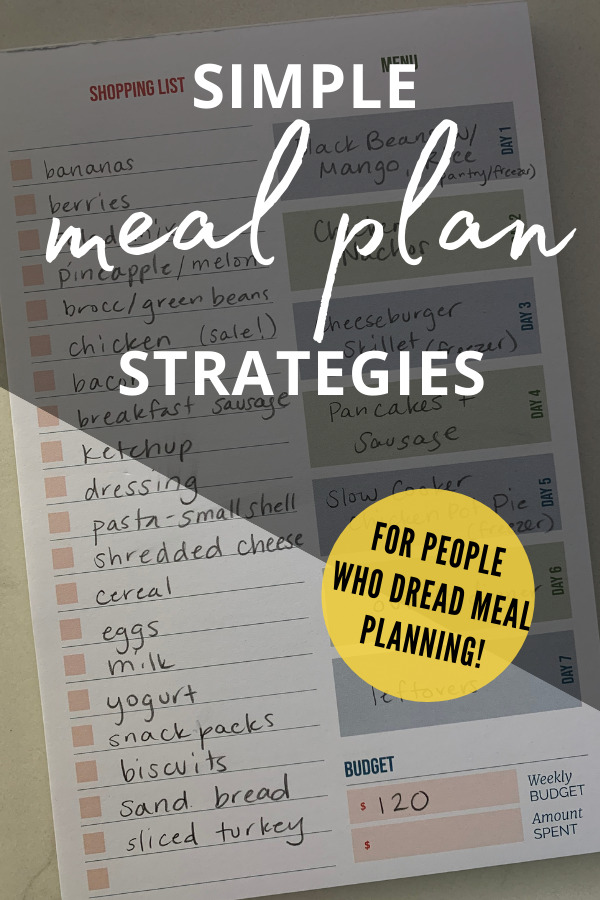 The Problem with Meal Plans
Here's the thing my friend. My guess is that you are…
overthinking meal planning…
are overwhelmed by the process…
tired of doing this week after week after month after year…
wanting to add more variety into your meal rotation, but you don't know what to try?
First, I want you to take a deep breath.
Give yourself and little pep talk.
And read on for some helpful ideas and ways to make meal planning work for you.
Tips for Easy Meal Planning
*Have an ongoing/updated list of meals your family will eat. If you haven't written this down yet, take some time this week to do that. This list will help you see your family favorites in one place, so that you can "riff" off of this list to find similar meals that they will enjoy. (But will also help you feel like you aren't eating the same 6 things over and over.)
*Be flexible. You don't HAVE to have what you wrote down for Monday on Monday. You can switch days around, but commit to the meals you have planned for so that you don't waste ingredients and money!
*Plan your leftovers. Knowing that you'll make a giant pot of chili at the beginning of the week, plan to have the leftovers over baked potatoes later in the week or for lunch, or late night snack, or whatever. But plan for leftovers.
*Theme Night Ideas: Take the fighting with yourself and your meal plan out of the equation with themed nights. This gives structure to your dinner meal plans, and you can still add variety from the hundreds of recipes options for each night.
Monday – Meatless Monday

Tuesday – Tacos (or Nachos or Burritos or Enchiladas or Tostadas)

Wednesday – Soup & Sandwich

Thursday – Pasta Night

Friday – Pizza Night

Saturday – Fake-Out Takeout Night or Out for Dinner Night

Sunday – Breakfast for Dinner Night or Leftovers/YOYO Night (You're on your own = YOYO)
*Consult your family calendar. Plan quick meals or leftovers on busier nights for less stress. Plan slow cooker meals for days you know you won't have time in the kitchen in the evening. This may be EVERY day. And that's okay! 🙂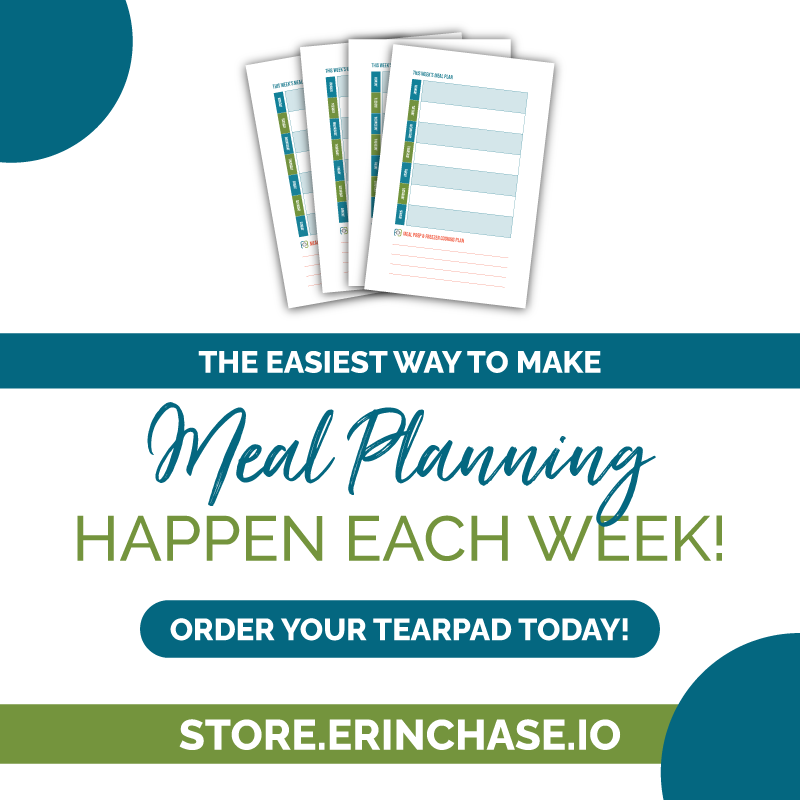 The BEST Way to Pull These Easy Meal Planning Steps & Strategies Together
I've used this meal planning system and these strategies for years, and they never fail to help keep things moving smoothly and allow for less things to stress about!
First, I write out my meal plan, shopping list and anticipated budget on 1 sheet.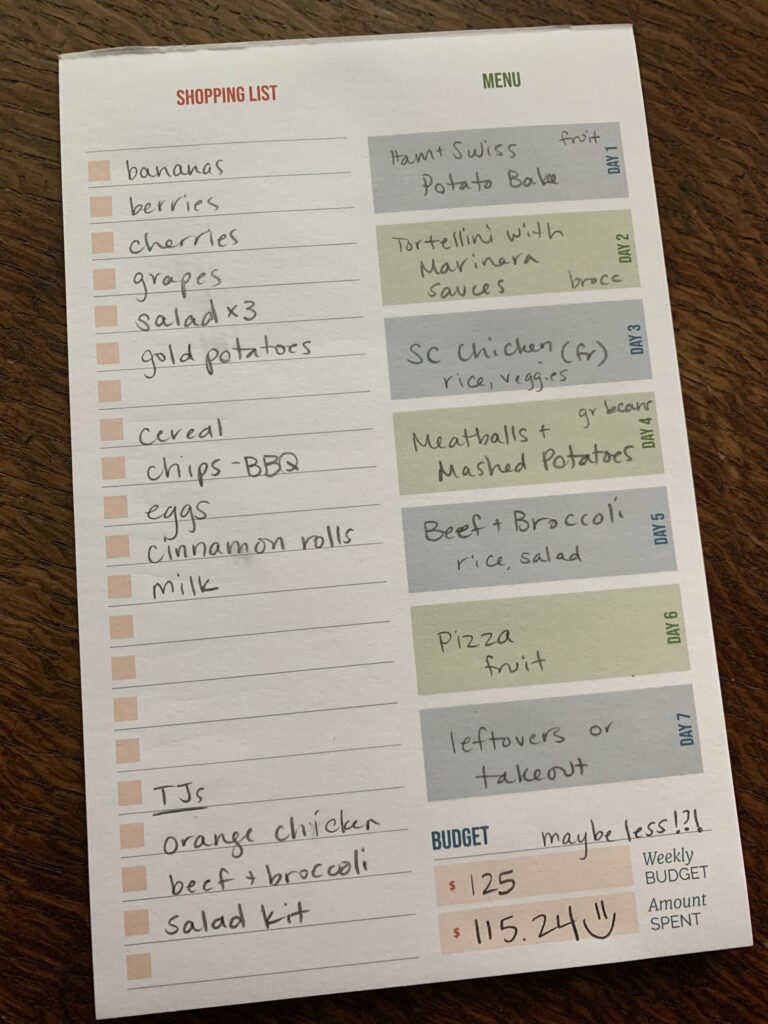 (This particular week, I had a few leftover ingredients from the week before, so I was able to lower my budget…and even came in under that budget! Yeehaw!)
Then, I re-write the plan onto the larger spaces with notes to post onto the fridge.
Having it on the fridge helps eliminate the…"MOM, WHAT'S FOR DINNER?"
"Food. Go look at the meal plan on the fridge!"
And yes, eventually they stopped asking…once they knew it was always there to look.
If writing it down twice a week seems overkill, I assure you it's not…at least for me. 😉
I love having these 2 complementary pages working together with me each week.
And if you think I "stick to this meal plan" – check out what happened in early January 2021…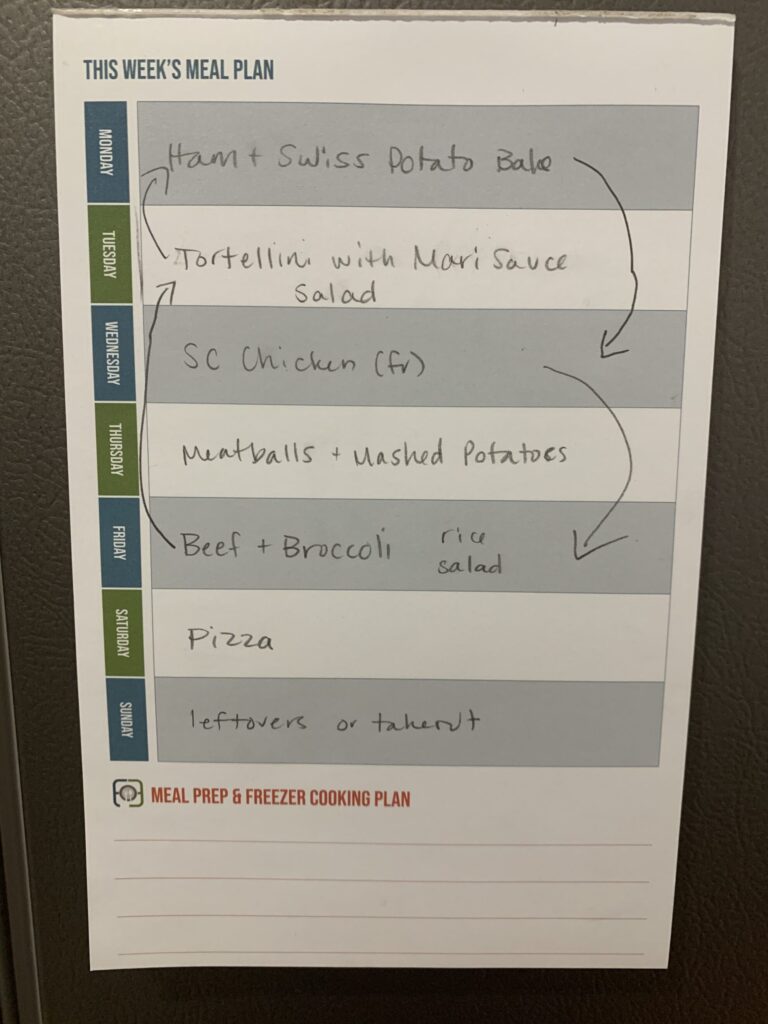 This system and these 2 meal plan layouts and designed to work together or separately. You can tap each one to learn more specifics about each tearpad. You definitely need to consider using them to re-vamp or re-fresh your meal planning system.
If you'd like to order one, you can do that right here on the blog – just tap "view details" to learn more, then tap add to cart and follow the checkout steps. 🙂