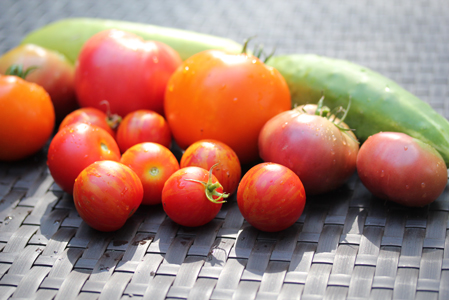 Cucumbers and tomatoes (5 different varieties pictured here…Golden Girl, Big Boy, Tigerella, and I forget the other 2! Plus the mini-mini tomatoes that I snack on while watering the garden!)…that's what's mainly coming out of my garden right now. I'm also picking herb leaves, just about everyday for whatever concoction I have happening in the kitchen that day. And I've also picked a few peppers and used in the Cucumber-Pineapple salsa, and have put some not-so-hot peppers on my lunch salads.
Still Growing Strong
Brussels sprouts
Swiss chard
Acorn squash
Peppers – several different varities
Tomatoes – several different varieties
That's my quick update for this week…we'd love to see/hear what you're picking too!!!