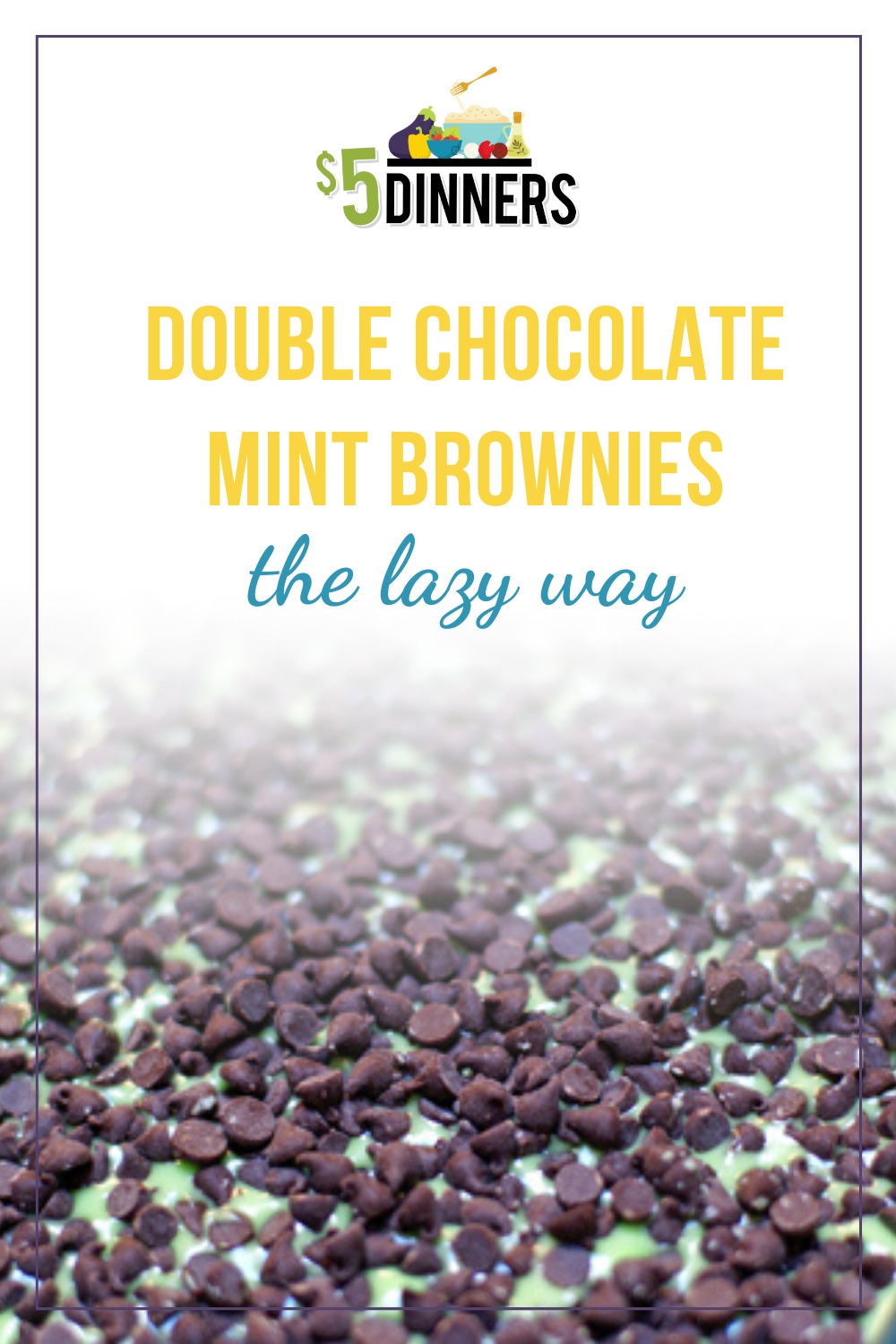 These really should break some sort of chocolate rules. They really should.
So we went to Steve's company picnic recently and we were slated to bring dessert. I had every intention of making triple layer mint brownies. Also known as Grasshopper Brownies. But I got lazy. In truth, I ran out of time!
I made the brownies part in the early morning. (Nothing like baking chocolate at 8 am.) Let them cool for a bit and put them into the fridge. Then I went to the eye doctor…got myself some new daily contacts…and returned home to make the mint layer. No problem…mint layer is on. And I look at the time. ACK!
We need to leave in 20 minutes…no time for melting the chocolate chips…so I sprinkled the little minis on top and gently pressed them into the mint layer and popped the whole thing into the freezer for 10 minutes. After scurrying around to get all the kids into the car, I grabbed the brownies, stuffed them (read…covered them with foil and placed them) into the cooler with some frozen vegetables and away we went. I was bound and determined to keep these brownies cold. While these were certainly delish and brought many a smile to many a faces at the company picnic, the mint layer did get a little droopy. (sigh)
So perhaps a potluck in the middle of the winter (instead of an outdoor picnic in the heat of the summer) would be a better time to make and take these brownies.
Either way, you'll love them.
I promise, promise, promise…you'll love them.
All the same heavenly flavors, without all the fuss!
Ingredients
1

box

8x8 inch size brownie mix

or make your own!
Mint Layer
1/3

cup

butter or margarine

2

cups powdered sugar

1/2

tsp

mint or peppermint extract

About 3-4 drops green food coloring
Topping
1 1/2

cups

mini chocolate chips
Instructions
Make brownies as directed on the box. Let cool and then place in the fridge to chill.

In a mixing bowl or stand mixer, mix together all the ingredients for the mint layer. Spread onto the chilled brownies using a plastic spatula or frosting spreader.

Sprinkle the mini chocolate chips over the mint layer and spread them out to cover the mint layer. Gently press in to the mint layer.

Chill in the fridge for at least 30 minutes, or toss into the freezer for 10 if you are pressed for time. If you plan to chill them longer, cover with foil before chilling. Serve chilled.

Bedazzle your friends and family!