Do you know someone that is expecting a baby soon? Want to give them something you can be sure they will use, something that will show them how much you support and care for them?
Freezer meals are the perfect gift for new moms!
A freezer meal provides nourishment and comfort when a family needs it most. It can provide them with one less thing to worry about as they care and nurture their newborn baby. It can provide energy for them to get through those long, sleepless nights.
Plus, food is love…right?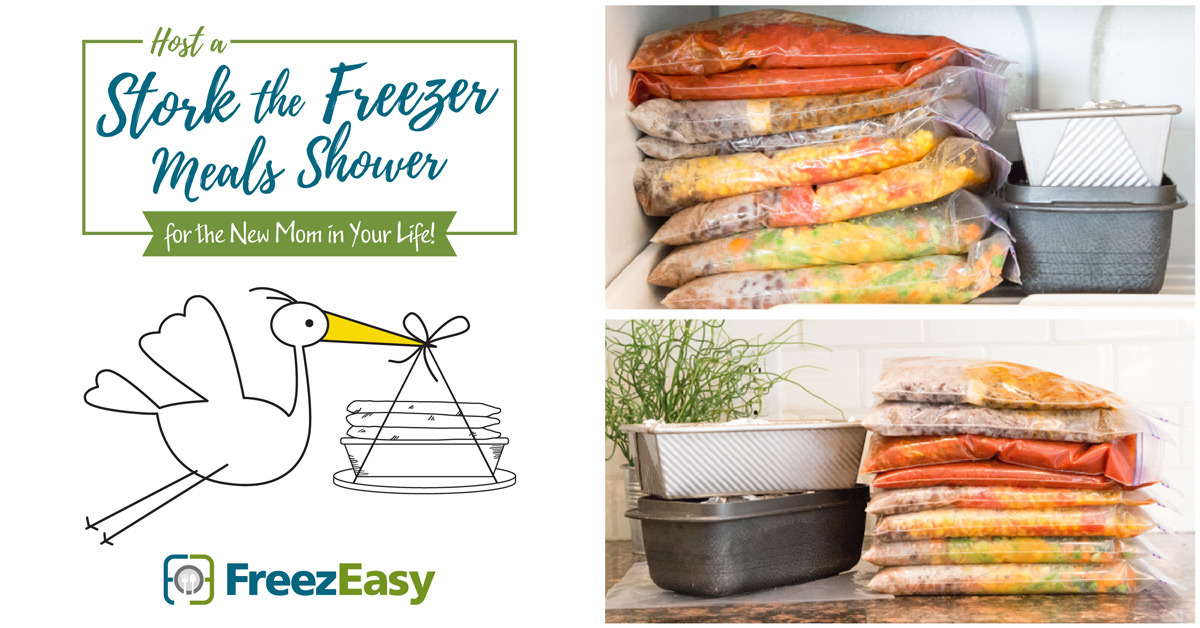 Stork The Freezer Meal Showers are gaining in popularity – both for the new mom and for moms with a few toddlers and older kids running around too. There are a couple ways you could do this, and both ways end with you being pretty much the coolest Baby Shower host ever. No doubt!
Option 1: Host a Freezer Cooking Party, where guests bring assigned ingredients and everyone works together to put together a large batch of freezer friendly meals for the person you are honoring. New mom can take home her meals and load up her freezer in 3-2-1!
Option 2: Invite guests to bring an already prepared freezer-friendly meal to your home for your pregnant guest of honor. Host provides snacks and refreshments while guests visit with the mom-to-be. And new mom can take home the meals in a cooler or big box! (Make sure everyone has cleared freezer/cooler space for these meals!)
If you'd like to get started with a few comfort meals, we can help!

We have compiled 6 different freezer meal plans contains 5 recipes that make 10 meals for the expectant mama's freezer.
They also include shopping lists, step-by-step meal assembly instructions, and you have the option to print labels for the bags and trays too.
Get that freezer "storked" and loaded with delicious and fantastic meals…so you don't have to worry about dinner while you're taking care of your new bundle of joy!
MyFreezEasy will make it so simple for you to plan and host the perfect Stork the Freezer Baby Shower and Meal Shower Party!!! Tap here to browse the Stork the Freezer Plans!