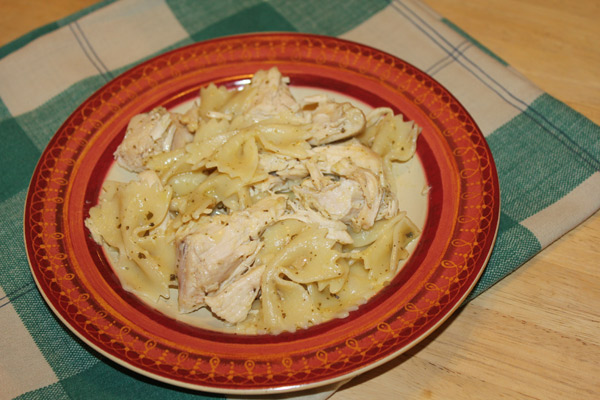 We do a lot of bulk cooking because our schedules are crazy during the week but we really prefer to serve home cooked meals to our five kids.  This is a super simple recipe as well as a great way to cook once and eat many times!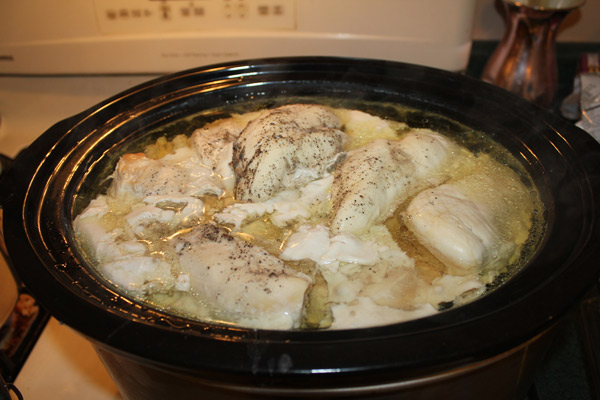 I just bought 40 pounds of boneless chicken breast for a great deal but I need to get it put up in the freezer pretty quickly so I put half of it in the slow cooker and cooked it all at once. When it was ready I used three of the breasts for supper then cut most of the rest into cubes and shredded the remainder.  I ended up with five packages of cubed chicken and three packages of shredded that can be used for all sorts of quick homemade meals like BBQ sandwiches, enchiladas, quesadillas, casseroles, pot pies, salads, fajitas, pizza, soups and pasta dishes.  I was also able to put four containers of chicken broth in the freezer.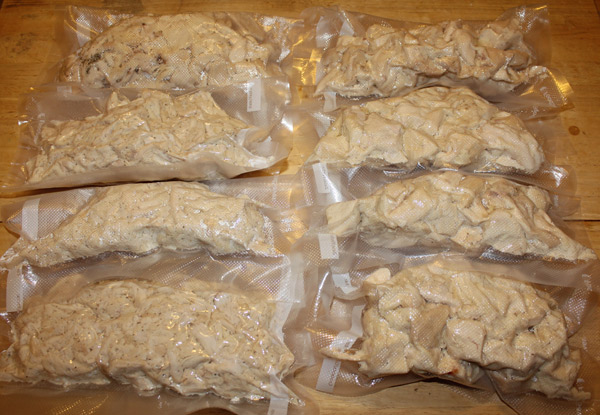 You can make any size batch that you'd like, as long as the lid will close on the slow cooker.  The recipe below is for a smaller batch of 4 to 6 breasts – double the recipe if you're making a larger batch.
Slow Cooker Chicken Pesto With Bowtie Pasta

Yield – 4 servings

Preparation Time – 15 minutes

Cooking Time – 6 to 8 hours

Ingredients

4 to 6 boneless skinless chicken breasts
1/2 teaspoon garlic powder
1/2 teaspoon salt
1/2 teaspoon pepper
1/2 cup water
1 can cream of chicken soup
1/4 cup homemade pesto sauce
1 box of bowtie pasta

Directions

Arrange chicken breasts in the slow cooker.
Mix the water, garlic powder, salt and pepper and pour over the chicken.
Cook on low for 6 to 8 hours or on high for 4 to 6 hours.
Prepare bowtie pasta according to package directions.
Mix cream of chicken soup and pesto then add to drained pasta.
Cut chicken into cubes and add to pasta mixture.
Save SANITY by doing all the chicken meal prep and getting your freezer loaded with amazing MyFreezEasy chicken meals!