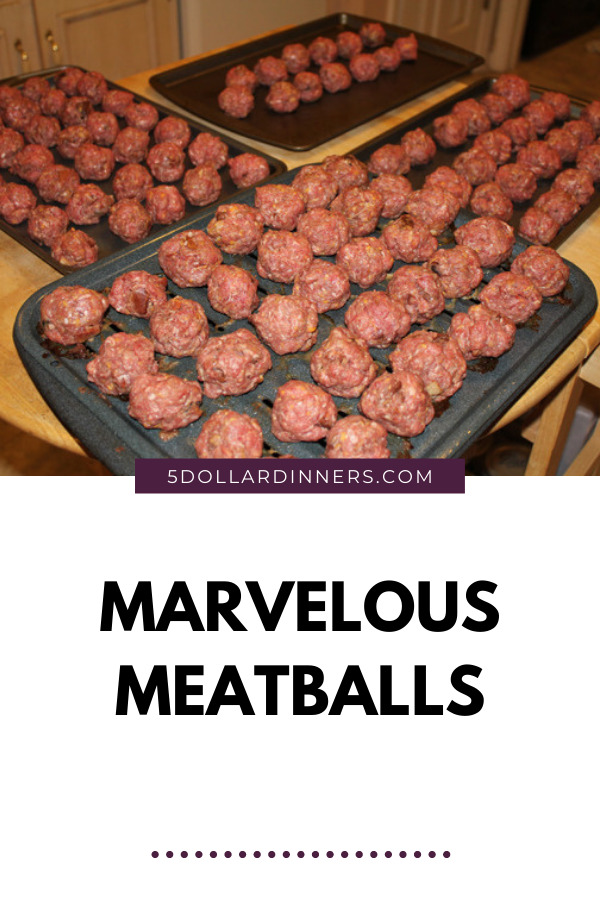 We do LOTS of bulk cooking because our family of seven always seems to be eating but momma doesn't always want to be cooking, and it's important to us (and to our budget) to prepare home cooked meals as often as possible. Our five kiddos are pretty picky and all seem to have different tastes so it feels a lot like hitting the lottery when we find a dish that always pleases everyone. These meatballs are on that short list of lottery recipes so we like to double the recipe below and make an even bigger batch to put away in the freezer because they still go fast.
The combination of bacon and cheese in these meatballs keeps them moist and makes them so flavorful that they're perfect on their own, with pasta, or with dipping sauce as an appetizer. I also love that these meatballs are baked and not fried since that saves a lot of time in front the stove. Freeze meal sized portions in freezer bags and you'll have some easy home cooked meals ready to go when you need them!
Perfect with pasta, or as an appetizer with a dipping sauce!

Ingredients

5

lbs

ground beef

1

lb

bacon

1

lb

shredded cheddar cheese

1

cup

Italian bread crumbs

6

eggs

3

tsp

salt

Instructions

Dice raw bacon then saute in a skillet on medium heat until brown.

After the bacon has cooled, mix with all remaining ingredients by hand in a large bowl.

Preheat oven to 450 degrees.

Make 60 golf ball size meatballs from the mixture, place on baking sheets and bake for 20 minutes or until cooked through.

Allow to cool completely then freeze in meal size portions.

For future meals bake frozen meatballs for 30 minutes in an oven that has been preheated to 350 degrees.