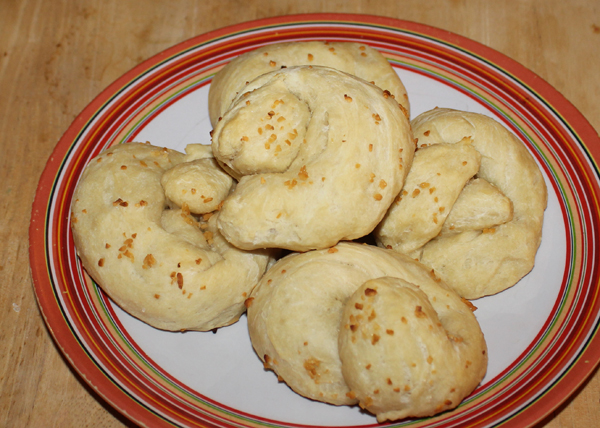 I always like to keep some pizza dough on hand in the freezer for those nights that we just need a quick meal, but there are lots of other things that you can do with the dough in addition to making pizza!
These Garlic Knots are super quick and easy, and there are never any leftover when I make them!  Divide the dough into eight pieces and roll them into ropes using your hands, then tie them in knots and place on a baking sheet.  Mix together  2 tablespoons of olive oil, 2 teaspoons of minced garlic, and a 1/2 teaspoon of salt.  Brush the knots with the mixture and bake at 375 degrees for 20 minutes.
Make an appetizer of Pepperoni Pinwheels by rolling out the dough into a thin square shape, brush with olive oil and top with pepperoni and mozzarella cheese.  Next roll the dough up into a log like you would a jelly roll, seal the long edge shut and bake at 375 degrees for approximately 20 minutes.  Slice into wheels and serve.
Using the same method as with the Garlic Knots, you can make Pretzels.  Simply make pretzel shapes out of the dough ropes, brush with a beaten egg and sprinkle with coarse salt.  Bake at 375 degrees for 15 to 18 minutes or until they're golden brown.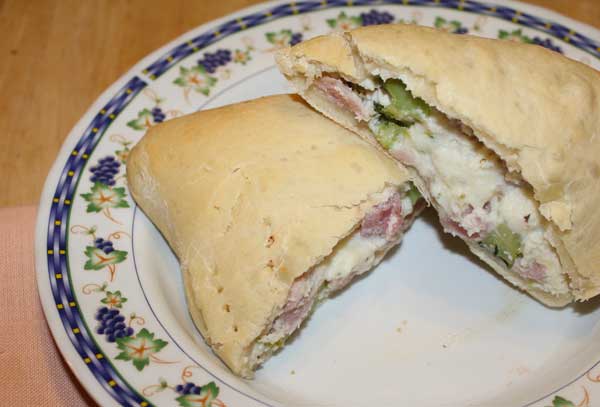 One of my favorite things to do with pizza dough is to make Calzones, and my kids particularly love these Ham, Broccoli & Cheese Calzones.  I love having another way to sneak some veggies into the kids!  What's your favorite thing to make with pizza dough?
Ham, Broccoli & Cheese Calzones

Yield – 8 servings

Preparation Time – 30 minutes

Cooking Time – 20 minutes

Ingredients

1 lb pizza dough
1 bunch of Broccoli (cut into florets and steamed)
1 1/2 cups of diced ham
1 egg
1 teaspoon Italian seasoning
1 15 oz carton of low-fat ricotta cheese
1/4 cup grated Parmesan cheese
3/4 cup shredded mozzarella cheese
1 cup spaghetti sauce

Directions

Beat the egg in a large bowl, then mix in the Italian seasoning.
Add the ricotta cheese, parmesan cheese and mozzarella cheese and mix well.
Fold the diced ham and steamed broccoli florets into the mixture.
Divide the pizza dough into eight pieces and roll out into thin circles with a rolling pin on a floured surface.
Place 1/4 cup of the mixture on top of each circle of dough.  Fold the dough over the mixture and moisten the edges to seal them shut.
Put the calzones on a baking sheet that has been coated with nonstick cooking spray and poke several holes in the top of each with a fork.
Bake at 375 degrees for 20 to 25 minutes or until the calzones are golden brown.
Heat the spaghetti sauce and serve with the calzones.