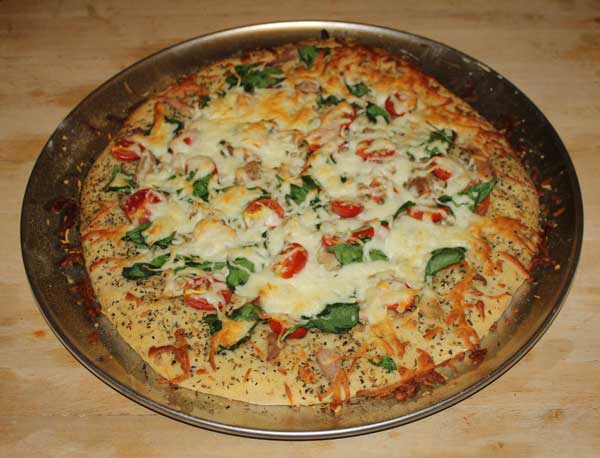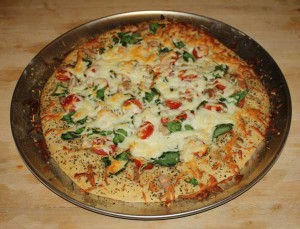 Erin here – Add this to your next batch cooking day plan!!!
It always feels great when we can make a meal go just as far as possible, and this is one of my favorite ways to stretch a whole chicken into three meals.  In addition to saving on the budget, it also saves a lot of prep time in the kitchen and makes it easy to plan meals for the week – perfect for these busy summer days!  In a pinch, you can buy a Rotisserie chicken from your favorite deli if you don't have time to roast the chicken yourself, and I even like to buy the pizza dough from the deli and roll it out at home if I don't have any left in the freezer.  Serve the roasted chicken on the first night, reserve a 1/2 cup of shredded chicken for the pizza on night two, and pick the bones clean then use all of the remaining chicken to make chicken noodle soup on the third night.
Denise's 3 Meals From One Roast Chicken

Yield – 5 servings x 3 meals = 15 servings

Preparation Time – 10 mins – Roasted Chicken, 20 mins – Spinach Pizza, 15 mins – Chicken Noodle Soup

Cooking Time – 4-6 hrs – Roasted Chicken, 15 mins – Spinach Pizza, 1 hour – Chicken Noodle Soup

Ingredients

1 large Roasting Chicken
2 teaspoons Salt
2 teaspoons Paprika
1 teaspoon Cayenne Pepper
1/2 teaspoon Garlic Powder or 1 teaspoon Minced Garlic

Spinach & Chicken Pizza

Chicken Noodle Soup

4 cups Egg Noodles
3 Carrots
1 Onion
2 Celery Sticks
4 cups Canned Chicken Broth
1 1/2 teaspoons Salt
1/2 teaspoon Pepper
2 tablespoons Basil

Directions

Clean the chicken and remove any giblets.
Combine all spices and garlic in a small bowl.
Rub spice mixture onto the chicken.
Place in crockpot and cook on low for 4 to 6 hours.

Spinach & Chicken Pizza

Brush prepared pizza crust or dough with olive oil and sprinkle Italian seasoning on top.
Distribute half cup of shredded chicken evenly on top of the dough.
Cut grape tomatoes in half, then place them and the spinach leaves evenly on top of the dough.
Sprinkle mozzarella cheese over the pizza and bake according to your chosen crust directions.

Chicken Noodle Soup

Cut up the carrots, onion and celery sticks into bite sized pieces and place in a large pot.
Pour in chicken broth and sprinkle with seasonings, then stir.
Bring to a boil then reduce to a simmer for 45 minutes to one hour or until veggies are tender.
Increase heat and add egg noodles and chicken for 15 minutes.