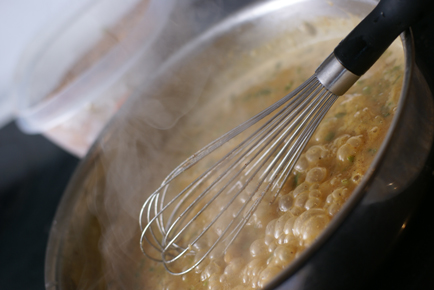 Multitasking.
I usually don't have trouble with multitasking. I can chat on the phone with my mom about the latest while sprinkling Critter Ridder powder all over my garden. (Pesky chipmunks.) I can be uploading photographs of dinner while reading a story to the boys. I can read emails while waiting in the drop off line at school (parked, and car turned off). I set up conference calls for those times that I know I'll be in the car and less likely to be interrupted by the little people. I manage to whip up a batch of muffins with a fussy baby in the sling. (I don't go near an open oven with him in the sling. I can just hear the panic stricken comments, so let me stop you before you get started.) But I will say, pouring muffin batter into the muffin wells with a baby in a sling isn't all that pretty. In fact, it was quite messy!
I get how to multitask. I do it all the time. BUT, there are occasions when multitasking is not a good idea.
Making Homemade White Sauce is one of those times.
You see, making white sauce from scratch requires focus and attention. Everything happens very quickly. Once you start to melt the butter, there's not even time to grab the milk from the fridge or some spices from the spice rack.
When I set out to make this pasta, my goal was to have a pasta dish that seemed like it was cheesy.
I miss cheese. (And I'm too cheap to pay for Vegan cheeses.)
So, I'll just have to trick myself. I made a dairy free white sauce, using dairy free margarine and rice milk. And I added some of my homemade taco seasoning to give it some yellow-ish/orange-ish/redness to it. You know, like cheese!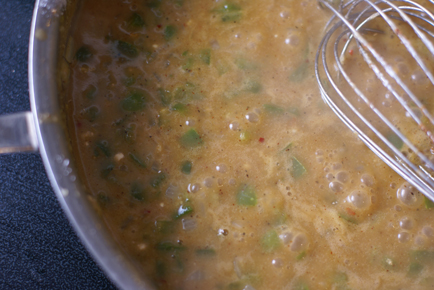 Creamy and tasty it was!
I had no intention of adding the pinto beans to this pasta. But after tasting it, my tongue was on fire. I'm not terribly sensitive to spicy foods, but the sauce had a nice ZIP to it. And I knew that it would not fly well with the little people. So I short-order cooked.
(Is that a verb? And I sure hope my high school English teacher isn't reading this. She might ask my school to dig out my transcripts and change my A to an F. Hi Betty. Yes, we are on a first name basis now.)
I RARELY do that…but I didn't mean for this to turn out with such ZING. So they had spaghetti. And we will eat the leftovers for lunch tomorrow.
So back to the beans…they really did help take an edge off the sauce's heat. Here's the formula.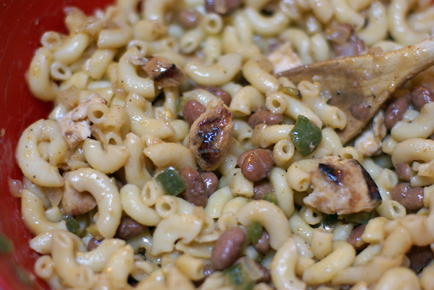 SPICY SAUCE + bland beans (with a little chicken and pasta)= PERFECT DINNER
At least my tongue thought so.
And finally, the recipe.
SPICY SAUCE + bland beans (with a little chicken and pasta)= PERFECT DINNER
Ingredients
3

Tbsp

butter

3

Tbsp

flour

3

cups

milk

1

small

white onion, chopped

2

cups

chopped green peppers

2

Tbsp

homemade taco seasoning

or 1 packet taco seasoning

Salt and pepper to taste

12

oz.

box elbow pasta noodles

2

cups

cooked chicken

2

cups

cooked pinto beans

1/4 Watermelon ($1)

side dish
Instructions
Make the white sauce using the butter/margarine, flour, milk, salt and pepper (Video here). Stir in the chopped onions, chopped green peppers and taco seasoning once the sauce is bubbling and slightly thickened.

Cook pasta as directed. Drain and add to large mixing bowl. Mix in the leftover cooked chicken and cooked beans.

Pour the creamy taco sauce over the pasta, chicken and beans. Toss.

Serve Creamy Chicken Taco Pasta with Watermelon.