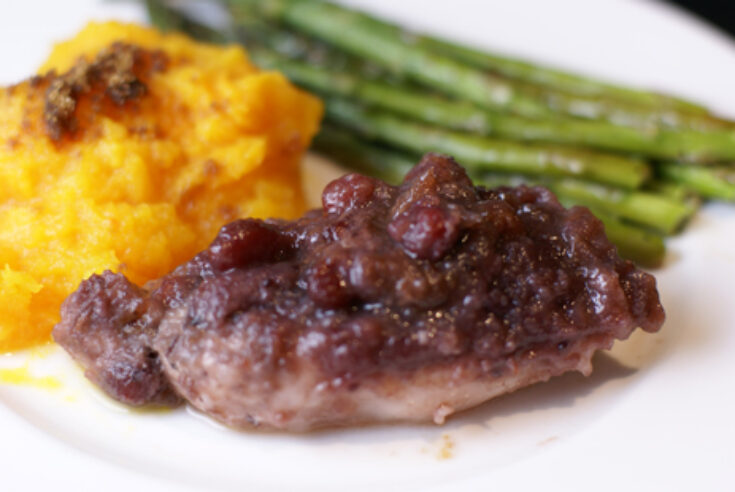 I made this recipe what seems like EONS ago…but it really wasn't that long ago!  But at the same time, it's been too long.
Y'all know what I mean.  These kiddos of mine have turned up the dial on "time"…to warp speed.  (It's all happening too fast…they are growing up way to fast.)
Again. I digress!
Anyhoo.
Made this using some fresh "holiday" (meaning discounted price) cranberries from the  holidays…and the pork chops that I cut from the $1.89/lb pork loin last week.  Pair it with some $.49/lb butternut squash from the freezer and $.99/lb asparagus, and I have no doubt that it comes in under $5!
Recipe can be found in The $5 Dinner Mom Cookbook.
(Girls gotta sell her cookbooks, right?!?)
UPDATE: For those of you feeling duped or manipulated, don't! It is not my intention. I have agreements with my publishing house that I must uphold. I made this meal from the cookbook, and shared what I made. As both a blogger and an author, I will forever be using the site to promote my cookbook (the cookbook that I spent HOURS working on, for YOU!). Now look forward to the next FREE recipe!