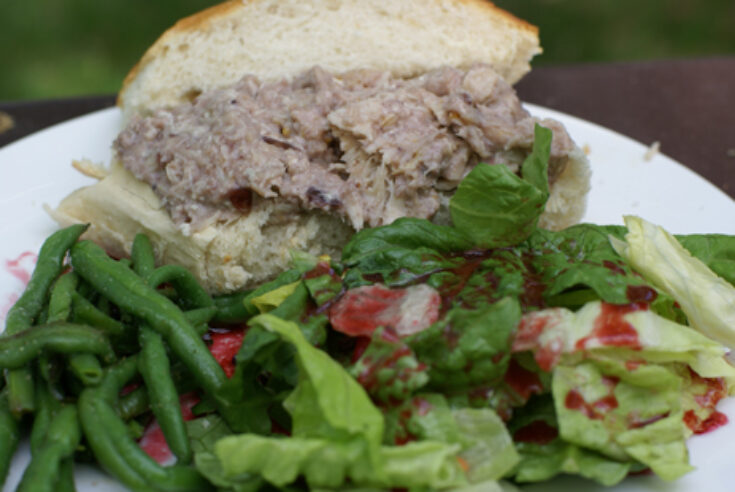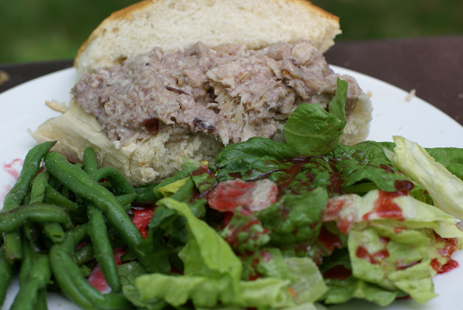 I love me some chicken salad. I like to eat it out of the bowl. I like it on sandwich bread. I like it on croissants. I like it on hamburger buns. I like it in tortillas.
And I like it sweet.
While the plain mayo with some celery and salt and pepper is o-kay, my sweet tooth would rather there be some fruit mixed in, whether it's pineapple, grapes, or in this case…cranberry sauce!
Ingredients
2

cups

cooked and shredded chicken ($1.50)

1/2

cup

mayo or miracle whip, if you must ($.20) Lots of coupons on sales on these right now!

About 1/2 of a 15 ounce can cranberry sauce ($.35) Bought a LONG time ago on Manager's Special

Salt and pepper, to taste

Bread of some sort ($.50) I used a Manager's Special loaf and sliced it to sandwich size.

Serve with a salad mix ($1) and this delicious Blackberry Vinaigrette Dressing ($.50)

Add some extra veggies like green beans (frozen from my garden last year) (Blanched and Frozen)
Instructions
Place the cooked and shredded chicken into a mixing bowl and add the mayonnaise and cranberry sauce. Stir until well combined.

Season with some salt and pepper, to taste.

Prepare the Blackberry Vinaigrette Dressing and pour over the salad.

Thaw the green beans and steam. Season with salt and pepper to taste.