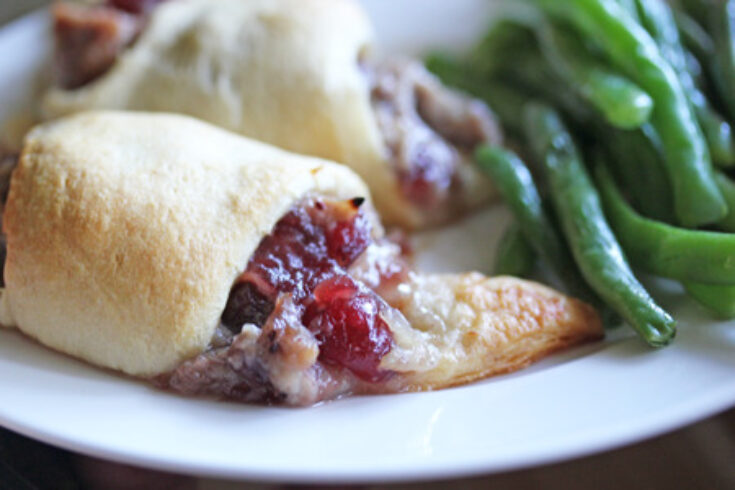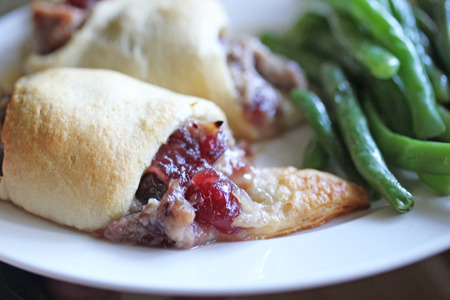 Experiment Alert!
We had friends over for dinner last night and I made these. As they were coming through the door, I had a bit of a panic and started chastising myself for serving "experiment food" to guests. I don't think I've ever served something I've never made before, or seen a recipe for, to guests. And I don't think I'll do it again!
Not because they didn't turn out, but because of the anxiety I felt as they were coming in the door, worried if dinner would be any good at all!
But as I took them out of the oven, I knew all would be fine…and it was!
Tasty, tasty, tasty dinner…
Sometimes a dinner experiment just works out - these are amazing!
Ingredients
2

cups

shredded chicken

15

oz.

can cranberry sauce

2

cans

crescent rolls

green beans

side dish
Instructions
Preheat oven to 375.

In a large mixing bowl, combine the shredded chicken and cranberry sauce. Let sit for about 10 minutes and then carefully drain any extra liquid.

Stretch the crescent roll dough slightly and place the larger part on a greased baking sheet. Add 1/3 to 1/2 cup of the chicken and cranberry mixture to the larger part and then wrap the crescent roll around it. Bake in the preheated oven for 15 to 18 minutes, or until crescent roll is cooked through in the middle and browned on top.

Steam the green beans.

Serve Chicken Cranberry Crescents with green beans.