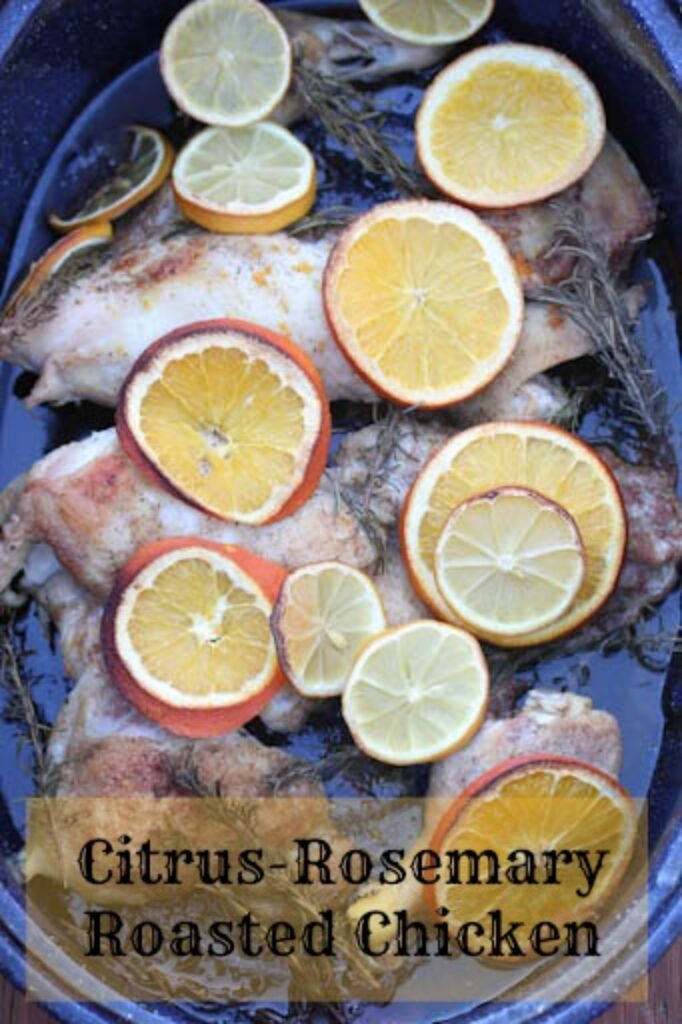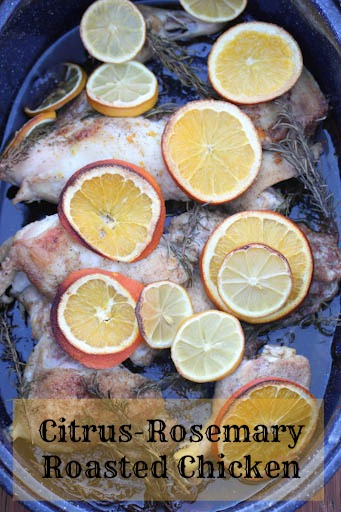 I've had this on my "to make list" for a while now…I wanted to get it made while the prices on citrus were still rock bottom and have been waiting for a great sale on whole chickens. The grocery sale stars aligned and I scored a great price on a whole chicken earlier this week, so I grabbed 2 oranges (only ended up using 1 because it was so huge!) and 2 lemons and a small bunch of rosemary from the produce department and set out on my merry way. (Translation: Back home to get this in the dinner into the oven, before piano lessons started that evening.)
Over the past few weeks I've hosted or participated in a number of "Google Hangouts On Air" – or live stream video chats through YouTube. During each one, I have the thought…wouldn't it be cool to do "real kitchen live cooking demos"…none of this would be highly professional, or the perfectly staged stuff you see on TV…just me, cooking live from my kitchen, with kids and husbands and toddling babies and neighborhood kiddos wandering in and out…just like real life.
So on Wednesday afternoon, I decided to go for it. Quickly set it up, announced it on the Facebook page and hit "Broadcast" and then…we start going into the recipe, then introduce (some of) the kids…
And then…
My oldest child wanders into the background of the shot, points his rear end in the direction of the computer/camera, and starts hitting is own rear end. I about died. But instead, I shooed him off the screen and carried on. Boys will be boys. But really, this takes "keeping it real" to a  WHOLE.NEW.LEVEL. y'all.
Feel free to watch the cooking demo, complete with obnoxious and goofy boys…but be warned, it's R.E.A.L. (And FWIW – I'm exploring external camera options so we can do more of these in the future, with better picture quality. And with or without the boys, we'll see!)
Bon Appetit!
HAPPY VALENTINE'S DAY Y'ALL! I love y'all dearly!
The grocery sale stars aligned and I scored a great price on a whole chicken, plus 2 oranges and 2 lemons and set out to make this meal!
Ingredients
1

whole chicken

olive oil

drizzled over chicken

1

tsp

seasoning salt

1

tsp

garlic powder

1

tsp

pepper

4

rosemary sprigs

1

large

oranges

sliced and zested

2

lemons

sliced and zested

dinner rolls

side dish

veggies

side dish
Instructions
Preheat the oven to 400 F.

Place the chicken pieces into a large roasting pan. Drizzle the olive oil over the top and then season with seasoning salt, garlic powder and pepper. Add the rosemary sprigs around the chicken pieces.

Slice the orange(s) and lemons and then using a zester/grater, zest the "ends" of the orange and lemons, over the chicken pieces, getting as much zest off as you can. (I explain the citrus slicing and zesting in the video.) Spread the orange and lemon slices around the chicken and rosemary.

Place the roasting pan into the preheated oven and roast uncovered for 1 hour. Baste after 40 minutes, if desired.

Once the chicken is cooked through, remove from the oven and let cool slightly before serving.

Optional gravy preparation: Using a baster, pull out all the liquid from the roasting dish and place into a bowl, let the fat rise to the top and skim it off with a spoon. Whisk in about 2 Tbsp warm water plus about 1 tsp flour. Serve gravy over top the chicken pieces.

Warm the dinner rolls and prepare your favorite veggies. (We had broccoli.)

To serve, remove the rosemary and citrus slices and serve chicken with rolls and vegetables, with a little gravy on top or on the side for dipping.