So I looked out the kitchen window and noticed that the cilantro had almost reached the height of the child rabbit fence around my square foot gardening planters. I knew cilantro grew quickly, but didn't think it would really grow THAT quickly.
Quick…how can I start using this up. And pronto!!!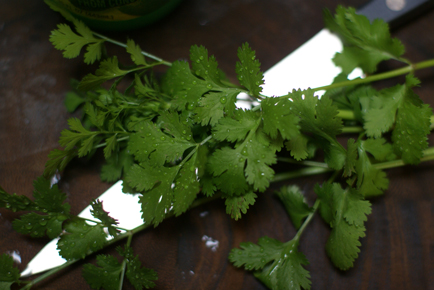 How about mixed into brown rice with some lime juice for a little extra flavor?!?
(I'm leaving you with just this for tonight…a complete meal with this lip smackingly delicious rice…coming soon to a frugal food website near you.)
A delicious side dish with chopped cilantro and lime juice.
Ingredients
1

cup

uncooked brown rice

2

Tbsp

lime juice

1

Tbsp

olive oil

1

tsp

garlic powder

1 to 2

tsp

chopped cilantro

salt and pepper

to taste
Instructions
In a medium saucepan, bring 2 1/2 cups water to a boil. Add the brown rice, lime juice, olive oil and a dash of salt and pepper.

Return to a boil, then cover, reduce heat and cook for 45 to 50 minutes, or until rice is tender.

Chop cilantro.

Once the rice has cooked, add the garlic powder, chopped cilantro and more salt and pepper to taste. Fluff with a fork before serving.

Serve Cilantro-Lime Brown Rice with favorite Mexican dish.