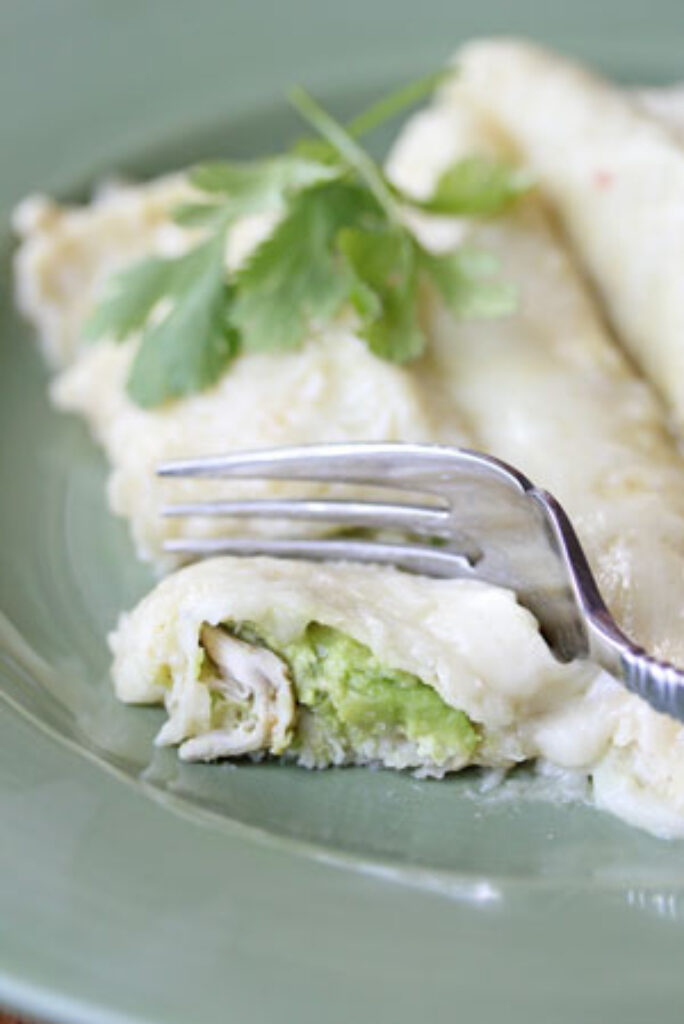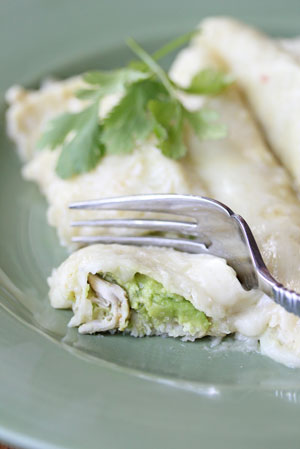 Chicken Guacamole Enchiladas.
Cilantro Lime Chicken Avocado Enchiladas.
Cilantro Lime Chicken Guacamole Enchiladas.
CLCG Enchies. For short.
I really don't care what we call these, because it doesn't really matter. What matters is that they are packed with flavor. And they are the perfect summer enchilada.
Sales for avocados have started, you can pinch cilantro from the plant in your garden, and you can usually get a fresh lime for less than a quarter. Add some shredded chicken you've got on hand in the freezer, roll it all up, pour the sauce and cheese on top and bake. Sure, you might heat up your kitchen for 20 minutes….but it will be so so worth it!
If you absolutely do not want to heat up your kitchen, you could probably put the enchiladas in a metal baking dish and cook them on the grill. Just cover with foil and heat them up for 20 minutes or so in a 300-400 degree grill. I only recommend this with a gas grill. Use hot pads, obviously.
Other Enchilada Recipes
Here's how these cilantro-lime-chicken-avocado enchiladas, or whatever you wanna call these beauties, work…
Ingredients
2

cups

shredded chicken ($1.50)

2 avocados, diced ($1.98)

couple cilantro leaves, chopped (free from garden)

1/4

cup

sour cream ($.20)

1/4

cup

lime juice ($.20)

1 tsp ground cumin

Salt and pepper, to taste

12 flour tortillas ($1.29)

10 oz. can green chile enchilada sauce ($.79)

1 - 1 1/2 cups shredded queso quesadilla or Mexican blend cheese ($1)

Fresh fruit, carrots or corn cobs, as side dish ($1)
Instructions
Preheat oven to 350. Lightly grease a 9x13 glass baking dish with non-stick cooking spray.

In a mixing bowl, combine the shredded chicken, diced avocado, cilantro, sour cream, lime juice, cumin, salt and pepper.

Spoon the mixture evenly onto the 12 tortillas. Roll, place seam side down, and fit snugly into the baking dish.

Pour the enchilada sauce over the top. Sprinkle the shredded cheese over the top.

Bake in the preheated oven for 25 minutes, or until cheese has melted and sauce is bubbly.

Prepare a side dish.

Serve Cilantro Lime Chicken Enchiladas with side dish.