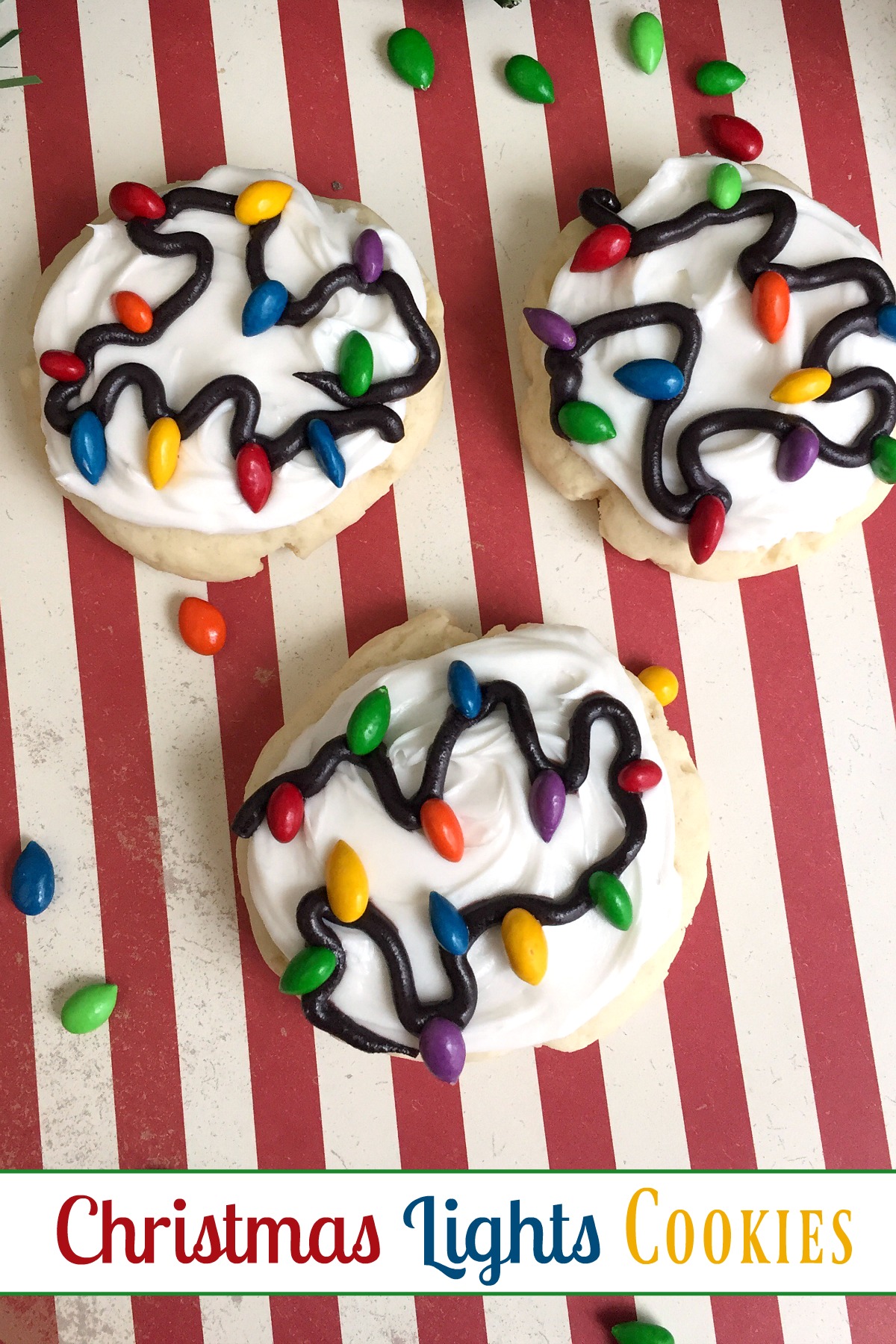 I love to bake. I love to bake with my boys. Especially around the holidays and for giving gifts.
We have a baking afternoon planned for this weekend – because we are going to make a ton of cookies for the police officers who direct the traffic at our school entrance every day.
The boys are mostly into decorating cookies – and seeing how high of a "frosting mountain" they can make and then how high they can stack up all the sprinkles and other decorations. They are really good and making these mounds of sugar on top of cookies…and then they are really good at devouring them. And I'm really good and ushering them outside afterwards…to burn off all that sugar energy!
It's our fun, messy, and energetic little tradition.
Now, here's why you can't go wrong with these cookies.
There's no such thing as a perfect Christmas Lights cookie. I'm not the best cookie decorator in the world, but these are not hard to get right…because it doesn't matter how squiggly and shaky the black line of icing looks. It's supposed to be squiggly and shaky. It's not supposed to be perfect. If it is perfect, it's still squiggly and shaky looking.
HURRAY….finally, you can make the perfect Christmas cookie…without being a great cookie decorator 😉
Cookie.
Thin white frosting.
Squiggly black line.
Tiny little light looking candies.
Ta-da…amazing Christmas cookies that you really can't screw up! 😛
The easiest holiday cookie decorating EVER!
Ingredients
6

cups

flour

1 1/2

tsp

baking powder

1

tsp

baking soda

1

cup

butter

softened to room temperature

2/3

cup

sugar

2

eggs

1

cup

sour cream

2

tsp

vanilla extract

1

tub

white frosting

or make your own!

Wilton black gel food coloring

(you could also use store bought black decorative icing)

1

pkg

chocolate covered sunflower seeds

(or preferred candy for the lights)
Instructions
Preheat the oven to 400 degrees.

Combine the flour, baking powder, and baking soda and set aside.

In a large bowl combine the softened butter, sugar, eggs, sour cream and vanilla. Slowly fold in the flour mixture.

Scoop the cookie dough into 2" balls and place about 2" a part on a large baking sheet. Use a flat bottom glass to gently press (flatten) each dough ball to about 1/4" thick.

Bake in the preheated oven for 6-8 minutes, or until done. Let cool completely.

Once the cookies have cooled, frost each cookie with white frosting and set aside.

Add a few drops of the black gel food coloring to the remaining frosting and stir to combine.

Scoop the black frosting into a sandwich bag and seal shut. Snip one corner of the baggie with scissors.

Gently squeeze the black frosting out onto the top of each cookie to resemble a light cord.

Place the chocolate covered sunflower seeds (or preferred candy) along the black frosting to resemble lights.

Repeat with all the cookies.

Serve Christmas Lights Cookies as a fun holiday treat!