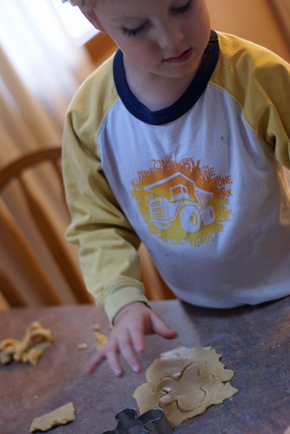 Last week I threw caution to the wind, made spontaneous plans and broke all of my rules…
I was chatting with some friends after church last Sunday…and I just blurted out that we should get the kids together for a cookie decorating party.  I knew that I had lots of wiggle room in our grocery budget and decided to splurge and have a little fun with the kids and our friends!
I have "homemade" rules for myself. I prefer to make homemade cookie dough. I do it all the time…mainly because of a dairy allergy…and possibly a new soy intolerance in Tyler. But I tossed my rules out the back door into the snow, and broke them all! I bought several (yes, several) tubes of cookie dough.  (And I secretly…well, now not-so-secretly, loved every minute of it!)
I bought cans of frosting, containers of sprinkles, and even some new Christmas cookie cutters. (I had some, but not a great variety…and no gingerbread man shape!)
S.p.l.u.r.g.e., I did.
This was very unlike me…But it was for a good cause. For memories. For laughter. For fun!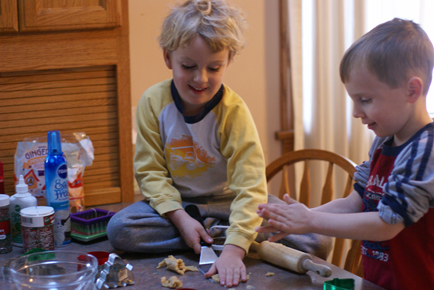 It was for these smiles.
I can just hear these two chatting with each other about what cookies they were making, how they handle their brothers when they bother them, and how many cookies they think they're going to get to eat once they're decorated. I really don't remember what they were talking about, but the joy and glee on their faces is priceless.
(And yes, on occasion, I let my kids sit on the counter!)
So Susie (in the gray) and Becky (in the blue) brought their little people over for the fun!
Two quick stories from our afternoon.
First up, C-man below. He is the newest member of Susie's family, adopted from Rwanda earlier this year! He's a pistol. He's the BEST toddler hugger. And apparently he has a thing for cookie dough.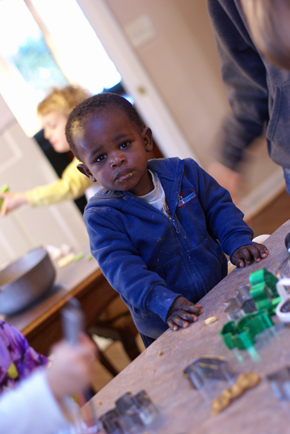 Busted!
In addition to being the world's best toddler hugger (seriously, he tackles me with the best hug everytime I sit on the floor!) and a pistol, he's sneaky too…or so he thought!  Look back up at the picture with Becky and Susie…see that pile of gingerbread cookie dough in front of Susie's daughter.  This little character would reach over (when he thought no one was looking), scoop up a handful of dough and shove it into his mouth.  You can see above that he just finished a little nibble.  As he reached again for another bite, he spotted me…with my camera pointed right at him.  He straightened up…and gave me that look.
The…did you just see me do that?..look!
Another priceless moment!
And one more story from our cookie decorating party…the cookies had been baked, frosted, sprinkled, and it was time for eating. We each let the kids have a cookie (or three) before dinner…and then they ran off to play while we waited for dinner.
Except the only lady of the bunch…T up there in the purple shirt.  She decided to hang out with us in the kitchen while all the boys went to play in the playroom. (Yes, she was the only little girl in the place! Besides us moms.)
By this point all the kids were under orders that there would be no more cookies until after dinner.
T decided to push the limits.
She stuffed what appeared to be an entire cookie into her 2 year old little mouth.
Susie asked her, just after she finished stuffing her face with the cookie, "Is that a cookie in your mouth?"
With puffy chipmunk cheeks and crumbs falling from her lips, T replies, "No."
Being the smart two year old that she is, she then turned her head away from her mother to finish chewing the cookie…as if her mom really had no idea what was really going on!
(Becky and I BUSTED OUT LAUGHING. Uncontrollable laughter. We both turned our heads and put our hands over out mouths to try to keep the mum the laughing, knowing we were breaking all sorts of parenting laws, trying desperately to hide our laughter so Susie could handle the situation.)
Where do they learn this stuff?!?  She's two!!!
Yeah…Susie. She kept her cool. That girl has some serious keep-it-cool parenting skills in situations like these.
(Becky and I…not so much!)
We had the most enjoyable afternoon and evening…filled with sugar, sugar, and more sugar…and we all loved every moment of it!  And almost a week later, I'm still sweeping up red and green sprinkles from under the kitchen table!  Still, totally worth it!
So if you haven't yet this holiday season…clear your schedule, splurge if you can, and treat yourself and your kids to an afternoon of cookie decorating!  You won't regret it!!!