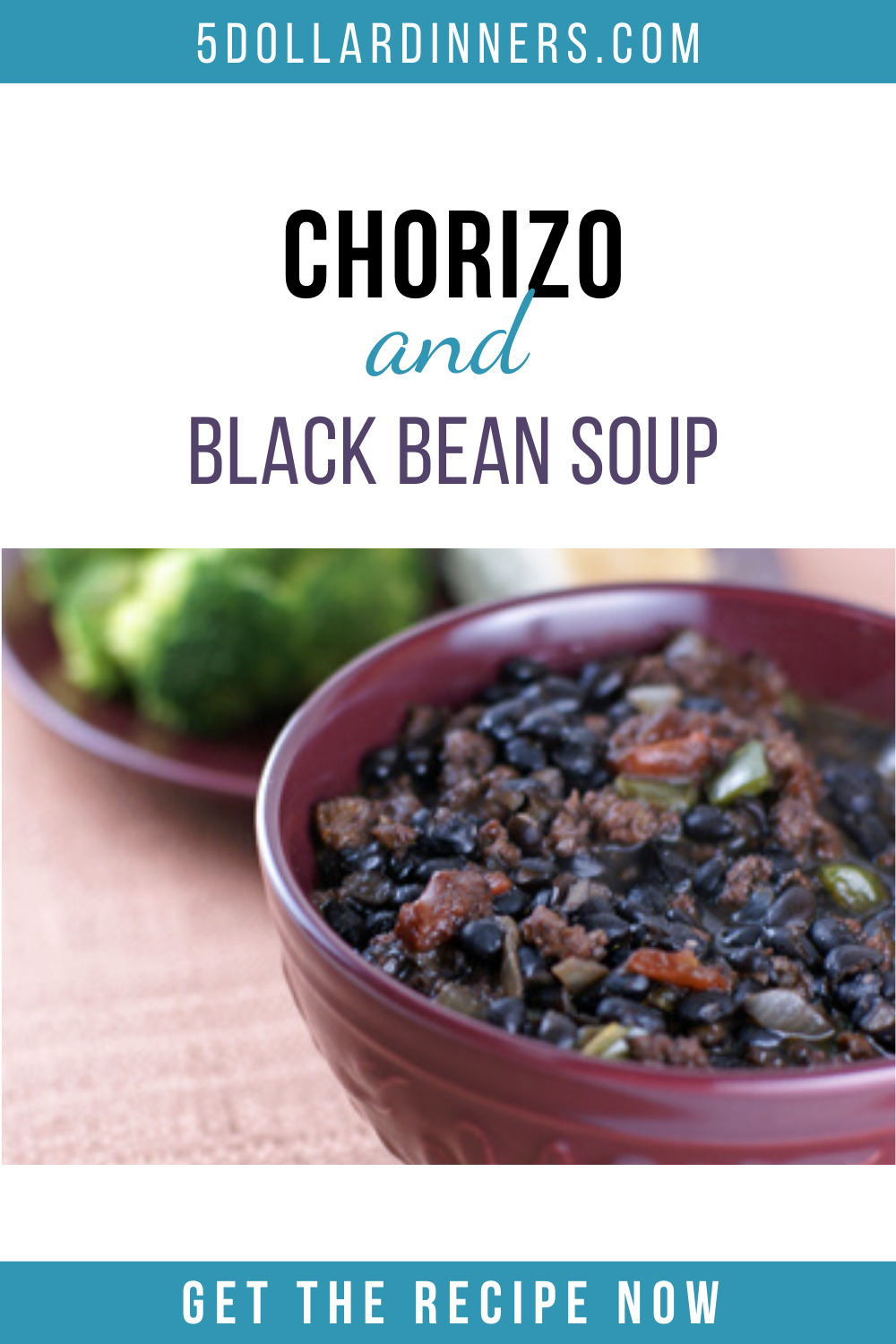 So as I start this one out, I'm going to preface it with…this is not going to be a $5 Dinner. Why not?!
Let's just say that the pound of chorizo sausage alone cost almost $5. It's an all natural, homemade chorizo sausage that I got earlier this summer at the farmer's market. It's been waiting in the freezer…for this recipe!
Here's the deal. Here's how to put the $5 spin on it.
Because the protein was so expensive…use it in a meal with other inexpensive ingredients…as to keep the overall cost of the meal from going through the roof. (Which for me is $10.)
And…this soup would have served 6-8 adults.
I think another stop at the farmer's market for more of this $5/lb. chorizo might be in order.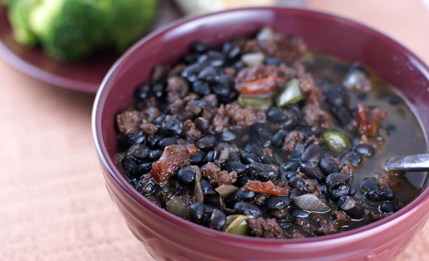 A lovely balance of flavors, colors and textures. Lovely.
A lovely and filling soup!
Ingredients
1

lb.

dried black beans

1

lb.

chorizo sausage

1

yellow onion

chopped

1

green pepper

chopped

1 15

oz.

can diced tomatoes

1

cup

chicken broth

1

tsp

ground cumin

Salt and pepper

to taste

2

Broccoli heads

Bread Slices
Instructions
Soak the black beans overnight, or for 2 hours in hot water.  Drain, rinse and then add to a pot of water that covers the beans by at least 2 inches.  Bring to a boil, then reduce heat to medium, cover and cook for 1.5 hours.

After the beans have been cooking for about an hour, brown the chorizo sausage with the chopped onion and chopped green pepper.  As the beans finish cooking, add the chorizo sausage with veggies, 1 cup chicken broth, diced tomatoes, and ground cumin.  Let simmer, uncovered, until beans have completely cooked through. Season with salt and pepper, to taste.

Steam broccoli.

Prepare bread slices. Make rice for GF meal.

Serve Chorizo Black Bean Soup with Broccoli and Bread.