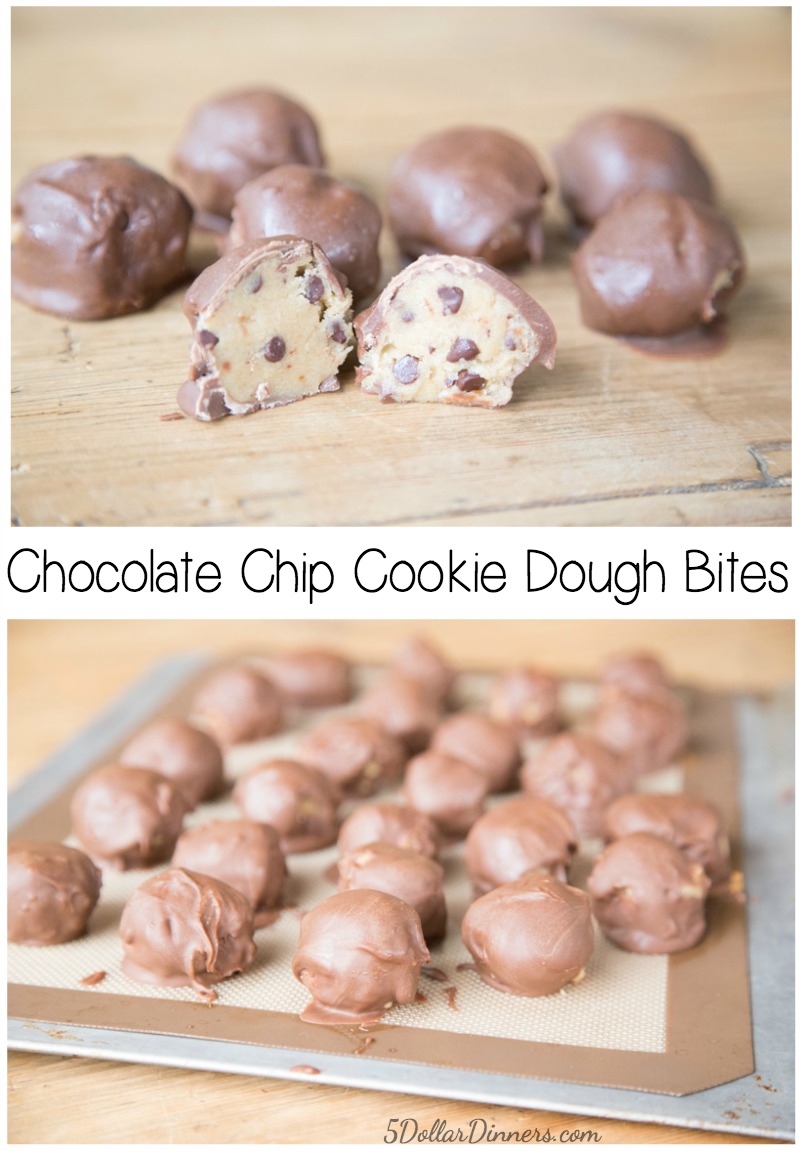 Oh sweet baby goodness. If I could share these through the screen, I would!
Bite, bite, bite. All it takes is 3 bites to polish one of these babies off. Maybe 2 bites.
These cookie dough bites are eggless, they can be made gluten-free (subbing 1-1 with GF flour blend), and dairy-free if you use a dairy-free margarine. I'm all about the versatile and these are versatile and easy to adapt to fit any food allergy profile!
They don't really fit into any 'diet,' except the diet that allows you to overdose on chocolate and sugar. 😉
And I say overdose, because I dare you to eat just one. Or just 4. You'll likely end up eating 5 or 6. And that's ok, you won't be alone if you do. I did it too. We'll stand united in our lack of self control when it comes to cookie dough bites.
Chances are you have everything you need on hand. Except maybe the mini chocolate chips and the candy coating. You'll want to add those to your shopping list asap.
I would not use regular size chocolate chips in this recipe, but if it's all you have and you INSIST on making these RIGHT NOW, you could probably make it work…but know the dough balls might not stick together quite right with the regular size chocolate chips. If you're completely desperate, you could skip the candy coating, but I'm not one to skip out on chocolate, so…
If you can muster a little self control and wait until you can get some mini chocolate chips, then you don't have to feel guilty about eating too many, as you used good judgment and self-control BEFORE making them so then why need any self-control AFTER making them. (OK, I'll stop justifying now and leave you with the recipe!)
Here it is…
These cookie dough bites are eggless, and they can be made gluten-free and dairy-free.
Ingredients
1

cup

butter

3/4

cup

brown sugar

3/4

cup

white sugar

1/3

cup

milk

2 1/4

cups

flour

1

tsp

salt

1 1/2

cup

mini chocolate chips

14

oz

milk chocolate candy coating
Instructions
Beat together the butter and sugars until smooth. Add in the milk and flour and beat until smooth. Stir in the flour and salt until dough forms and gently stir in the mini chocolate chips.

Form dough into about 3 dozen 1" size cookie dough balls. Chill for at least 30 minutes.

After the dough has been chilling for awhile, melt the chocolate candy coating in a double boiler or microwave, as directed.

Take the chilled cookie dough balls and dip them in the melted chocolate, spinning it carefully to cover the cookie dough. Once coated in the chocolate, place on parchment or wax paper lined cookie sheet. Chill for at least an hour and keep chilled until all eaten.