Can I tell you a secret!?
Promise not to tell anyone.
Will you pinky swear?!
Because if you'll pinky swear, then I'll tell you.
Okay – come here, because I'll only whisper it.
Ready.
Shhh.
I really don't like turkey.
Shhhhh. Don't tell anyone, K?!
Yes. It's true. I sorta like turkey. But not really. But I know it's such a tradition to serve it as a main course at holiday meals. But it makes me so sleepy. The combination of the tryptophan and hugeness of the holiday feast makes me so sleepy and it's really turned me off to turkey over the years.
So I'm going to break tradition this year. And start a new main dish tradition – beef roast with a twist. For round 2 of Taste Test, Breakstone's Battle of the Kitchen Bloggers, I've taken beef roast to the next level by giving it a chive crust, if you will. And to top it off, some drizzles of chive gravy.
(I love breaking rules and traditions.)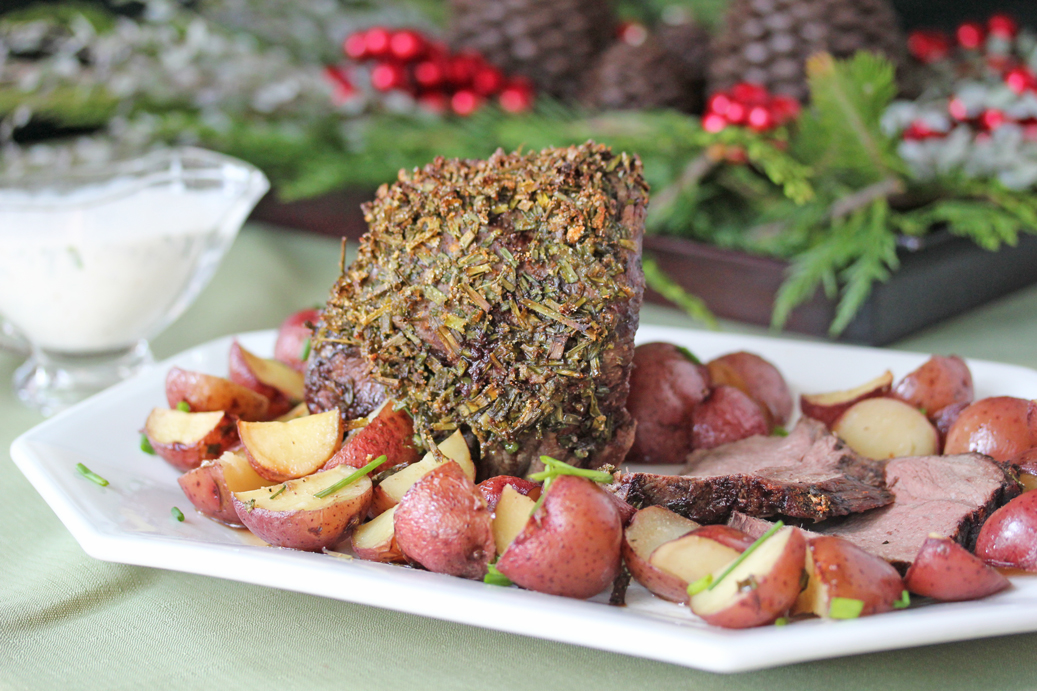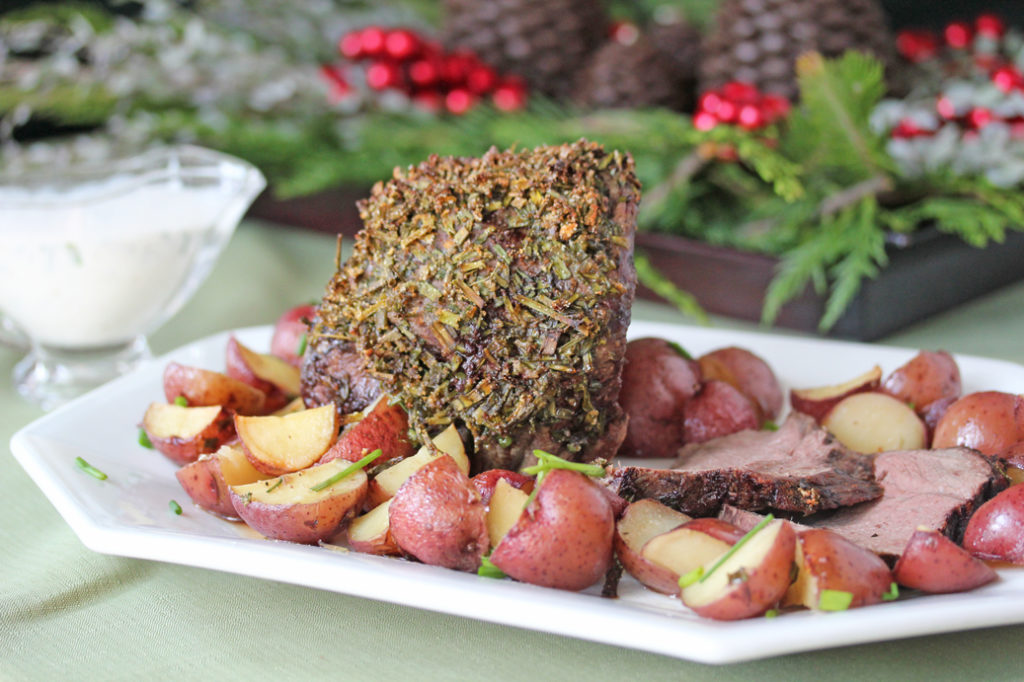 The perfect holiday meal!
Ingredients
Chive Crusted Beef Roast with Red Potatoes
2

lb

beef round roast

8

small

red potatoes, quartered

2

tsp

garlic powder

2

tsp

onion powder

1

tsp

salt and pepper, each

.6

oz

box chives

finely chopped

1

tbsp

olive oil
Creamy Horseradish-Chive Sauce
1

cup

Breakstone's sour cream

1/2

cup

milk

1

tbsp

horseradish

1

tbsp

minced garlic

.6

oz

box of chives

finely choppes

salt and pepper

to taste
Instructions
Chive Crusted Beef Roast with Red Potatoes
Place the round roast in the center of a roasting pan and spread the quartered red potatoes around the roast.

In a small mixing bowl, combine the garlic powder, onion powder, salt, pepper and chopped chives. Drizzle the olive oil over the top of the roast in the roasting pan and spread it evenly over the beef. Sprinkle the chive and spice mixture over the top and press gently onto the roast.

Roast at 350 for 2 hours, or until the meat thermometer reads at least 150 degrees. Remove from the oven and let cool for 20 minutes before serving.
Creamy Horseradish-Chive Sauce
In a small mixing bowl, whisk together the sour cream, milk, horseradish and minced garlic. Stir in the chopped chives and the salt and pepper. Let sit in the refrigerator while the roast cooks in the oven.

To serve, slice the beef roast and drizzle the creamy horseradish-chive sauce over the potatoes and the sliced beef.