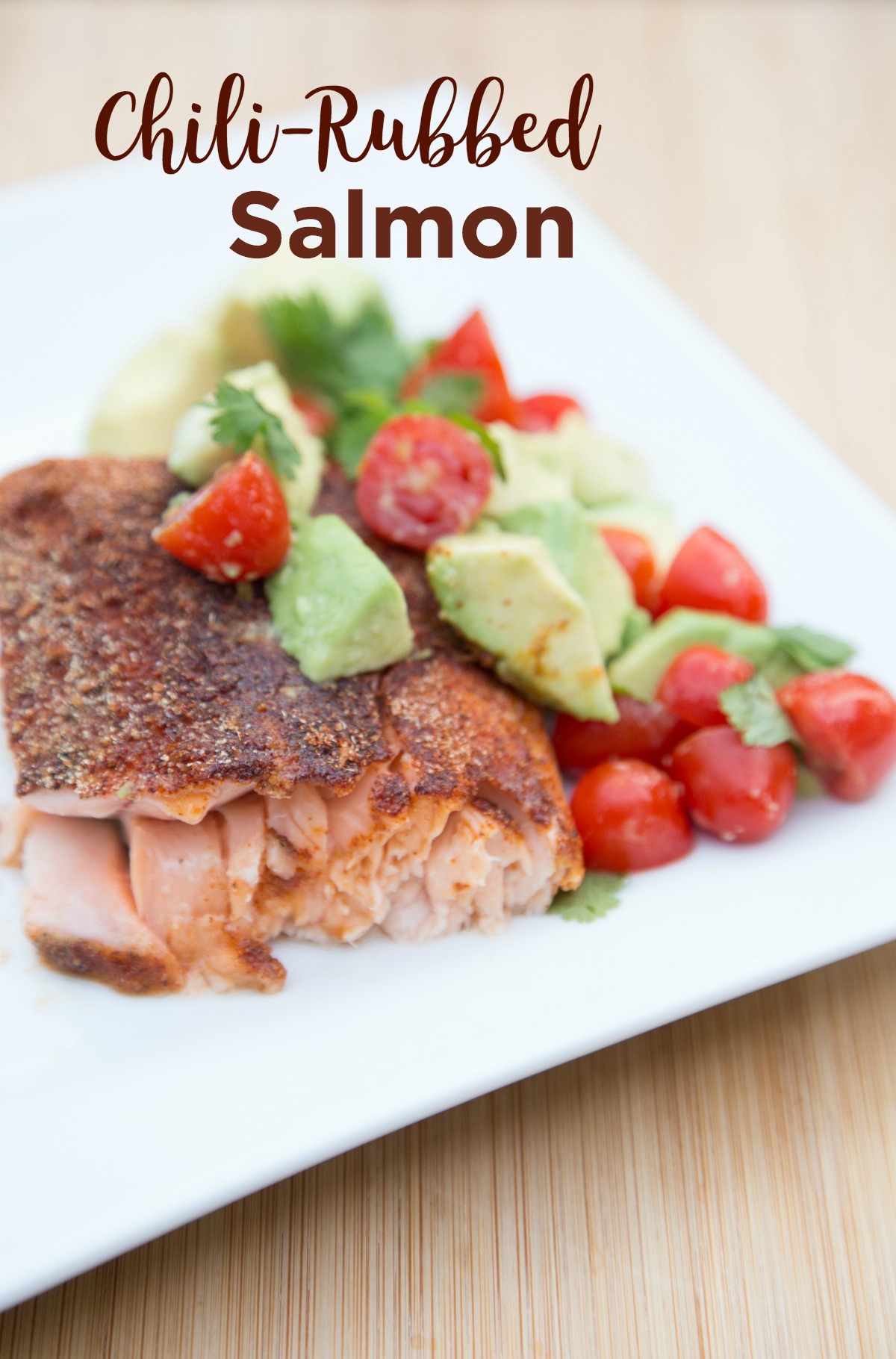 Errrrrr body at your house is gonna go crazy of this one. If your dinner table is anything like mine was when we had this recently, you're all gonna be licking your plates clean.
Seriously, my boys went all bananas over this one. It is not at all spicy, despite having a little chili powder. There's a little bit of brown sugar in this simple, homemade rub and that helps balance out the little heat from the chili powder. A touch of smokiness from the ground cumin, that's perfectly matched with the lime juice that's tossed with the tomatoes and avocado.
Really, this is the perfect meal.
Salmon is a very expensive cut of meat and we have it a few times a month. To keep the budget in check, I always serve it with a cheap starch (usually rice!) and some seasonal or on sale veggies.
Finally…I've a special surprise for you with this recipe. The directions are written for baking, slow cooking and electric pressure cooking!!! Enjoy!!!
A delightful salmon dish that can be cooked many different ways!
Ingredients
1

lb.

salmon fillet, cut into 4 pieces

Salt and pepper

3

Tbsp

brown sugar

1

Tbsp

chili powder

1

tsp

ground cumin

1

tsp

garlic powder

1

avocado, diced

1

pint

cherry tomatoes, halved

1

tsp

lime juice

Chopped cilantro leaves, as garnish

Rice, as side dish
Instructions
Preheat oven to 350 F. Lightly grease a small baking dish with non-stick cooking spray. Place the salmon fillets into the baking dish and sprinkle each with a little salt and pepper.

In a small bowl, combine the brown sugar, chili powder, ground cumin, and garlic powder. Evenly divide and spoon onto each salmon fillet. Spread around and press the rub into the salmon with back of the spoon.

Bake in the preheated oven for 15 to 20 minutes, or until salmon is cooked through. Cooking time may vary depending on thickness of the salmon.

While baking, gently toss the avocado chunks, halved tomatoes and lime juice.

Serve Chili-Rubbed Salmon with avocado-tomato combo on top and cilantro garnish, along with a side ofrice.

SLOW COOKER: Line slow cooker insert with parchment paper, add salmon with rub and slow cook on low for 1 hour to 1 hour and 30 minutes, or until salmon is cooked through. Add avocado topping and serve.

INSTANT POT: Add 1 cup water to the IP insert and add steam rack. Place salmon with rub onto the steam rack. Set to Sealing. Steam for 2 minutes. Natural Release. Add avocado topping and serve.