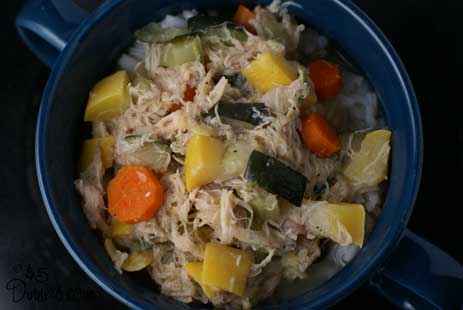 Tonight's dinner is straight out of the freezer!
From the freezer: 2 cups of shredded chicken, 1 container of chopped up summer veggies, about 2 cups of homemade chicken stock, and blanched broccoli.
Toss into pot. Stir occasionally. Eat!
A great way to use up extra veggies and leftover chicken!
Ingredients
2

tsp

2 tsp olive oil

1

zucchini

chopped

1

yellow summer squash

chopped

1

green onion

chopped

1

celery stalk

chopped

1

whole carrot

chopped

2

cups

chicken stock

2

cups

cooked and shredded chicken

2

tsp

garlic powder

Salt and pepper to taste

2

cups

white rice

side dish

2 broccoli heads

side dish
Instructions
To a large saucepan, add olive oil. Toss in the partially thawed chopped veggies. (Or fresh if you're using fresh!) Saute for 6-7 minutes, or until are completely thawed.

Add the chicken stock plus 1-2 cups of water. Add the shredded chicken.

Cook over low heat for 20-30 minutes. Season with salt and pepper to taste. (I let mine cook down so it was pretty "thick" and more stew-like than soup-like.)

Cook the rice, as directed.

Steam or boil the broccoli.

Serve Chicken Zucchini Stew over Rice with a side of Broccoli.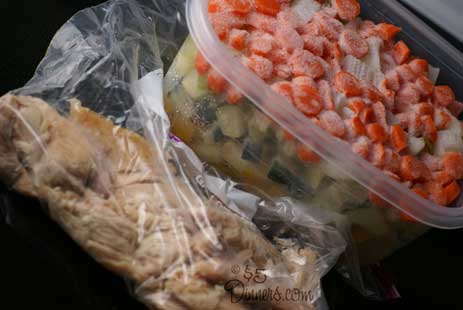 This dinner was a *smidge* over…but there were A.L.O.T. of leftovers…and it was LOVELY to have summer veggies in the DEAD of winter!