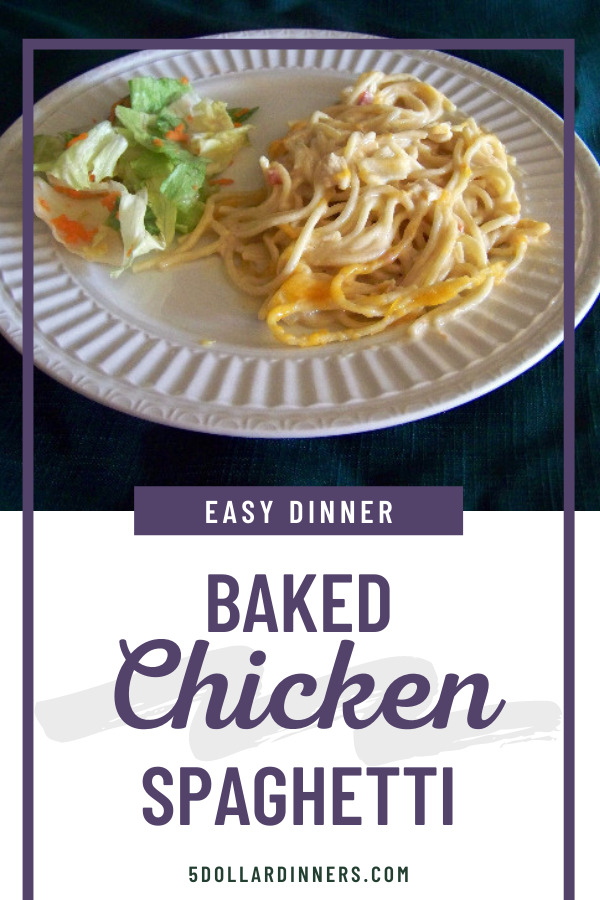 I'd like to take a second and introduce you to Connie from Smockity Frocks! Every 2 weeks, she'll be sharing how she feeds her family of 10 on a budget! First up…
This Chicken Spaghetti is a real crowd pleaser!
When I make this meal, I cook and debone a whole chicken. This provides me with plenty of meat to make 2 huge casseroles, so I can make one to eat and one in a disposable aluminum pan to give away or save for later.
In case any mothers of eight have had an extremely long day and have had. It. Up. To. Here. and can't think straight enough to execute dinner. (I've … uh… heard about this phenomenon happening.) Then she can just reach in the freezer and pop this casserole into the oven.
Each casserole will feed our family of 10, which includes 2 adults, 2 teens, and a passel o' young 'uns, and leave a small dish of leftovers.
Our entire family absolutely loves this delicious dish!
The following is the recipe for one Chicken Spaghetti Casserole:
Perfectly easy to feed a large group or family!
Ingredients
Meat from 1/2 of a whole chicken

1/2

stick

butter

1/2

onion, chopped

1/3

large

package Velveeta

1

can cream of mushroom soup

(or make your own!)

1

can Rotel

1

can milk

12

oz

spaghetti

1

cup

shredded cheddar
Instructions
Cook and debone 1 chicken.

Put the spaghetti on to boil while you saute the chopped onion in a large pan.

Add Rotel and Velveeta and cook until melted.

Whisk in Cream of Mushroom soup.

Add milk, using the empty can to measure.

Pour over spaghetti in 9×13 baking dish and top with shredded cheddar.

Heat in 350 oven until bubbly.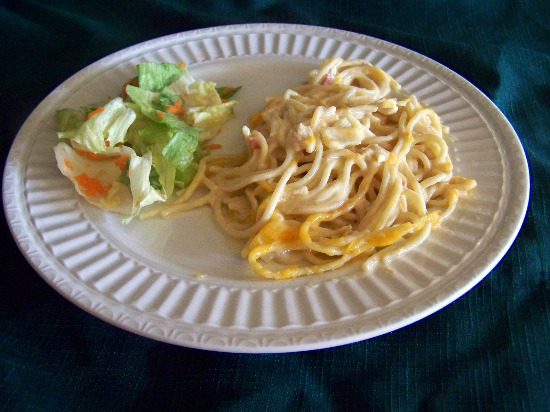 Add a small "Honeymooners' Salad" (lettuce alone) for 50 cents and you have served a delicious meal for 10 people for $7.27!
Connie is a homeschooling mama to 8 rowdy children, wife for 25 years to one hunky golf pro, writer of stories, wiper of noses. She strives to live a joy filled life in the noisiest house on the block and blogs regularly about life in a large family at Smockity Frocks. She can also be found on Twitter and on Facebook.