You can pre-make these and store in the fridge, to grab later for an "anytime" meal, on-the-go fast food, or a late night dinner.
I was delighted to find Perdue chicken nuggets in the reduced meat section of our local store.  It didn't matter that they were shaped like "cars." My teens didn't mind at all!
The lettuce in this reduced package was colorful, convenient, and inexpensive.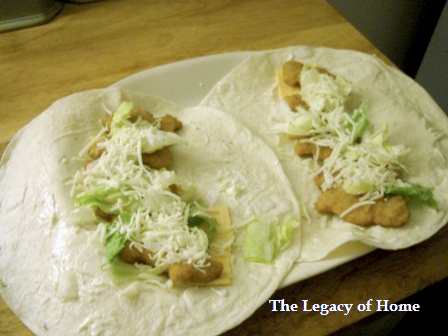 Chicken Ranch Wraps

Yield –  8 servings
Preparation Time – 5 minutes
Cooking Time – 15 minutes

Ingredients

2 packages of 10″ wraps (6 in each pack for $1.99 each – only need 8 ) – $2.64
8 Slices of American cheese ($2.00 for 16 slice pack) – $1.00
2 packages of Perdue chicken nuggets (Reduced pack $1.50 for 20) – $3.00
Bagged Veggie Lovers Lettuce (Reduced pack $1.19 – use half) – .60 cents
Mozzarella cheese (use 1/4 of an 8 oz. pack)  .55 cents
Mayonnaise  .10 cents
Ranch Dressing .20 cents

Directions

Warm chicken in 425 degree oven for 15 minutes.
Lay out one wrap on plate. Spread very lightly with mayonnaise.
Break one piece of American cheese in half. Place 1/2 on each side of wrap.
Top with 5 pieces of cooked chicken, a few pieces of lettuce and a sprinkling of mozzarella cheese.
Top with a few dashes of Ranch Dressing.
Repeat for the rest of the wraps.
Serve immediately, or package in plastic wrap to save in fridge. These can be re-heated in microwave, to slightly warm and melt the cheese, for 30 seconds.

Cost $8.09