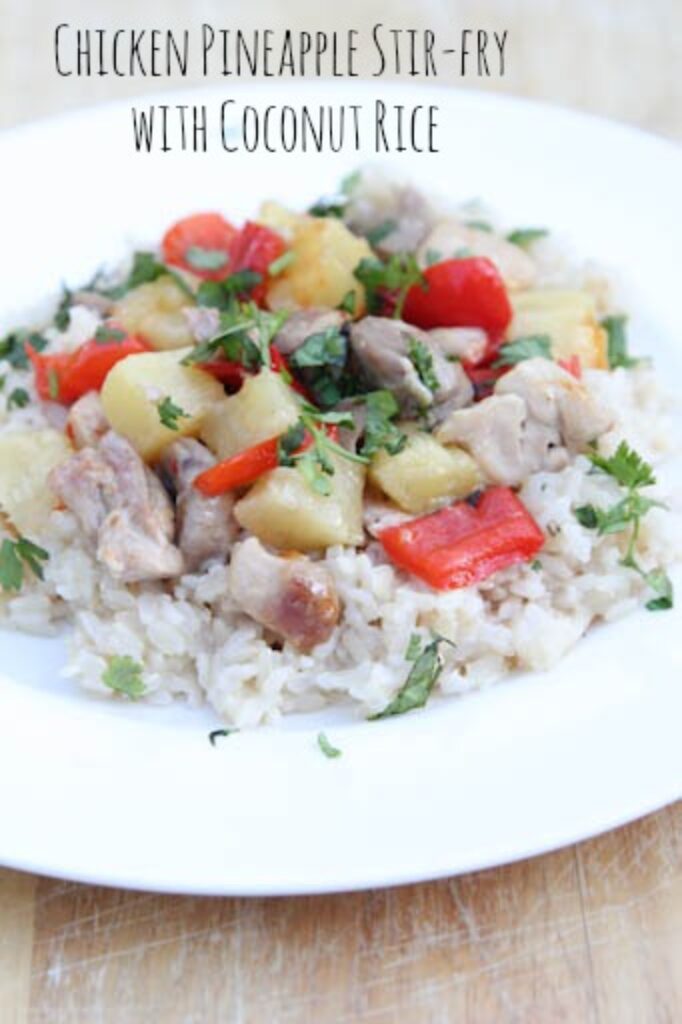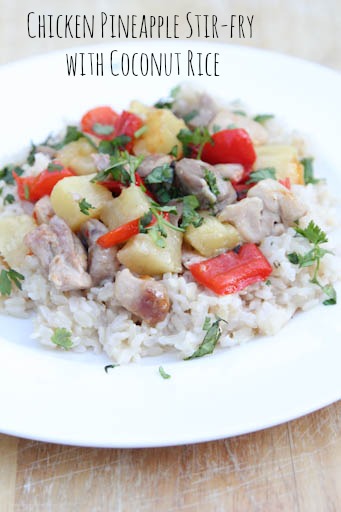 Sometimes the ingredient stars just align and the meal that I was thinking about, turns out even better than I imagined. I wanted to make something that I knew the boys would love, using a can of coconut milk I've had in the pantry for a few weeks. (I purchased it with this recipe in mind, but just haven't made it yet.) I also picked up a can of pineapple recently with a coupon and knew that when I was scouring the cupboard when making my meal plan this past weekend, these 2 items would be perfect together…for this stir-fry and coconut rice.
The boys l.o.v.e.d. this rice…it was just the right sweetness without being too sweet. Cuatro literally shoveled it into his mouth, with about half making in his mouth and the other half ending up on the floor…and eventually into Cody's stomach.
What I love about this is that both the stir-fry and the rice use some of each of the coconut milk and the juice from the canned pineapple. It's just a 'wise use of resources' kind of recipe 🙂
Because Monday wasn't busy enough this week, I decided to bring this recipe to you live from my kitchen…using my new external webcam…
My oldest son ended up helping me with the filming when I needed both hands and he did a great job of keeping still while holding the camera. He took this very seriously and is looking forward to more of this behind the scenes help…and $2 payouts. 😉
Before you watch…I must disclose that about 12.3 seconds after I hit 'end broadcast' on the live demo, I realized I forgot to stir in the coconut milk into the stir-fry. So please ignore the fact that I forgot to do that in the video 🙂
Watch me cook up this delicious stir-fry! (Live hangout video quality still isn't what I hope it will become…)
And now it's your turn to enjoy this recipe…
What I love about this is that both the stir-fry and the rice use some of each of the coconut milk and the juice from the canned pineapple.
Ingredients
1

Tbsp

olive oil

1

lb.

boneless skinless chicken thighs

cut into small chunks

1

tsp

1 tsp garlic powder

15

oz.

can pineapple chunks in 100% juice

juices reserved

1

red bell pepper

seeded and diced

3

Tbsp

lime juice

1

Tbsp

cornstarch

1

tsp

1 tsp ground ginger

15

oz.

can light coconut milk

divided

salt and pepper

2

cups

white or brown rice

chopped cilantro

garnish
Instructions
To make the rice, use 1 cup of the coconut milk & about 1/3 cup of the pineapple juices plus enough water to make a 2 1/4 cup liquid to 1 cup dry rice. I made 2 cups of brown rice, so added about 3 cups of water for a total of 4 1/2 cups of liquid. Cook as directed on the package... you'll need about an hour for brown rice or 20 minutes for white rice.

To make the stir-fry, add the oil to a skillet and turn on high heat and then add the chicken and sear and toss the chicken in the hot oil. Season with the garlic powder, salt and pepper. Once the chicken has mostly cooked through, stir in the well drained pineapple and red bell pepper.

While those are cooking together, quickly stir together the sauce for the chicken stir-fry. Whisk together 1/2 cup of pineapple juice, the lime juice, ground ginger and about 1/3 cup coconut milk. Pour the sauce into the chicken stir-fry mixture and let simmer over medium low heat for up to 10 minutes. If you plan to simmer it longer, remove from heat and then reheat when ready to serve.

Serve the Chicken Pineapple Stir-fry over Coconut Rice with chopped cilantro garnish.