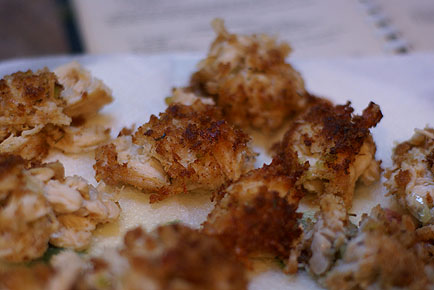 I chose this recipe for the Vintage Recipe Week because it seemed simple, and it seemed like I'd be able to get it in under $5. But when I took a closer look at the recipe when I started on dinner, I came across two little problems.
1. I had no bread crumbs.
2. I had no white sauce.
But never fear…I know how to make both. It'll just add a few minutes to the prep time. I immediately put the bread into the oven, as I knew that would take the longest time.  Then chopped up the veggies and worked on the white sauce.  In the end, it all fell into place nicely.
And thankfully Steve was home, so I could take the few extra minutes to get this dinner ready.  Working up a brand new recipe with 2 extra, unanticipated, steps with kids running back and forth through the kitchen is just a recipe for disaster.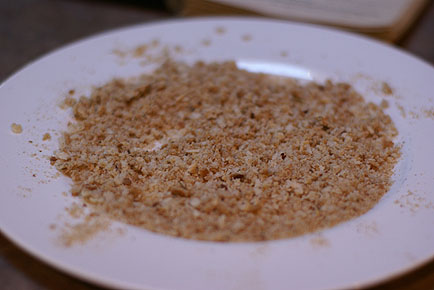 Homemade Bread Crumbs
Directions: Place 6 slices of toast on a baking sheet and place in the oven at 200 for 35-45 minutes, or until nice and dry.  Place the dry bread into a blender/food processor with 1 Tbsp Italian seasonings, 1 tsp garlic powder, and a few dashes of salt and pepper. Blend until bread crumbs form.  Store unused bread crumbs in plastic freezer baggie in the freezer.  Makes about 2 1/2-3 cups bread crumbs.
The Recipe Calls for White Sauce…and I'll show you how to make the sauce for the recipe.
I didn't have celery juice and onion juice (which I know I could have "grated" some out), so I ended up just adding some finely chopped celery and onions to the sauce…as you'll see in the video.
Below you'll find the video for actually making and frying the Croquettes.  I have no idea if this is actually how you make croquettes…but this is how it seemed you were to make them based on the recipe. (see below.)
Not much to work with in the directions.  Mrs. E.A. Fladland just assumes that we all have our grandmothers and mothers in the kitchen with us.
But that's OK…because these turned out alright!  They tasted great…but some of the croquettes fell apart while frying. Others held it together quite nicely.
(Although, I don't know…if I were a chicken croquette facing a bath in hot oil, I'd fall apart too!) 😉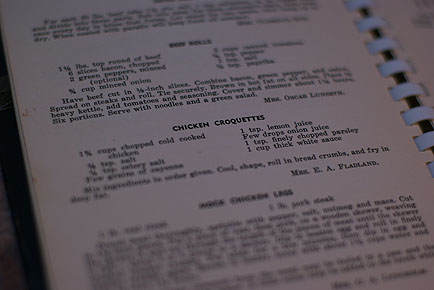 The recipe from 1940…meets the recipe from 2010.
Chicken Croquettes

Adapted from Grammy's Tested Recipes Cookbook from 1940

Ingredients

2 Tbsp butter or margarine ($.05)
2 Tbsp flour ($.01)
1 1/2 cup milk ($.15)
1/4 onion, finely chopped ($.10)
1/2 celery stalk, finely chopped ($.05)
2 garlic cloves, crushed ($.10)
2 cups cooked and shredded chicken ($1.50)
About 1 1/2 cup bread crumbs ($.50)
Oil for frying ($1)
Sides of veggies and bread/rice

Directions

Make the white sauce with the butter, flour, milk, chopped onion, chopped celery, crushed garlic. See video. 🙂
Once the white sauce has thickened, mix it in with the cooked and shredded chicken.
Form the mixture into balls and then roll in the bread crumbs. Homemade or not, it doesn't matter.
Fry the Chicken Croquettes in about 1/2 inch of oil for about 2-3 minutes on each side, or until golden brown and crusty.
Serve Chicken Croquettes with side of veggies and bread/rice.

Cost $3.46 plus sides