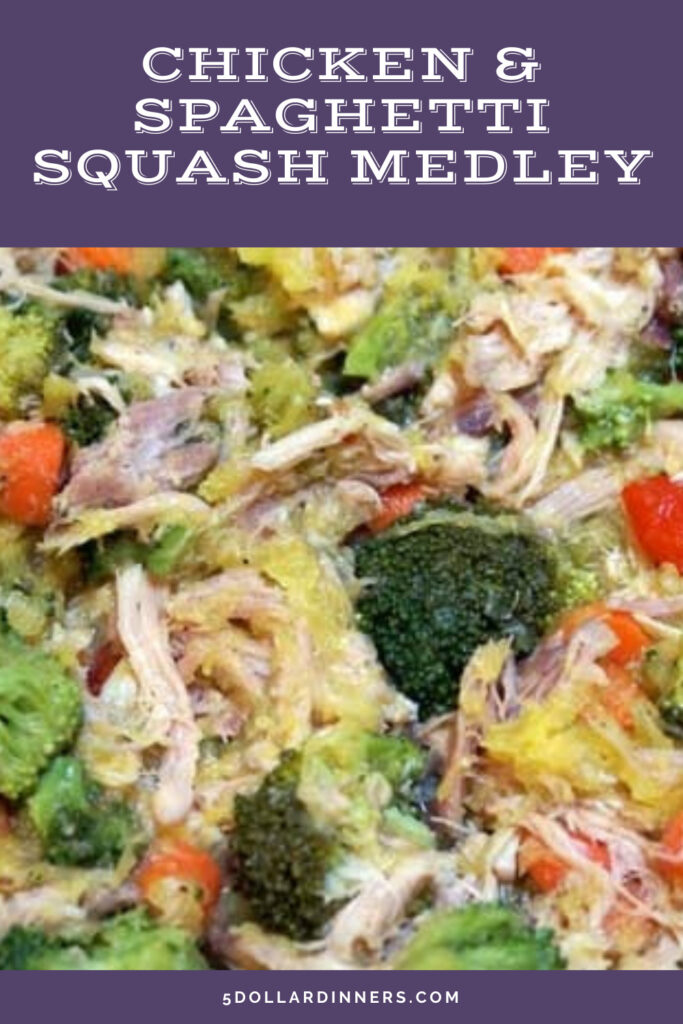 Ever had one of those moments when you open the fridge and look around…and decide to try a little experiment?
That's what happened tonight. I had an easy Friday night meal of Waffles on the menu plan, BUT with the freezer crisis and having "breakfast for dinner" on Wednesday night, I opted for a little experiment instead of going with the plan.
A little of this. A little of that.
And Voila!
And the best part. This is a "one dish" dinner! Here ya go…
A little of this. A little of that.
And Voila!
And the best part. This is a "one dish" dinner!
Ingredients
1

medium

spaghetti squash (about 2 lbs.)

2

broccoli heads

1

cup

carrots, peeled and chopped

1

red bell pepper

2

tsp

olive oil

2

cups

shredded chicken

cooked

1

tsp

Italian seasonings

1

tsp

garlic powder

1/2 tsp salt and pepper, each

grated Parmesan cheese

garnish
Instructions
Preheat oven to 350 F. Bake spaghetti squash in 9x13-inch glass baking dish, in the preheated oven for 55 to 60 minutes. (Leave oven on...as you will bake this again for a few minutes after mixing it all together!)You can poke holes in the squash and microwave it for about 15-20 minutes if you are in a time crunch, but I don't think the "spaghetti" part turns out as well when cooked in the microwave. My opinion!

In the mean time, chop broccoli heads, carrots and red pepper. Place in microwavable dish with 1/4 cup of water and cover with plastic wrap. Cook for 5 minutes.

Once squash is cooked, carefully scrape out the spaghetti flesh.

Toss the spaghetti squash, broccoli, carrots and red bell peppers into a baking dish (you can use the same one if you rinse it out), and mix in the cooked chicken. Place back into the oven for 5-10 minutes to heat together the chicken and veggies.

Add a little grated Parmesan cheese as a garnish and enjoy!