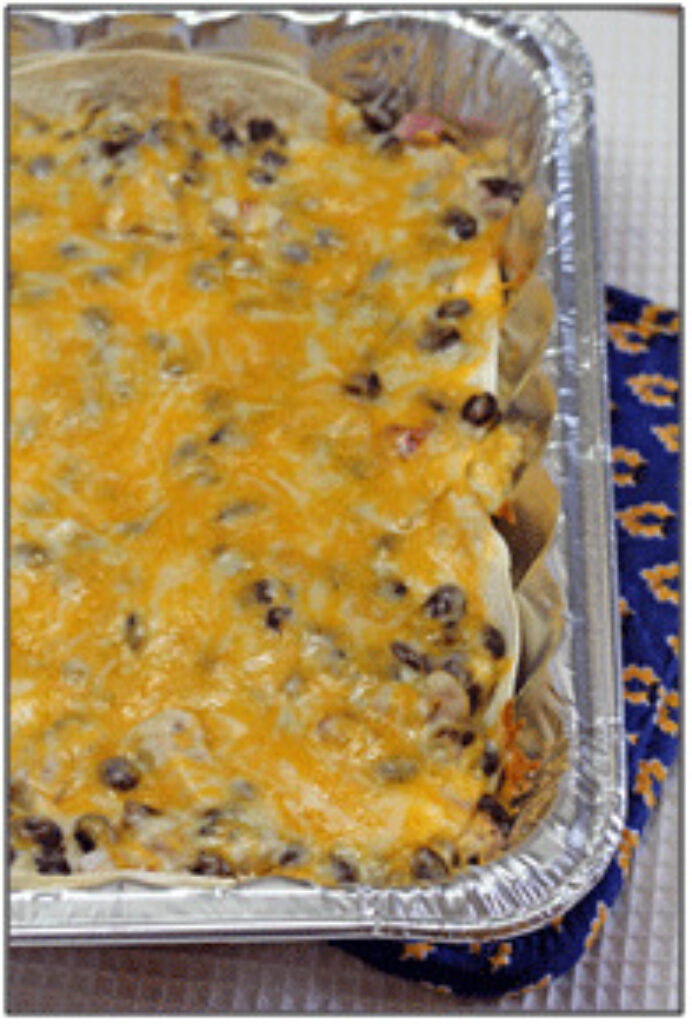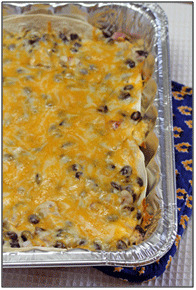 Sometimes it can be difficult to come up with a quick meal idea for a loved one who is sick, recently had a baby or maybe had surgery. The easiest and simplest way to handle these situations is to have something ready in your freezer—a meal you didn't have to spend any extra time preparing, because you just doubled up a simple recipe like an enchilada casserole.
This chicken and bean enchilada casserole recipe is very simple to throw together, rather "layer together,†especially if you already have cooked and shredded a whole chickenand a batch of cooked dried beans on hand.
This recipe is freezer-friendly, batch cooking-friendly and transports easily. It goes perfectly with a side salad or corn on the cob and is loved by all who try it!
Ingredients
2 chicken breasts, cooked and shredded

2

cups

black beans, cooked (or one 15 ounce can black beans, drained)

1 10 ounce can green enchilada sauce

8 ounces sour cream

1 teaspoon ground cumin

6 flour tortillas

2

cups

Mexican blend shredded cheese
Instructions
Preheat oven to 350 F. Lightly grease a 9 inch by 13 inch baking dish or a disposable equivalent dish with non-stick cooking spray.

In a large mixing bowl, combine shredded chicken, black beans, enchilada sauce, sour cream and ground cumin. Mix until well combined.

Place two tortillas in the bottom of the baking dish, so they cover as much of the bottom as possible.

Spoon about half of the chicken and black bean mixture over the tortillas.

Place another layer of two tortillas over the mixture.

Add the rest of the chicken and black beans on top of the next layer of tortillas.

Top with the two remaining tortillas.

Sprinkle the Mexican blend shredded cheese over the top of the tortillas.

Bake in the preheated oven for 20 to 25 minutes, or until the cheese has melted and begins to turn golden on top.

If you plan to freeze this, let it cool completely on a wire cooling rack. Cover with aluminum foil before you store it.
If you prefer to "double bag†foods that you freeze to ensure freshness, then make this recipe in two 8 inch by 8 inch disposable pans and once cooled, cover with foil and place it in Ziploc® Brand Gallon Freezer Bags.
When someone in your neighborhood or circle of friends is in need of a meal, what's your "go to†meal-on-wheels?
Recipe originally posted on SCJohnson.com.