Comfort food. (Yes, even in the summer.)
While I don't love baking in the summer, there are some afternoons/early evenings when we get home from the pool and I actually crave warm comfort food like this. I think it's the 'been outside in the hot sun, then come home to really cold A/C with a wet bathing suit on' thing – it really throws your body temperature off. So I end up wanting pasta like this. And then I end up making it.
This cheese sauce is outstanding…it's "light" (not in the calories sense…because CREAM), but in the sense that it's not super thick and does an amazing job of finding it's way into every nook and cranny of all the pasta shells. I'm licking my lips, just thinking about it.
Toss in some veggies and some protein…and let's call this a one-dish dinner!
Happy easy homemade cheesy pasta baking…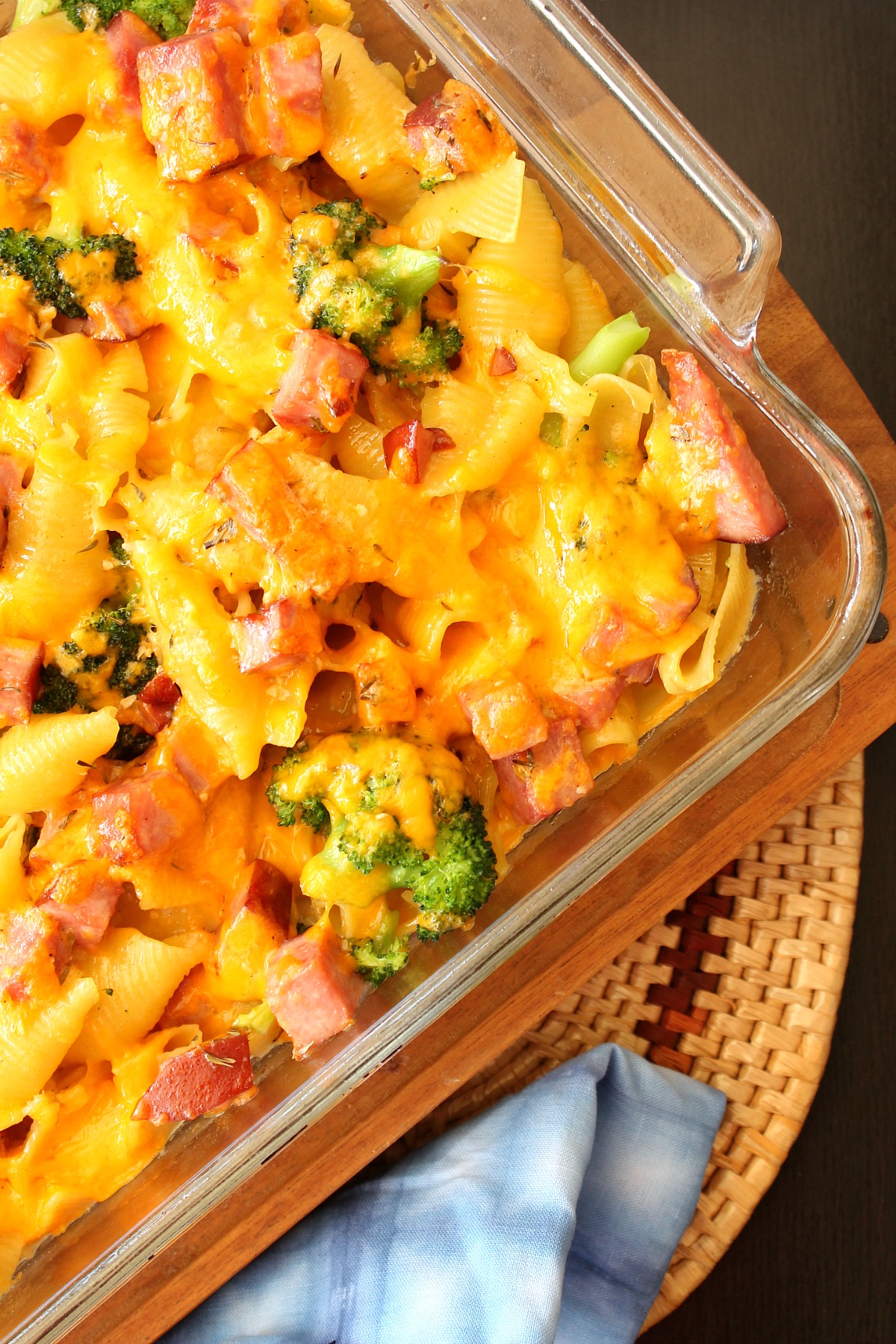 Comfort food at it's finest! (and easiest!)
Ingredients
12

oz

arge shells pasta

16

oz

frozen broccoli florets

1

lb

ham, cubed

3

Tbsp

butter

2

tsp

garlic

1

tsp

thyme

1

tsp

salt

1/2

tsp

black pepper

2

cups

shredded cheddar cheese + 1 /2 cup reserved

1 1/2

cups

heavy whipping cream
Instructions
Preheat oven to 375 F. Spray 9x13-inchbaking dishwith nonstick cooking spray.

Bring water to a boil and cooklarge shells according to package directions. When the shells have two minutes left to cook, add in the broccoli. Strain the pasta and broccoli together.

While the water is boiling for the pasta, melt the butter and saute the ham, garlic, thyme, salt, and pepper for a few minutes.

Once the butter is melted, stir in 2 cups of shredded cheddar and whipping cream. Stir until the cheese is melted and the mixture is bubbly and thick.

Pour the pasta and broccoli into the prepared baking dish. Top with the ham mixture. Stir gently and sprinkle with the 1/2 cup of shredded cheddar. Bakein the preheated ovenfor about 15 minutes until mixture is bubbly.

Remove from the oven and serve hot as one dish dinner, or with side salad.