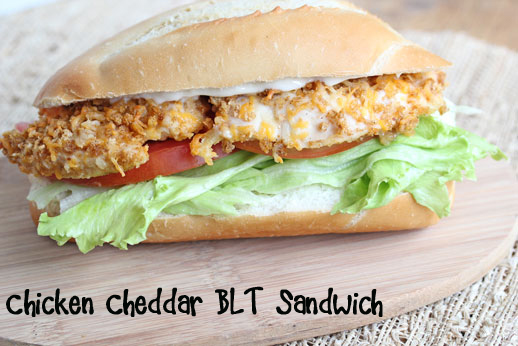 Alrighty y'all…I've got another great sandwich idea and Kraft Fresh Take recipe idea to share this afternoon. I've had it on my list to make some kind of cheesy BLT for quite some time, so that's what I did.
Slice.
Dip.
Bake.
Accessorize.
I'm using bolillo rolls again with this recipe…mainly because they are so inexpensive and easy. I can purchase them for about the same cost as I can make them at home, so considering that there is a newborn in the house…I'm going for convenience (when it doesn't cost too too much!) these days!
Also, we had two lunches worth of Cheddar Bacon "chicken bites" leftover…so there was no need for Steve and I to have to fight over them 😉
That's how this easy peasy recipe works…
A delightful sandwich for dinner meal - enjoy!
Ingredients
2

boneless, skinless chicken breasts

sliced bite size thick

1

packet

Seasoned Panko Seasoned Coating Mix

with shaker bag

1

cup

shredded cloby jack cheese

2

Tbsp

bacon bits

1/4

tsp

smoked paprika

4

bolillo rolls

1

large

tomato

thinly sliced

Lettuce

leaves for sandwich

Mayo

for spreading
Instructions
Preheat oven to 350.

In the shaker bag, mix together the panko coating mix, colby jack cheese, bacon bits and paprika.

Dip the sliced chicken breast pieces in the Cheddar Bacon cheese mixture. Place all the pieces onto a baking sheet lined with non-stick baking mat, or lightly greased with non-stick cooking spray.

Bake in the preheated oven for 25-30 minutes, or until the chicken is cooked through. Cooking time may vary depending on how thick the chicken slices are.

Meanwhile, slice the tomato and tear the lettuce leaves into sandwich size pieces. Slice open the bread and add mayo to each roll.

Once the chicken is cooked, let cool slightly and then assemble sandwiches.

Serve Cheddar Chicken BLTs. Suggested sides: fresh fruit, potato chips, carrot sticks or whatever your tummy desires.