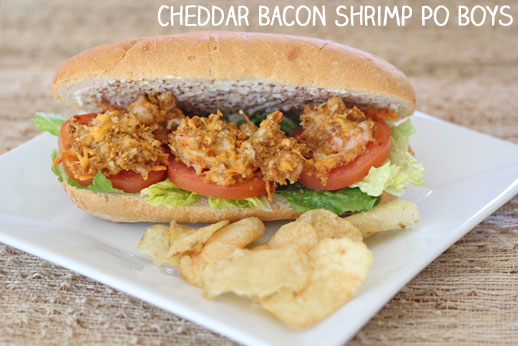 **Update: Kraft Fresh Takes are no longer available in stores. We've updated the recipe below with our recommended ingredients for substitution.
I know. I know.
I really need to be careful messing with a good thing. But when it comes to food, I think a good 'messing' can lead to great meals! (This being one!)
Po Boys are traditional Louisiana sandwiches, usually with roast beef or some kind of fried seafood. My version of fried seafood for this sandwich is…raw shrimp dipped in cheesy breading, then oven fried. See…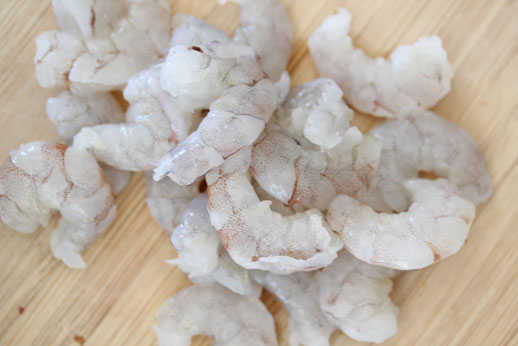 (You could use precooked shrimp, but I chose the raw shrimp with tails because it was the cheapest option…tails are easy to twist off!)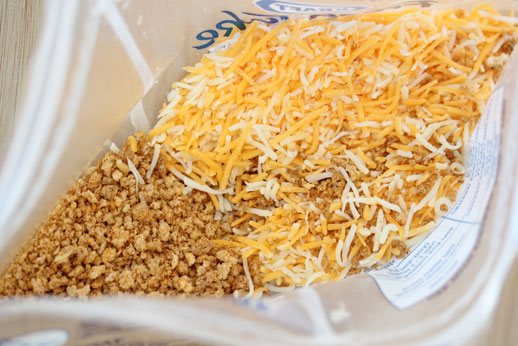 No oily mess, simple dipping.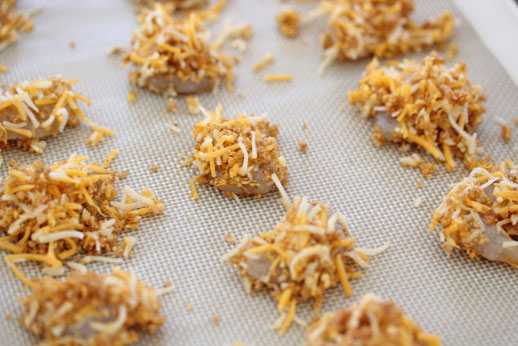 Easy peasy.
The traditional sauce for po boys is a remoulade, but since I didn't have any on hand or all of the ingredients necessary to make one from scratch, I just mixed together equal parts of mayo and Dijon mustard. Again, keeping it simple and easy.
Absolutely adored the cheddar-bacon flavors in this sandwich.
A lovely sandwich with tons of crunch and flavor!
Ingredients
1

lb.

raw shrimp

1

egg, whisked

1

packet Shake'N Bake Seasoned Panko Seasoned Coating Mix, with shaker bag

1

cup

Kraft Shredded Colby Jack Cheese

2

Tbsp

Oscar Mayer Real Bacon Bits

1/4

tsp

smoked paprika

2

small

Roma tomatoes, sliced

Lettuce

4

bolillo rolls or sub rolls

2

Tbsp

mayo, mustard, mixed

Side ideas - chips, carrot sticks, pickles, fresh fruit
Instructions
Preheat oven to 350.

In the shaker bag, mix together the panko coating mix, colby jack cheese, bacon bits and paprika.

Dip the raw shrimp into the egg and then into the cheddar-bacon cheese mixture.

Place on a non-stick baking mat, or parchment paper. Once all the shrimp are ready to be 'oven-fried,' put them in the oven for about 10 minutes, or until cooked through. Cooking time may vary depending on size and thickness of the shrimp. (I used small shrimp.)

Asssemble sandwiches with the oven-fried shrimp, lettuce, tomato slices and mustard-mayo spread.

Serve Cheddar Bacon Shrimp Po Boys with preferred sides.
Disclosure: This post is part of a sponsored campaign between $5 Dinners and Kraft Fresh Take. Opinions, recipes and thoughts are my own, as always.